Middle Eastern Rhinoplasty
Consultations offered at our three convenient locations in Encino, Glendale and Bakersfield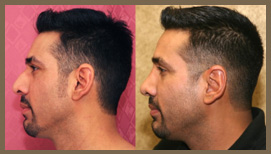 Middle Eastern or Mediterranean rhinoplasty in Los Angeles and Beverly Hills is very prevalent due to a great concentration of Middle Easterners in Southern California. While people from the Middle East tend to have many Caucasian facial features their nose surgery tends to be more challenging than Caucasian or Ethnic Rhinoplasty for several reasons.
The Middle Eastern nose tends to have these unique characteristics:
Thick nasal skin which makes the refinement of the underlying nasal cartilage less noticeable.
Droopy or hanging nose tip due to loss of nasal tip cartilage support and malpositioning of the nasal tip alar cartilage.
Bulbous or wide nose tip due to excessively large nasal tip alar cartilages.
Prominent nasal bridge.
Dr. Younai is a Board-Certified Plastic Surgeon who as a rhinoplasty specialist in Beverly Hills has had much experience with Middle Eastern nose surgery. While many facial plastic surgeons routinely choose open rhinoplasty, Dr. Younai is very experienced in the closed rhinoplasty technique which does NOT leave any scars on the nose! His goal is to individualize your Middle Eastern nose job in order to give you a nose that is not only beautiful, but also in harmony with the rest of your face. In doing so he spends much time during your rhinoplasty consultation to analyze your nose, examine your nasal airway, and to review with you Middle Eastern Rhinoplasty before and after pictures. Preparation for rhinoplasty and tips to reduce nose swelling and bruising are also reviewed in order to make your rhinoplasty recovery time short and comfortable.
Whether this is your first rhinoplasty or you are having revision or secondary rhinoplasty, Dr. Younai discusses pros and cons of rhinoplasty techniques and how to refine the nasal tip, trim down the nasal hump, and to proportionally reduce the nasal width. Attention has to be also paid to the nasal airway or the breathing of the nose. Septal deviation or inferior turbinate hypertrophy which causes nasal airway obstruction is very prevalent among the Middle Easterners in Los Angeles. Opening of the nasal airway passage usually entails Septoplasty and/or Inferior turbinectomy techniques which can be easily performed as the time of your cosmetic nose surgery.