Male Tummy Tuck
Consultations offered at our three convenient locations in Encino, Glendale and Bakersfield
Male tummy tuck has become a very common plastic surgery procedure in Beverly Hills. Los Angeles men who have lost a lot of weight either by dieting or with bariatric surgery are often left with unsightly hanging abdominal skin. These Southern California men who seek an abdominoplasty don't get a tummy tuck because of vanity, but in order to look normal, wear clothes comfortably, and be able to live more active lifestyles.
About the Male Tummy Tuck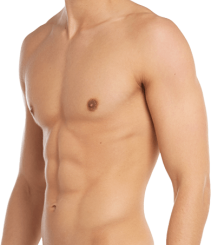 There are several body contouring procedures that can help men regain their normal physic after massive weight loss. High Tension Tummy tuck or abdominoplasty for men not only removes excess abdominal skin but also tightens the abdominal muscles. For men who also have loose sagging skin on the thighs or buttocks, a body lift surgery is more appropriate.
In Los Angeles, a body lift is a combination of a tummy tuck and a buttock lift, or lower body lift. A tummy tuck for men varies from that for women, in that the emphasis is not to make the body look curvy and feminine. The incisions are placed very low so that scars don't show in a bathing suit.
Why Get a Male Tummy Tuck?
The abdomen is a very important part of the male physique. Male tummy tuck patients are looking to obtain a flat, toned stomach. Men who experience excess skin after severe weight loss greatly benefits from this procedure. Additionally, after Gastric bypass or lap band surgery, men who have lost more than 60 lbs. of weight are often left with a hanging pannus. Besides being unattractive it poses a hindrance to exercise, as well as a man's ability to wear normal clothes. These patients also tend to not remove their shirt at the beach or during romantic activities.
A male tummy tuck procedure can help rebuild confidence and improve a man's masculine profile by removing the excess, drooping skin and use liposuction to contour a more chiseled abdomen.
Before and After Photos
Ideal Candidates for a Male Tummy Tuck
Ideal candidates for this tummy tuck procedure are men looking to sculpt and tighten their abdomen, as well as minimize the circumference of their weight line by removing excess, drooping skin. These patients have a considerable amount of excess skin and stretched abdominal muscles, often caused by weight gain. The men looking into this procedure should be at a stable weight and maintain a healthy lifestyle. It is important that the patient has realistic expectations of the overall results and understands that this procedure is not a substitute for weight loss. Patients should be within 50 lbs. of their goals weight and maintain a healthy BMI. Patients who are over this weight limit or considered obese should refrain from undergoing this procedure at this time, as there can be added health risks.
Consultation
During the initial consultation with Dr. Younai at one of his four Southern California locations, he will first ask the patient about his particular concerns and what he wishes to achieve by undergoing this procedure. The doctor will next review the patient's medical history, routine medications, and previous surgeries to ensure that this procedure is a safe option for him. Dr. Younai will perform an examination to identify the patient's concerns and determine candidacy. If the patient is found a good candidate, the doctor and the patient will work together to build an individualized treatment plan that will help him obtain his desired results. With this treatment plan, the doctor will able to provide a personalized quote for the procedure designed to meet the patient's exact needs.
Preparing for Tummy Tuck Surgery
Once the patient has scheduled his procedure date, Dr. Younai will provide him with a list of preparatory instructions to follow. It is advised that patients who smoke will need to quit 3 weeks prior to their surgery. Also, in order to reduce the risk of excessive bleeding and/or bruising, patients should refrain from taking any anti-inflammatory medications 2 weeks before the procedure. The patient will need to arrange for a ride home following the procedure, as they will be unable to drive themselves. It may also be beneficial to prep their home for the recovery stage, placing any necessary food, toiletries, medications, etc. at counter level to provide extra convenience. During this time, if patients have any questions or concerns, they are encouraged to contact our office. Our knowledgeable and helpful staff are here to help.
Male Tummy Tuck Procedure Information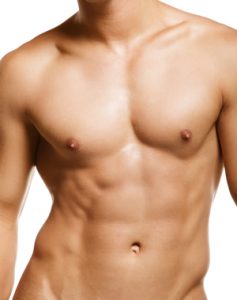 Before starting the tummy tuck procedure, our certified anesthesiologist will administer a general anesthetic to ensure no discomfort is felt throughout the surgery. The male tummy tuck is performed on an outpatient basis, meaning that the patient is free to return home the same day as the surgery. Once the patient is asleep, Dr. Younai can begin the surgery. If liposuction is required, the doctor will make small incisions located where the excess fat resides. Once the doctor has removed the fat deposits and contoured the midsection to a masculine physique, he will then create a low positioned incision from hip to hip. The doctor will tighten the abdominal muscles as necessary; this is usually required after large weight gain.
After the muscles have been tightened, the doctor will remove the excess lax skin on the stomach and flanks. Before closing the incisions, the doctor will place drains in the treated area to catch any excess surgical fluid. The incisions will then be closed and a compression garment will be placed around the abdomen and the patient will then be taken to the recovery area.
Recovery
Once the patient is taken into the recovery area, he will be monitored by our nurses for a short period of time before being able to return home. During this time, the patient will be given recovery instructions that Dr. Younai advises his patients to follow in order to receive optimal results. It is recommended that the patient walks a brief amount the night of surgery to help improve circulation and reduce the risk of blood clots from forming. It is important that the patient does not remove their compression garment until instructed. The compression garment helps reduce swelling and bruising during the post-op period. The patient will be instructed to return to the office a few days after surgery for their first postoperative appointment, during which the drains will be removed and the healing process will start to be monitored.
After the procedure, patients should refrain from daily activities for about 1 week. However, more strenuous activities should be avoided for 3-4 weeks, especially heavy lifting and intense exercise.
Male Tummy Tuck Results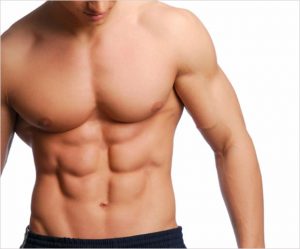 The results of this procedure can be seen immediately. However, the full results can be seen after swelling has reduced; this takes, on average, about 6 months. After this period, patients can enjoy their newly defined and sculpted physique. The men who have undergone this tummy tuck procedure have seen very transformational results. This procedure can provide improvements to a patient's overall quality of life, heightening their confidence at the beach and in the bedroom.
Additional Procedures
Dr. Sean Younai offers his Los Angeles male patients the option to add additional male-specific procedures to their tummy tuck surgery for comprehensive results.
Male Liposuction
Male liposuction is a fat reduction treatment geared specifically towards men. This procedure removes fat that can not be eliminated through diet and exercise alone. Through the use of high power suction, troublesome fat can be removed from the body to provide a chiseled physique. This treatment can be used to remove fat from various areas of the body such as the abdomen, back, and chest.
Gynecomastia Surgery
Men with gynecomastia, or excess tissue and/or fat in their chest, can benefit greatly from a male breast reduction procedure. The removal of excess tissue and fat that resides on the chest leaves the chest looking soft and more feminine. This procedure will redefine the chest, providing a more masculine figure.
Both of these procedures would be great additions to the male tummy tuck procedure for men who are looking to achieve a completely transformed, chiseled physique. During the initial consultation with Dr. Younai, patients can discuss the possible treatment options in order to achieve their aesthetic goals.
Men with all different body types can receive the amazing results this procedure will provide. More and more men are realizing that cosmetic surgery is not just for women; it can help them attain their ideal bodies too. Contact our office and request a consultation with Dr. Younai to find out more.
Cost
The cost of the male tummy tuck procedure varies from patient to patient depending on the particular concerns being treated and if an additional procedure is combined to obtain the desired results. After patients come in for their consultation with Dr. Younai, an individualized quote will be provided based on the patient's exact needs. Contact our Beverly Hills, Encino, Glendale, or Bakersfield location today!