Threadlift
Consultations offered at our three convenient locations in Encino, Glendale and Bakersfield
What Is a Thread Lift and How Does It Differ from A Facelift?
As many patients are choosing to undergo less invasive cosmetic procedures, the Thread Lift is one new tool that makes this possible. Since the mid 1990's, plastic surgeons have been perfecting techniques that use various forms of barbed sutures for the suspension and tightening of the drooping and aging face. The Thread Lift is a face-lifting procedure that far less invasive, and is therefore an alternative to, a Full Facelift. It can be used for procedures including a Mid-Face Lift, a Brow Lift and a Neck and Jaw-line Lift.
While a Facelift requires making long incisions with a scalpel, a Thread Lift employs small stab incisions through which barbed threads are inserted under the skin to pull the skin into a tighter position.
While a Thread Lift is done under local anesthesia, a Facelift is performed under general anesthesia or deep sedation.
Thread Lift involves the placement of needles through the skin. A barbed thread is then inserted into the skin through the needle whole, and the needle is removed. Threads are then positioned and anchored upwards with their ends sutured beneath the surface.
What are the Benefits of a Thread Lift?
The patient can achieve a tighter, more youthful and rested appearance in a short time, without being put to sleep under general anesthesia, with minimal discomfort and down time.
What are the Risks of a Thread Lift?
Some of its potential complications include excessive bruising or swelling, infection and visibility of the threads through the skin. Overall, however, the threads are considered very safe, and can be easily removed should there be complications.
Can a Thread Lift Achieve the Same Result as a Facelift?
No. Unlike the facelift when the entire skin flap is repositioned and excess skin is removed; in a Thread Lift there no excision of excess skin. Therefore, Thread Lift is mostly suited for those with minimal facial aging and no redundancy or excess of facial skin.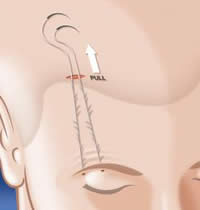 What Are Contour Threads™?
One of the latest forms of this relatively new tool is the "Contour Thread™." The Food and Drug Administration (FDA) approved this new form of the barbed thread in 2005. It is the only FDA approved nonabsorbent thread for use in the United States. Contour Threads are non-absorbable and will not dissolve over time.
How Is A Contour Thread™ Lift Performed?
Using a thick, hollow needle, the cosmetic surgeon inserts a thread under the patient's skin, starting near the cheekbone. The other end of the thread is then tied to deeper, firmer internal facial structures. The physician gently tugs on the thread, tightening loose flesh upwards, closer to where it sat when the patient was younger. A Contour Thread Lift can lift sagging cheeks, jowls and balance eyebrows that are asymmetrical.
What are The Results of a Contour Thread Lift?
Results are generally immediate but limited to those with minimal facial aging and redundancy of facial skin. Complications include minor bruising and swelling, and the possibility of threads popping out. Therefore, a patient will be advised to be refraining from strenuous activities for several days after the procedure.
Who Is A Candidate for a Thread Lift?
The best candidates are younger to middle-age patients whose goals include lifting their brows, and diminishing "jowls" and nasolabial folds. In some cases, Thread Lift patients are those who have already had a Face Lift, and who wish to restore some of the benefits of that lift that have lessened with time.
Men and women who have a lot of excess skin, and who want a dramatic transformation, would be better served with a Facelift.
The Thread Lift works well with minimally invasive procedures to restore the skin, such as the injection of BOTOX®, Restylane or other dermal fillers, and peels for deeper wrinkles.
It can also be utilized to lift the brows in a situation when an upper eyelid Blepharoplasty is to be combined with brow lift.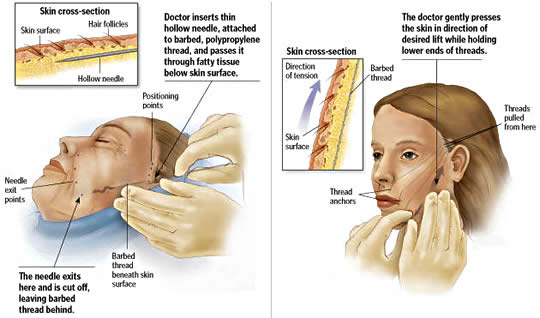 During your consultation Dr. Younai will review your treatment options for Facial Aging, including pros and cons of each Facial Lifting procedure, potential risks and complications, recovery course, pre and post operative instructions, and esthetic outcomes. There are also many before-and-after pictures and high resolution images of Facial Plastic Surgery and Thread Lift available in our photo gallery.