Breast Implant Revision
Consultations offered at our three convenient locations in Encino, Glendale and Bakersfield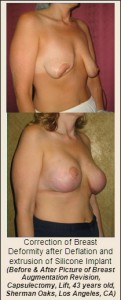 The vast majority of women who undergo breast augmentation report being extremely satisfied with their new breasts. Still, there are many women who seek breast implant revision following their initial procedure. In some cases, they do so to correct problems with their first surgery, usually after deciding they want bigger breast implants. Breast implants are not designed to be lifetime devices. As a result, most women who undergo breast augmentation will need breast implant revision at some point to replace their implants.
Breast implant revision is a popular procedure among women who are generally unhappy with the appearance of their breasts despite augmentation. Because of the extreme popularity of breast augmentation, there are many surgeons who perform the procedure despite lacking the proper technique. The results are not always satisfactory. This is why it's important to entrust a board-certified plastic surgeon when it comes to your body.
Many Beverly Hills women who have either had breast implants or are contemplating breast augmentation wonder if they need to have their breast implants replaced or exchanged in the future. Saline or silicone breast implants are not lifetime devices. There may be specific reasons why Los Angeles women wish to, or even need to have their breast implants replaced. Therefore, there are many important issues to consider before proceeding with breast augmentation.
Dr. Younai can perform a revision breast augmentation procedure to address any issues you have with your previous surgery. He can help you go bigger, adjust the shape or projection of your breasts, or correct any deformities. In fact, using larger implants can even improve your cleavage and give you more fullness on the top of your breasts.
Get your facts straight before getting breast implants!
Breast implant revision is performed in much the same way as your original breast augmentation. Using the previous incision sites, Dr. Younai removes the old implants. If they are being removed due to rupture or capsular contracture – where hardened scar tissue forms around the implant – special precautions will be taken to ensure your safety. He will then shape the pocket that holds your implants and insert the new ones, making the necessary adjustments to help you achieve the look you want.
Although breast implants don't last forever, they don't have to be automatically replaced every so many years. Saline and Silicone breast implants should be replaced only if they deflate, leak, or create a specific problem. Fortunately, Mentor and Allergan Breast Implant Manufacturers offer a lifetime warranty on their implants, and pay a portion of your replacement cost, during the first 10 years after breast augmentation. There are many national statistics about the incidence of breast implant deflation. In general, the rate of breast implant deflation is 1% per year. When saline implants deflate they just go flat, which alerts the person. To the contrary, when silicone implants deflate or leak there is usually no noticeable change. Therefore, in order to monitor silicone breast implants for deflation the FDA recommends yearly evaluation with MRI.
Before and After Photos
Breast implant exchange
Other than breast implant deflation there are other reasons for wanting to exchange or remove breast implants in Beverly Hills. The second most common reason for breast implant exchange in Los Angeles is simply to go bigger. Initially, most "flat-chested" women ask for implants that are just a bit bigger- "may be to go from an A cup to a B". After breast augmentation, most women regret not having gone bigger.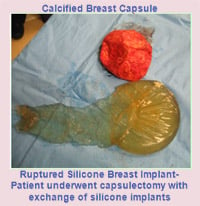 There are more serious reasons for exchanging breast implants:
1. Capsular Contracture: formation of a hard and painful scar tissue around implant occurs rarely. Besides having to remove this tight capsule (capsulectomy), breast implants should be changed from a smooth to textured surface, in order to reduce the recurrence rate of capsular contracture.
2. Breast Implant rippling: All breast implants are palpable to a certain degree. In extreme cases a woman can feel or even observe ripples in their breast implants. This is more common in textured and saline implants, and to a lesser degree in silicone breast implants. To remedy this problem plastic surgeons usually recommend exchanging saline implants to silicone; and also to move the implant from a sub-glandular location to a sub-muscular position.
3. Changing breast shape and projection: women can increase the degree of their cleavage by going bigger! Larger breasts implants have a wider diameter, thus creating more cleavage. They also fill the upper pole of the breast better for those who are fairly flat on the top. High Profile Implants can change the look of the breasts from a more subtle to a perkier look.
4. Changing breast implant feel: Saline and silicone breast implants feel different. While saline breast implants feel slightly firmer, silicone breast implants feel softer. On the other hand silicone implants are heavier and hang more than saline breast implants.
5. Breast Sagging: breasts sag after childbirth, breast feeding, and with age or with weight loss. Those who choose a breast lift, or mastopexy, often decide to exchange their breast implants for a newer model, or different shape or size.
It is advised that you regularly visit your plastic surgeon to assess the condition of your breast implants. Your surgeon may advise you to replace any implant that has deflated, is leaking or whose shell shows signs of fracture or other weakness. It may be appropriate to replace only the implant that is not functioning properly. However, you may take the opportunity or be advised to consider a change in breast size or shape to maintain balanced proportions between the breast and body

Making the right choice about breast Augmentation in Beverly Hills!
The decision to undergo breast augmentation revision or breast implant exchange is a complex one. There are many important factors to be considered depending on your breast size, shape, and your overall figure.