Droopy Nose Rhinoplasty – Hooked Nose Surgery
Consultations offered at our three convenient locations in Encino, Glendale and Bakersfield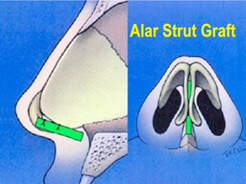 A hooked or droopy nose reminds people of a witch's nose. Drooping of the nasal tip is caused by loss of nasal tip structure framework support which holds the alar nasal tip up. The nasal tip is raised and supported by the nasal septum, lateral alar cartilage, and their suspending ligaments. Lack of these tip support structures can cause drooping of the nose.
During a Primary Rhinoplasty, a nasal tip can be raised via a closed or open rhinoplasty technique by utilizing strut cartilage grafts, interdomal sutures, and alar suspension sutures.
Besides being born with inadequate nasal tip support, excessive removal of nasal septum, lateral alar cartilage, and release of their suspensory ligaments can also cause a nose to droop after primary rhinoplasty. Revision rhinoplasty to correct a drooping nose, utilizes septal strut graft, and even lateral alar extension grafts to strengthen and raise the nasal tip.