Facial Rejuvenation
Consultations offered at our three convenient locations in Encino, Glendale and Bakersfield
Facial plastic surgery has evolved tremendously with the advent of the latest techniques in minimal invasive facial cosmetic surgery.
Southern California men and women want to maintain their youthful appearance by undergoing small facial procedures that don't keep them out for long, but keeps them from aging.
For some facial cosmetic surgery might be non-invasive; just involving small injections of Botox, or skin fillers that keep the wrinkles off their face. For others rejuvenation of their face might entail Laser resurfacing, Pulse Light treatments, or peels.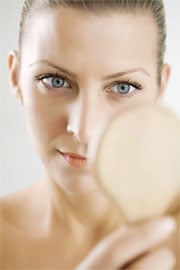 The most exciting aspect of cosmetic facial surgery has been the arrivals of new minimal invasive facial plastic surgery procedures that deliver significant improvement in the facial appearance while keeping one looking natural and healthy.
Early facial aging is no longer addressed with a full facelift. Instead, much smaller and less invasive facial procedures are used to lift the face. Your Plastic Surgeon can use facial fat grafting to inject very small amounts of your own body fat (micro-grafting) into the areas of the face that have hollowed and sag as a result of aging. These areas might include the nasolabial folds, eyelid grooves (tear troughs), cheeks, and even the jaw lines. Often time, fat transfer to the face is combined with the newest versions of Eyelid Surgery. Blepharoplasty has evolved to minimize the unnatural "hollowed-eye" look and to keep the eyes and face full, natural, and youthful.
To erase the deep nasolabial folds, to fill the hollowing of the central face, and to reverse the sagging of the cheeks, fat transfer alone might not be the ideal choice. Minimal invasive mid-face lift suspends the sagging cheeks and the central face through a thin incision under the lower eyelashes. This facial plastic surgery procedure rejuvenates the face without the distinctive signs of a facelift. The recovery of a mid-facelift or cheek lift is rather quick as compared to a full facelift.
Sagging brows that hood over the eyes makes us look sad and tired. Endoscopic forehead lift elevates the droopy brows and softens forehead wrinkles and frowns via small hidden incisions in the scalp.
For those that are frustrated with having a double chin liposculpture of the neck might just be the answer. Those who have good skin elasticity and tight neck muscles can get a chiseled jaw line and a deep neck with micro-liposuction of the neck. Others who show more neck sagging might also need one of the varieties of the Neck Lift procedures. Through a small incision under the chin, the neck muscles are tightened (Platysmaplasty). In addition, redundant neck skin can be taken away by a Lateral Neck Lift. These simple and quick procedures can often be combined with other procedures to further enhance your appearance. For example anatomic facial implants can be inserted to enhance facial structures. Chin, cheek, and jaw lines can be augmented with facial implants.
For those whose entire face has aged involving the brows, eyes, cheeks, mid-face, and the neck, a combined procedure is ideal- mainly a Rhytidectomy of Facelift.
A variety of Facelift techniques are utilized with different emphasis. While some are focused on tightening the muscles and the underlying tissues, others are more focused on removing redundant skin. Your decision to have a facelift should entail a frank discussion with your Facial Plastic Surgeon of all options and potential draw backs.
A beautiful and youthful face is not complete without a nice nose. A nose that is too big, unnatural, and unbalanced can spoil the entire face. Rhinoplasty or a "nose job" can be performed by a Plastic Surgeon who is cable of performing nasal cosmetic surgery without an external scar. A well trained and experienced Board Certified Plastic Surgeon is able to perform a rhinoplasty via an internal nasal incision which leaves no external scars.