Procedures
Consultations offered at our three convenient locations in Encino, Glendale and Bakersfield
Plastic Surgery Procedures
The American Society of Plastic Surgeons (ASPS) publishes a yearly statistical analysis of the plastic surgery industry to help patients and doctors alike gauge the current state of plastic and cosmetic surgery. In 2012, 14.6 million cosmetic plastic surgery procedures, including both minimally-invasive and surgical, were performed in the United States which represents an increase of over 5% from the previous year.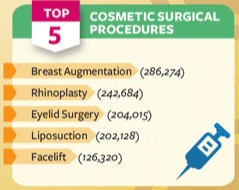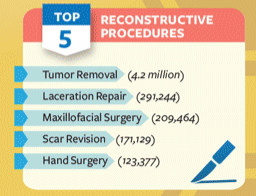 In addition to cosmetically enhancing certain undesirable areas of the body, plastic surgeons are also directly responsible for the reconstruction of areas of the body that have suffered the effects of trauma, injury, disease, and genetic malformation. This area of plastic surgery received an exponential increase in attention after Angelina Jolie, only 37 years young, underwent breast reconstruction earlier this year following double mastectomy – or the surgical removal of both breasts to treat or prevent the development of breast cancer. Jolie discussed her decision in a candid New York Times article titled "My Medical Choice" that she wrote to explain why she made such a drastic, proactive decision.
Why Has Plastic Surgery Become So Popular?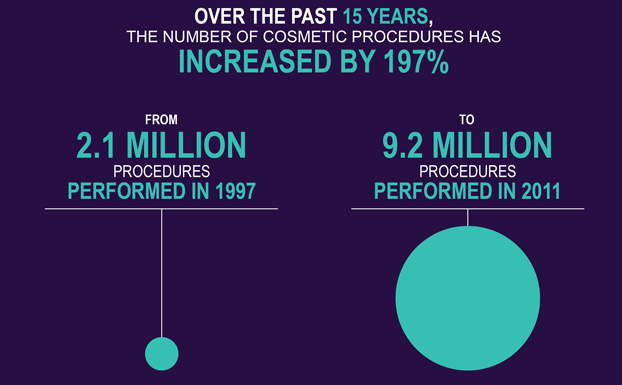 As shown in the graphic above supplied by the American Society of Aesthetic Plastic Surgery (ASAPS), the rise in plastic surgery procedures did not occur overnight. For over 15 years, there has been a dramatic rise in the number of plastic surgery procedures performed. Why is this? There are 3 main factors driving the boom of the plastic surgery industry over the last decade:
1. Increased Safety Profile of Procedures:
Over the last 15 years, increasing safety has been at the top of the list for plastic surgeons. With significant medical advances across the board and increased safety regulations imposed by governing bodies, plastic surgery is safer than ever before. Although risks are still present, as with any surgical procedure- cosmetic or not, complication rates have decreased tremendously as research and studies have helped to improve the safety and efficacy of nearly every procedure.
2. Improvement in Techniques, Technology, and Instruments used in Plastic Surgery Procedures:
New studies and research have made dramatic advancements in surgical techniques, assistive technology, and medical instruments. This has helped to improve the safety and efficacy of nearly every cosmetic plastic surgery procedure. Dr. Younai prides himself on using the most effective and safe surgical techniques which help his patients achieve the best results while causing the least amount of trauma to the surrounding areas of the body. This leads to high patient satisfaction rates as well as improved recovery periods.
3. Increased Awareness Among Consumers of Plastic Surgery and it's Benefits:
As plastic surgery has become a more mainstream topic, more and more people are learning about the tremendous benefits it has to offer. Increased patient education and awareness has helped fuel the plastic surgery industry. Dr. Younai offers free consultations to help his prospective patients learn more about the procedure(s) they are interested in and whether or not they are an ideal candidate for said procedure.