Body Implants
Consultations offered at our three convenient locations in Encino, Glendale and Bakersfield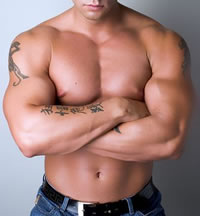 You want a chiseled body – refined, and toned; just like a Michael Angelo's Marble statue.You workout, eat right, and take care of your body, but you still can't get the body form and shape that you want.
Body Implants can give you muscle definition and fullness where you lack it; along with creating the right curves in the right places.Go from a having a flat butt to a "Jennifer Lopez Butt"; from skinny "chicken legs" to full-bodied and curvaceous calves; from a flat chest to one that is well-built and sculpted; and from skimpy arms to muscular and buff muscles.
Having a well formed, shaped, and proportioned body is not just a passion for bodybuilders,but also for most average men and women that want to have a balanced and well formed body.
Plastic surgery technology has advanced beyond the days of breast implants. Now, it is possible to have implants for calves, buttocks, chests, pectorals, cheeks, chin, jaw, and nose.
Before and After Photos
The Body Implants of today have the feel and consistency of real muscle, are very durable and solid; and unlike breast implants they can't leak!
The shape of Body Implants have also evolved over the last decade to make them look very natural and to have them blend in with the surrounding tissues.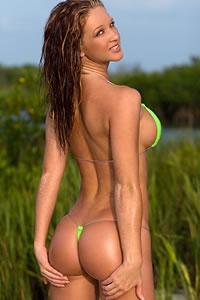 For men who want bigger muscular calves, and women who want sexy legs, Calf Augmentation or Enlargement is a relatively new cosmetic surgery procedure. Special calf implants are inserted through a small incision in the natural crease behind the knee; and placed over the two bellies of the Gastrocnemius or calf muscle. After a relatively short recovery period men can enjoy showing off their muscular calves in shorts, while women enjoy showing their sexy legs in skirts.
As Sir Mixalot would put it "baby got back"! And unfortunately, if you haven't got it, you are in trouble! For many women a round full buttock is more attractive than any other body feature. Weight gain and/or loss around the waist or thighs can result in a dramatic loss or relative fullness of the buttock. A Brazilian Butt Lift is the procedure that sculptures the buttocks and its surrounding areas, while augmenting the butt with the harvested fat. This type of Butt Augmentation or Enlargement achieves a rounder, fuller, and sexier butt without the use of implants. Silicone buttock (Gluteal) implants presents an option for those who don't have any excess fat to be used for injection. But one must note that buttock implants carry a much higher rate of complication than Buttock Augmentation by fat injection or grafting.
The goal of Chest, Pec, or Pectoral Augmentation is to give men a defined and muscular chest, which they haven't been able to build, despite aggressive workout. Pectoral Implants are soft, yet solid, Silicone implants that are inserted from an armpit incision underneath the existing pectoral muscles of the chest. While augmenting the chest, they don't interfere with the future development of existing Pectoralis muscles through exercise. Besides bodybuilders, men who have congenital or traumatic deformities of the chest elect to undergo Pec Augmentation.

Dr. Younai is a Board Certified Plastic, Cosmetic, & Reconstructive Surgeon who is experienced in body contouring with the use body implants such calf, pectoral, buttocks implants. Dr. Younai is also experienced in the use of facial implants such as that for the cheeks, chin,jaw, and the nose.
During your consultation Dr. Younai will review your treatment options for body augmentation with Implants. He will discuss if you are a good candidate, surgical options and techniques, potential risks and complications of surgery, pre- and post-operative instructions, and recovery course, as well as what to expect after surgery. At that time, Dr. Younai will also show you before-and-after pictures of other patients who might be similar to you and have had body implants.