Have you scheduled an appointment with a plastic surgeon, felt like a ghostly presence in his or her waiting room, only to be rushed through a meeting with a "consultant" instead of the plastic surgeon so that payment could be discussed? This factory approach to your crucial decision to have cosmetic surgery is not what you will experience in our practice.
At the California Center for Plastic Surgery, we pride ourselves on the expertise and warmth of our staff. More patients than can be counted have chosen us because of the immediate feeling of trust, compatibility and genuine caring that they felt upon meeting us.
Linda Miranda
Patient Coordinator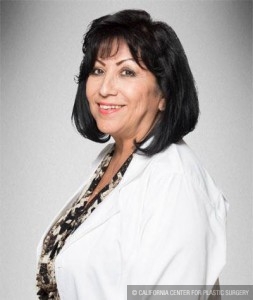 The warm smile that greets you when you walk into Dr. Younai's office is that of Linda Miranda, who has worked with him since 1997. "He is a very warm and caring doctor who inspires trust from the day that you meet him," says Linda.
Linda loves working "face to face" with patients, and shares her vast knowledge about each cosmetic surgery procedure at the California Center for Plastic Surgery. Having had her own "Tummy Tuck" performed by Dr. Younai, she shares her experience and "Before and After" photos with the men and women who are investigating their surgical options.
"People tell me that they can't believe that I once looked like that," smiles Linda, who says she once hated how her clothes fit. "My surgery inspired me in every area of my life, motivating me to eat properly and to exercise."
Her experience enables Linda to counsel patients both authoritatively, and with compassion. "Sometimes people experience a range of emotions from a sudden change in body image," says Linda. "I assist them with their fears, and I help them to have realistic expectations."
Linda says that the immaculate state-of-the-art 7,500 square foot surgical center and the "wonderful" surgical staff is another bonus in her work. "Dr. Younai makes each patient feel important," says Linda. "He treats each one like the first patient of the day."
Lisa Raich, RN
Nurse Aesthetician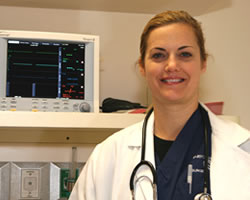 An experienced Aesthetic Surgery Registered Nurse, Lisa Raich, offers the latest in skin care treatments at the California Center for Plastic Surgery Medical Spa. Whether you seek laser hair removal, Botox, or any number of other non surgical options to improve your appearance, Lisa, who has practiced aesthetic nursing since 2000, will help you to look your best.
The Laser Skin Spa and the Skin Rejuvenation Spa offer a myriad of treatments. These include Microdermabrasion, Botox injections to treat heavy frown lines, and treatments with other dermal fillers, such as Collagen, Restylane, Hylaform, and fat injections. The California Center for Plastic Surgery also carries the finest skin care products for home use, such as the Glycolic Facial Gel, Vitamin C Eye Cream, and Daily Moisturizer with SPF 30.
"It's very rewarding to see people so happy with the results of their treatments," says Lisa. "They are minimally invasive; yet make a huge difference in their lives and the way that they feel about themselves."
Mrs. Raich, also serve as the Nursing Director at the Regency Surgery Center. In this capacity, she oversees the surgery center nursing staff and ensures the highest standard of patient safety and quality assurance.
Veronica Valerio
Patient Coordinator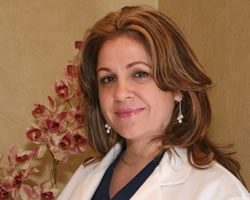 Veronica finds working in a plastic surgeon's office particularly rewarding. "I love to see how people can be transformed emotionally and physically," she says. It gives me great satisfaction to be able to answer patient's questions and help prepare them for their surgical endeavor. Veronica says that "for most people it's their first time that they are undergoing surgery, and therefore they are nervous and have many questions and concerns. I tell patients that it is normal to be anxious about surgery, and It is our job (staff and doctor) to help make them feel secure and comfortable by educating them about their before and after surgical care. Veronica is always eager and available to answer patient's questions, either in person or by phone. "There is no such a thing as a stupid question, and I want our patients to feel comfortable to ask all their questions."
Veronica recently underwent her own rewarding transformation through Breast Implant surgery performed by Dr. Younai.
"I had a breast abnormality known as 'tubular breast deformity' that I felt bad about since I was 12 years old," says Veronica. "Dr. Younai has a way of putting himself in your shoes and has a great deal of compassion about how you feel about your body. For the first time in years, I don't feel shame or embarrassment about myself. I feel liberated and only wish I had undergone this procedure sooner."
Laura Neydavoud
Office Manager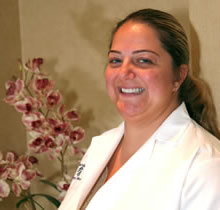 Dr. Younai pledges to answer each concerned patient's phone call, at any time of the day or night. "It doesn't matter where he is when his pager goes off – whether at home, a restaurant or an event," says Laura, who has managed Dr. Younai's office for many years. "He answers that call immediately. His concern for his patients, their troubles and their illnesses, is 24 hours a day."
Laura regards her most important job as keeping the staff and ultimately the patients happy. "We really are a family here," says Laura. "Each member of our staff is very knowledgeable and good at what they do – our work ethics are strong. And ninety percent of our patients tell me they find comfort in the warm environment here."
Regarding Dr. Younai's surgical skills, Laura says she would "trust him with my own mother." And, she adds, there is tremendous fulfillment in witnessing his work day after day. "It's nice to see the huge difference in someone's life when Dr. Younai corrects something they didn't like about themselves."
Dr. Blaine T. Zaid, DO
Director of Anesthesia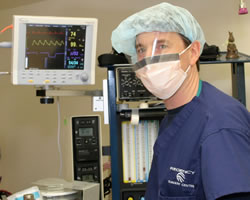 Patient safety and comfort under anesthesia is the first priority of Dr. Blaine T. Zaid, the anesthesiologist who partners with Dr. Younai during the cosmetic surgery procedures performed at the Regency Surgery Center.
Dr. Zaid received his Doctor of Osteopathy from Western University of Health Science, and is certified by the American Board of Anesthesiology. He completed his training at schools including USC, Boston, and Harvard Universities. He has extensive experience administering anesthesiology in open heart, trauma, and other "high risk" procedures.
"I believe in treating, not just heart and blood pressure, but the patient as a whole person," he says. "The human brain is still the best technology." He adds that he gets a "tremendous sense of fulfillment" from helping patients through procedures that ultimately boost their self-confidence.
Dr. Zaid says that his work at the Regency Surgery Center is done with the latest equipment, and with a staff superbly trained to monitor patients through the recovery process. "This is very important with anesthesia, where you must be very precise and constantly aware of coexisting disease processes." With this level of professionalism and expertise, Dr. Zaid also directs other staff anesthesiologists in the care of patients.
"He's so meticulous in monitoring each patient – he's like a computer in that respect," says Dr. Younai. Dr. Zaid has been working with Dr. Younai with plastic surgeries since 1999. Dr. Younai also says that "I have tremendous respect for Dr. Zaid's abilities as an expert anesthesiologist, as well as being a descent, caring, and honest physician. After all, he is the one that gave anesthesia to my wife and my mother for their surgeries." With such a personal recommendation, you should also feel secure with your anesthesia care.