African American Female Tummy Tuck
Consultations offered at our three convenient locations in Encino, Glendale and Bakersfield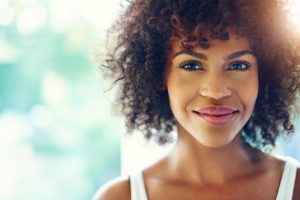 The goals of a tummy tuck for African American women is often different than Caucasians.
As a plastic surgeon for African Americans who specializes in tummy tuck surgery, I have noticed that African American women in Los Angeles love to have curves!
My tummy tuck technique emphasizes the hourglass features of your figure and achieves natural-looking results. I will artfully contour your waist while maintaining the beauty of your full figure and amplifying your sexy, sensuous curves.
If you are an African American Woman who is unhappy with the look of your stomach, I am here to listen and address your aesthetic concerns. I look forward to working with you!
-Dr. Sean Younai, MD, Board-Certified Plastic Surgeon.
The Beauty of Your Body
I've found that African American women coming to my practice love a full-bodied and curvaceous figure with a full buttock. The failure to note a difference in expectations among different ethnicities can often lead to the disappointment of African-American women who have gone through with plastic surgery, only to find themselves with a less than ideal shape.
If you seek an hourglass figure, Dr. Younai has the skill to achieve your desired tight, feminine curves and smooth definition.
Dr. Younai most often achieves his African American patients' goals with a combination of tummy tuck and liposuction. This procedure can slim your waistline and tighten the skin on the hips and thighs to create your ideal, womanly result.
What is a Tummy Tuck?
A tummy tuck is an FDA-approved cosmetic surgery intended to address a loose, bulging abdominal contour and deliver a flat, flattering tummy. Dr. Younai is a tummy tuck specialist who has years of experience helping African American men and women achieve their preferred body contours. He has worked with countless full-figured women to put the finishing touches on their curves for a truly beautiful, show-stopping outcome.
This is what most African American women state they want in a tummy tuck: Black women don't necessarily want to get thinner, but to become more curvaceous and sexy.
Tummy tuck surgery removes excess tummy skin and repairs strained or torn abdominal muscles. The skin is then secured in a smooth, flat contour over the stomach. If you are unhappy with your lower body contours, Dr. Younai offers high tension tummy tuck. High tension abdominoplasty consists of abdominal muscle tightening, the use of tumescent liposuction to contour the abdomen, flanks, or back, and lifting of the thighs and buttocks.
If you have had children or lost significant weight, you are an excellent candidate to rejuvenate your figure with a tummy tuck. With Dr. Younai, you do not have to sacrifice your curves to enjoy a smooth, sexy figure! If you are a plus-size woman who would like to achieve better definition of your stomach, hips, and thighs, contact Dr. Younai to learn more about what he can achieve for you.
How Dr. Younai Avoids Scarring
Tummy tuck is performed using one strategic incision.
An incision is made low on the abdomen, between the hip bones. Dr. Younai performs tummy tuck with a careful technique that helps this mark to heal and produce little to no scarring: this is an important aspect when choosing your tummy tuck surgeon! Many surgeons do not successfully avoid scarring, leading to a rough, noticeable line across the lower abdomen. Dr. Younai's techniques, on the other hand, produce a smooth, difficult-to-spot tummy tuck scar. By using only internal sutures and surgical glue on the skin, Dr. Younai tries to prevent Keloid scars on the tummy tuck incision.
Dr. Younai is considerate of the sensitivities of dark skin and has years of experience working with women of color. His artful surgical method and targeted aftercare instructions help achieve a non-existent to "barely-there" scar.
Let's take a look at Before and After African American Tummy Tuck pictures. Notice how difficult it is to notice their tummy tuck scars.
Before and After Photos
African American Tummy Tuck Can:
Slim and tighten your waistline
Help to remove stretch marks
Address skin folds
Repair strained abdominal muscles
Repair umbilical hernia
Smooth and improve your silhouette
Give you a more hourglass figure
Tummy Tuck and Liposuction
Tummy tuck is frequently paired with liposuction. Liposuction surgery is a minimally-invasive method of eliminating unwanted fat and sculpting the area to achieve a smoother, more defined and flattering body shape. Liposuction can remove excess fat from the abdomen, flanks and lower back to slim down the waistline. Dr. Younai is an expert in not only tumescent liposuction and VASER liposuction, one of the most advanced liposuction methods available today, he also has extensive experience performing large-volume liposuction.
When Dr. Younai performs liposuction, he is not simply looking to slim you down. He wants to achieve the curve and contour that is true to you.
If you have excess fat stores on your stomach, you are an excellent candidate to add more oomph to your curves with fat transfer! Fat transfer to the thighs and buttocks is an increasingly popular way to add a little or a lot more shape and volume to your body. In order to perform fat transfer, Dr. Younai processes the fat gathered during liposuction and purifies it for re-injection. Fat transfer can add natural-looking and-feeling volume almost anywhere on the body.
African American Female Tummy Tuck Candidates
You are a good candidate for Tummy Tuck if you:
Have lost significant weight
Have given birth
Have loose, excess skin on your abdomen
Have trouble reducing the fat on your tummy with diet and exercise
Wish you had a smoother silhouette
Wish you had more defined curves
Are at a stable weight
Are in overall good health
Are open to the results of cosmetic surgery
Consultation
Many surgeons claim that they can achieve their patients' goals: Dr. Younai is one of the few who delivers. He will be informative and share all the facts and benefits of your procedure during your consultation. He welcomes all questions and will take time to get to know your personal goals for your body. He will also discuss your medical history and medication use with you in order to make sure all elements of your treatment are appropriate for you. Once he has a clear sense of what you would like to achieve, he will customize your tummy tuck procedure plan. You will receive personalized preparation and recovery instructions well in advance of your surgery date.
Tummy Tuck Procedure Options
The steps and elements of tummy tuck will be unique for every patient.
In general, tummy tuck takes two to three hours to perform. In order to deliver a completely pain-free experience, local anesthesia will be administered to the treatment area(s). Dr. Younai combines local anesthesia with light general anesthesia to maintain your absolute comfort.
Tummy tuck is performed using a single incision, placed low in the abdomen. Dr. Younai may additionally perform liposuction using a slim cannula, small incisions, and tumescent fluid. He will remove unwanted fat stores and improve the contours of the stomach or desired areas. Abdominal muscles will be repaired, excess skin will be removed, and the stomach will be secured in a flat, flattering position. Once the desired result has been achieved, your incision will be closed with fine sutures. A compression garment will be worn to help the body accept its new, improved contours.
Prior to your procedure, Dr. Younai infuses the tissue of the stomach with a long-acting local anesthetic. This helps control and reduce post-op pain following tummy tuck.
Recovery
Most patients are able to return to work and their usual schedules within ten to fourteen days. It is important to get plenty of rest but to also take brief, short walks to help maintain healthy circulation. Resume light walking within two to three weeks. Normal exercise can be resumed within two months, but avoid heavy lifting before this point.
Do not lift anything heavier than a jug of milk. If you have small children, we recommend that you ask for an extra hand with them until two months post-procedure.
You will be able to take a shower and fully bathe the treated area the day after your surgery. You will receive personalized instructions to help you care for your treatment site and compression garment during your recovery. For a full list of tummy tuck recovery tips and instructions, view Dr. Younai's Post-Operative Instructions page.
Results
Your Tummy Tuck will be 75% healed by the 12th week of your recovery. You will notice that you have a tighter, more defined waistline and smoother curves.
The results of your tummy tuck will continue to slim down and improve for up to one year after your tummy tuck!
Tummy Tuck repairs your abdominal muscles and removes excess skin. The results of your tummy tuck will be transformative and long-lasting! You will be able to enjoy your rejuvenated body contours for years to come. The best way to maintain your results is to avoid future weight gain.
Cost
The cost of African American tummy tuck in Los Angeles and Beverly Hills vary depending on the type and extent of body contouring. Financing for tummy tuck is available by a variety of plastic surgery financing companies. Once you have discussed your desired outcomes and customized your procedure plan with Dr. Younai, you will receive your personalized cost estimate.
FAQ's
Is tummy tuck safe?
Tummy tuck with an experienced board-certified plastic surgeon like Dr. Younai is a safe, beneficial procedure. It is important to share your medical history and medication use with your doctor to make sure he creates a procedure plan that is safe and most appropriate for you. If you have questions about tummy tuck, liposuction, or any of the other cosmetic procedures Dr. Younai performs, he will be happy to take time to listen and put your mind at ease.