Boxy Broad Nasal Tip Rhinoplasty
Consultations offered at our three convenient locations in Encino, Glendale and Bakersfield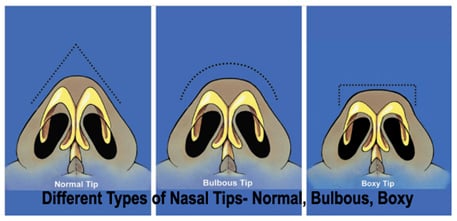 Broad or boxy nasal tip makes the nasal tip look wide, round, and thick. This broad type of nasal tip is often mistaken by another broad type of nasal tip- the "Bulbous Tip".
A Boxy nasal tip is characterized by a broad and rectangular nasal tip look on the basal view. This is caused by excessive separation of the nasal alar tip cartilages, or more specifically excessive divergence of the intercrural angle, as well as existence of large and wide alar cartilages. The nasal skin is rather thin which makes the wide and big alar tip cartilages show more prominently. A boxy nasal tip is more prevalent among Caucasians.
Unlike a boxy tip a Bulbous nasal tip does not necessarily have a widely separated nasal tip cartilages but rather two large dome-like lateral alar cartilages with overlying thick nasal skin. This makes the nasal tip look round, globular and swollen which is often found in Middle Eastern and Hispanic noses.
Correction of the boxy nasal tip is in some ways similar to that of the bulbous tip by trimming and reducing the large alar cartilages during rhinoplasty. Furthermore, the alar cartilages are brought together and the intercrural angle is reduced with transdomal, interdomal, or Alar Spanning sutures.
Cartilage onlay tip graft can also be used to further shape nasal tip and to camouflage the underlying cartilage with a "new" tip cartilage.
Correction of the Bulbous nasal tip with open or closed rhinoplasty requires alar cartilage trim and interdomal or alar spanning sutures, which together will narrow the broad nasal tip.
During your rhinoplasty consultation Dr. Younai reviews your treatment options for facial cosmetic surgery, primary and secondary rhinoplasty, and reconstructive nose surgery, including pros and cons of each procedure, rhinoplasty cost and prices, pre and post-operative instructions, and esthetic outcomes. Rhinoplasty before and after pictures will be shown, and nose surgery options will be discussed.