Breast Augmentation with Lift
Consultations offered at our four convenient locations in Los Angeles, Beverly Hills, Glendale and Bakersfield
Most women are under the impression that breast augmentation with breast implants fixes sagging breasts! Unfortunately, this is not true!
In a normal and youthful breast the nipple-areola complex is centered on the breast mass. Also, the breast mound is set at or above the breast inframammary fold. Augmentation of breasts with breast implants has no significant impact on the relationship of the nipple-areolar complex and the breast. Enlarging sagging breasts with implants do not help to lift them significantly. In fact, breast implants can even make drooping breasts look worse; because sagging breast tissue is going to hang limp off the normally placed breast implant.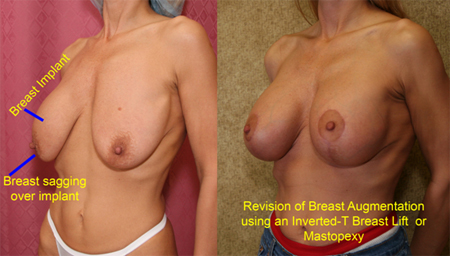 This mal-position of the nipple and breast tissue makes the breasts look odd or deformed (see attached photo)! In women with significant breast ptosis, mastopexy or breast lift surgery, when performed along with breast augmentation can correct this noted deformity by centering the nipple and breast tissue on the top of the breast implant.
The decision to have a breast lift or mastopexy along with breast augmentation is a complex one. Thus, during your breast enhancement consultation, your plastic surgeon should carefully analyze and gage the relative position of your nipple-areolar complex to that of your breast tissue and inframammary fold. The extent of breast sagging should be identified and mastopexy options for different degrees of breast ptosis should be discussed. It is important to discuss the pros and cons of different types and techniques of breast lifting surgery. Finally, short and long term consequences of breast lift surgery should be discussed including possible need for revision surgery.