Breast Enhancement
Consultations offered at our three convenient locations in Encino, Glendale and Bakersfield
What is Breast Augmentation?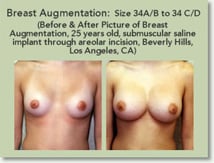 Visit any gym in Los Angeles these days, and you'll see so many women with beautifully proportioned bodies! Having a lovely body and full breasts is no longer a luxury that is limited to celebrities. Thanks to cosmetic surgery, and advances in Breast Augmentation and Enhancement, all women can now enjoy fuller and sexier breasts.
Women no longer need to stuff their bras with Kleenex before social occasions, wear oversize padded bras, or go to so many lengths to achieve a figure that they can feel better about. They can now attain fuller, sexier, and more attractive breasts that boost their self esteem. This is achieved very safely through Breast Augmentation.
In fact, Breast Augmentation, or "Augmentation Mammoplasty," is one of the most commonly performed cosmetic surgeries. According to the American Society of Plastic Surgery, in 2003 nearly 255,000 women in the United States underwent Breast Augmentation, nearly twice the number done in 1998.
Breast Augmentation refers to the enlargement of woman's breasts through the placement of implants. These implants are inserted by your plastic surgeon in your breasts to enhance your figure – so that your breasts appear larger and fuller.
Women undergo Breast Augmentation for a number of reasons including Small Breasts measuring an "A" cup or less; shrinking, loss of volume and sagging from Pregnancy and Breast Feeding; Asymmetrical or "uneven" breasts; Tubular or "Snoopy" breasts; loss of breast volume due to Weight Loss; loss of breast tissue due to Aging; Ptosis or sagging of the breasts (which is often treated with a combination of Breast Lift and augmentation with an implant to compensate for loss in volume caused by the lift); and Empty Sac Syndrome where there is a loss of breast volume while the breast "envelope" remains intact.
Breast Implants Los Angeles
The Saline Breast Implant, which has an exterior sac made of solid silicone and which is filled with a sterile saline solution, is the most commonly used implant. Advantages of this implant include its safety because the saline just gets absorbed by the body if the implant leaks, and a very low infection rate. Another advantage is that it is filled with fluid after being inserted into the breast, and therefore the plastic surgeon only needs to make a very small incision to insert it.
Silicone Breast Implants are filled with a silicone gel. More than 1.5 million American women currently have Silicone Breast Implants. While some people feel that these implants feel more like a "natural" breast, their safety came into question about 15 years ago, due to claims that they caused autoimmune diseases and hardening of the breasts. Today, only women who are enrolled in long-term clinical studies are permitted to use these implants, which are also reputed to have less easily detected ruptures than do Saline Breast Implants.
Implants have various shapes, including Round, Teardrop or "Anatomic." Round Implants are wider, provide greater cleavage and fill in the upper portion of the breast. Many plastic surgeons suggest Teardrop or Anatomic implants for women who are seeking fullness mostly in the lower breast.
Breast Implant Placement
The plastic surgeon has four ways to enter the breast for implant placement. The Peri-Areolar Incision is made like a half-circle at the outer edge of the areola, the colored area around the nipple. This method grants the plastic surgeon the greatest access for precise placement of the implant, and provides better control of bleeding during surgery – thereby reducing the risk of scarring and Capsular Contracture — the hardening of breast tissue. The Trans-Axillary Incision, an incision placed in the armpit, is less desirable because it is far from the central location of the implant, and makes it difficult for the plastic surgeon to position them. The Inframammary Fold Incision is made near the under-breast fold, and like the Peri-Areolar Incision, gives the plastic surgeon good control in positioning the implant. The Trans-Umbilical Incision (TUBA) is a one-to-two inch incision at the edge of the "belly button" through which a long metal tube containing the implant is pushed towards the breasts to place it, also makes precise placement more difficult. Each method has other advantages and disadvantages, and you should thoroughly discuss the best technique for your needs with your plastic surgeon.
You should also discuss the method of implant placement — Subpectoral or Subglandular — with your plastic surgeon. During Subpectoral placement, the implant is positioned under the Pectoralis Major muscle and directly over the rib cage, so that the lower part of the implant is not covered by any muscle, creating a more tear drop breast shape. During Subglandular placement, the implant is placed above the chest muscle, but below the mammary gland, which gives the implant less protection and a higher risk of Capsular Contracture.
You should thoroughly explore implant size with your plastic surgeon, who should give you as much time as you need to "try on" different sizes of implants. You should not only consider breast size, but also what size is proportional with your frame and your height. Breast Augmentation Beverly Hills is major surgery, so you should be highly selective to choose a plastic surgeon who is certified by the American Board of Plastic Surgery (ABPS) and who has performed this procedure many times. The plastic surgeon should show you "Before and After" examples of his or her work, and have an artistic sense that is in sync with the results that you are seeking