Regency Surgery Center is a state-of-the-art freestanding multi-specialty surgery center that is equipped, staffed, and functions like a hospital.
It is certified by the department of health services, Medicare, AAAHC, and AAAASF. Our Facility has been approved by most insurance companies to provide outpatient care. In fact, it is a designated as a provider for the Blue Cross Insurance Company.
Our goal is to make your surgery safe, comfortable and successful.
Our operating and recovery rooms are equipped with the latest monitoring and surgical equipment available, which make outpatient surgery safe and comfortable. This monitoring equipment is comparable to those used for patient monitoring in hospital intensive care units. In addition, the latest in emergency equipment is available. We are among the few outpatient surgery centers that have a direct transfer agreement with Encino Hospital, which is located within a walking distance.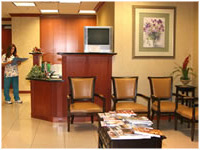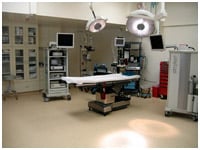 Our staff is superb, which includes Board Certified Anesthesiologist, certified intensive care unit nurses, and operating room technicians.
While you are having surgery, we make sure that your waiting family is also comfortable. We have a separate family waiting room with an entertainment system.