5.0
stars - based on
13
reviews
---
To my Dr. Younai family
5.0
stars - Written on December 10, 2018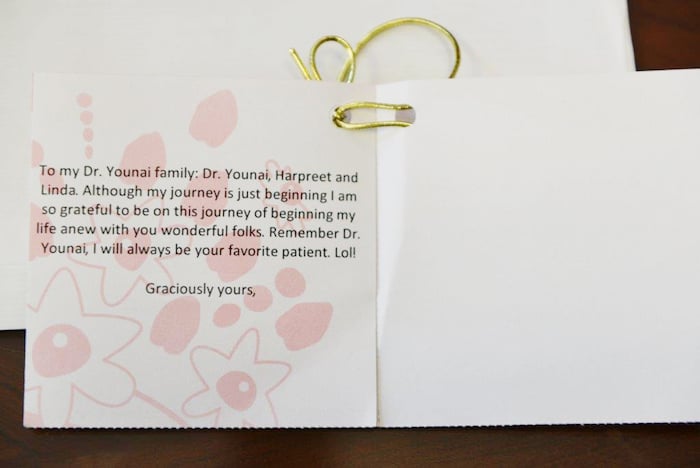 Dr. Younai, Harpreet and Linda. Although my journey is just beginning I am so grateful to be on this journey of beginning my life anew with you wonderful folks. Remember Dr. Younai, I will always be your favorite patient. LOL!
by P.F.
You are amazing!
5.0
stars - Written on March 9, 2015
by S. D.
My time with you is one of my favorite memories
5.0
stars - Written on March 6, 2015
You must be crazy busy, but I just couldn't wait another day! Guess what? I woke up with an actual waist! I went to a Celtic Fest and danced for hours. I bought size 10/12 pants, and tried on my wedding dress which looks better now than when I got married! I love looking in the mirror and trying on clothes. Donated my whole closet. I feel like I am in my twenties again. I love my arms too, and I would tell anyone I prefer my perfectly placed scars any day. I don't even worry about hiding them. I feel confident and pretty for the first time in decades. My time with all of you is one of my favorite memories and I hope you are all well and happy. I am so grateful to you all!
by B. G.
Heartfelt thanks for your skill are beyond words
5.0
stars - Written on March 4, 2015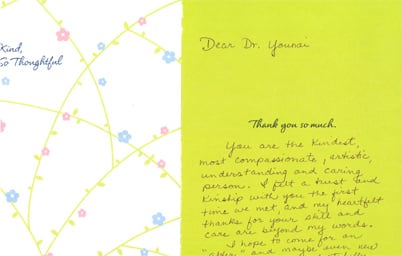 You are the kindest, most compassionate, artistic, understanding, and caring person. I felt a trust and kinship with you the first time we met, and my heartfelt thanks for your skill and care are beyond my words.
by Tiffany
Special peace of mind knowing that you're there
5.0
stars - Written on March 1, 2015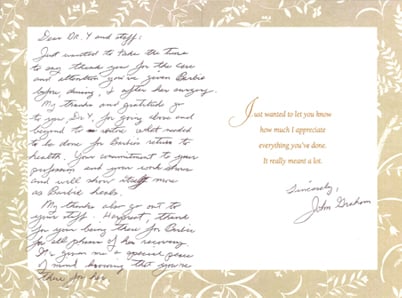 Just wanted to take the time to say thank you for the care and attention you've given Barbie before, during, and after her surgery. My thanks and gratitude go to you, Dr. Younai, for going above and beyond to do what needed to be done for Barbie's return to health. Your commitment to your profession and your work shows and will show itself more as Barbie heals. My thanks also go out to your staff. Harpreet thank you for being there for Barbie for all phases of her recovery. It's given me a special peace of mind knowing that you're there for her.
by John Graham
Dr. Younai is a true artist
5.0
stars - Written on February 25, 2015
Dr. Younai is by far the best plastic surgeon in the Los Angeles area. Not to mention he has the most wonderful staff and his prices are below average cost. I have done my research and have had liposuction twice before with far less superior results. The difference with Dr. Younai is that he is a true artist who looks at your body individually and molds it to perfection. I was so impressed with his work that I have since had him do some face work and additional body work that has all turned out excellent. I have no complaints with him or his office. Thanks to him, I am now a beautiful size 4/6 and loving my life. I will definitely be using him again in the future to maintain my appearance.
by Marlene
Thank God for you all!
5.0
stars - Written on February 24, 2015
Thank you so very much for the wonderful service and results thus far from my tummy tuck. I couldn't be happier! Everyone involved in my transformation was amazing and kind. Thank god for you all! I would recommend you highly to my friends, family and acquaintances to your fabulous 5+ star service at Regency Center.
by Sharmila C.
Gave me a chance to live healthy and feel like a 20 year old
5.0
stars - Written on February 20, 2015
Thank you for all of yours and Doctor Younai as well as Carrie's help, I really appreciate all of you and all you have done for me. I'm very excited to see you all again and how Dr. Younai changed my life and gave me a chance to live healthy and feel like a 20 year old. I highly recommended you to people who are looking for a cosmetic doctor.
by Ashley
Special gratitude for you being such a great surgeon
5.0
stars - Written on February 19, 2015
We wish with all our heart that you and your family spend happy and wonderful Holidays, and that you receive, now and always, God's blessings, health, and the good fortune that you so deserve.
These are the wishes of Mrs. Clemencia V'asquez, her daughter Maricela Diaz, and her Grandson Conrad Diaz.
We would also like to, once again, express our special gratitude for you being such a great surgeon, with much professionalism and a great heart. You may recall the night when my Mother, Clemencia V'asquez, was in pain due to an infection on her back and, even though you were done working that day, you kindly brought her inside and attended to her needs. We greatly appreciate your kindness and although we cannot fully repay you, please accept this small gift from our family as a token of our deepest appreciation.
Thank you so much and Happy Holidays!
by The Diaz Family
Your work speaks for itself
5.0
stars - Written on February 15, 2015
I know that I have told you "Thank You" when I was talking to you directly in the office, however, I wanted to drop you a line and tell you how "Pleased" I am with the outcome of the surgery you performed.
I absolutely Love everything you've done , it means So Much to me!
You have helped me become the feminine person I have wanted to be.
Your talent and expertise is amazing and I appreciate your knowledge of surgery and the ability to make the changes you have made for me. You are a "Wonderful" Doctor and have an amazing gift.
When I'm financially able, I would love to have you do the work on the lower part of the face and neck that you spoke to me about and the back of the arms.
If you could please pass a Thank You on to Linda and Harpreet, I wanted to Thank them and the rest of your staff for all their help.
I have also been asked by girls that work at a Salon and quite a few other people who performed my surgery and I gladly give them your name and where you are located. They were amazed at the outcome.
Your work speaks for itself and I Thank You again So Much!!
by Paula Dildine