Buttock Augmentation
Consultations offered at our three convenient locations in Encino, Glendale and Bakersfield
Today more than ever, a toned, well-contoured butt is an important factor in your overall appearance. As the desire to achieve a healthy backside has increased, so has the prevalence of buttock augmentation. These procedures have been refined over the years, giving patients today the chance to transform their bodies like never before.
Buttock augmentation can be performed using a number of techniques. A fat transfer is used to create a better contour if your butt is flat and wide, giving it a fit, round shape. This is sometimes called a Brazilian Butt Lift. The fat can be taken from other areas of your body, then cleaned and injected to improve the size and shape of your butt. Dr. Younai has performed this butt augmentation procedure countless times, giving him the experience needed to create consistent, lasting results.
Although a fat transfer is a great way to give a boost to your behind, you should keep in mind that not all the transferred fat stays in place. Even with the latest advanced techniques, some of the fat is reabsorbed by your body after transfer. All the fat that remains after three months is there for good. Dr. Younai compensates for this phenomenon to ensure that your results are what you are looking for.
Other forms of buttock augmentation can improve the appearance of your butt if it is too big or sags. Targeted liposculpture can remove fat to create a shapelier behind. Those who have lost a large amount of weight may have sagging. These patients are usually best served by a buttock lift, a procedure that is similar to a tummy tuck or body lift.
The Procedure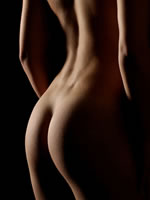 There are many men and women who are unhappy with their buttocks. Their butt is too flat, too wide, or sagging. Cloths don't fit or look good on them. They were either born like this, or lost the form and shape of their buttocks after losing or gaining weight. Pregnancy, or just aging alone, can also affect the size, projection, and profile of the buttocks.
This leaves many people frustrated, especially those who don't get the desired improvement through exercise and muscle toning.
There are a variety of cosmetic surgery procedures available to those who would like to have youthful, fuller, and perky buttocks with a more sensual body profile. The procedure for buttock augmentation and enhancement specifically varies depending on what is the actual deficiency and what is missing.
There are many who are either genetically or by weight gain have developed "fat and wide" buttocks. Liposculpture can help these people by shaping their buttocks and the surrounding tissues to make the buttocks rounder and more proportional to the rest of the figure.
There are others who have "flat and wide" buttocks. Besides utilizing liposculpture to shape of their buttocks, fat injection or buttock implants are used to augment the deficient buttock volume and to provide projection.
Finally, there are people that through either weight loss or aging have developed "flat and sagging" buttocks. These people can consider buttock lift with or without buttock augmentation. It is possible to utilize some of the discarded fat and soft tissue to augment the buttocks. The newly sensationalized "Brazilian Butt Lift Beverly Hills" is not truly a buttock lift procedure but more an augmentation which appears to have lifted the buttock by actually augmenting it and increasing its projection.
Enhancement Techniques
People seek buttock augmentation for a variety of reasons. Genetic factors, weight loss, and weight gain can cause the buttocks to become wide and saggy. They can become too fat or too flat. Luckily, there are a variety of techniques available to correct any and all of these concerns, giving you the full, round butt that is so desirable. Some procedures now being used to enhance the buttocks include:
Brazilian Butt Lift
This popular procedure is used to give flat, sagging buttocks the vivacious curves and position that everyone is after. The technique utilizes fat grafting and/or injection to achieve the desired effect. Fat tissue is taken from other parts of the body and implanted in the buttocks, increasing their size and projection. The butt, rather than being wide and flat, will instead contour outward. This procedure also lifts the buttocks.
Liposuction
Those with too much fat in the rear can benefit from the sculpting effects of liposuction. Using a thin metal tube, known as a cannula, to remove excess fatty tissue can contour and shape the buttocks to make them appear higher and shapelier. This procedure can also give the entire region better proportion to the rest of the body.
Body Lift
After massive weight loss, the buttocks can become loose and saggy. A body lift procedure addresses these issues by lifting the underlying tissue and remove the excess skin and fat tissue. It can also improve the condition of skin with poor elasticity and ease the look of cellulite.
Buttock augmentation can also be aided through the use of butt implants. Determining the best procedure for you can be done through a consultation with Dr. Younai at his office in Los Angeles. Buttock augmentation is a surgical procedure that requires careful consideration before being undertaken. Schedule a consultation today to find out which procedure can give you the results you want.
Before and After Photos
Brazilian Butt Lift
The size and fullness of the buttocks can be enlarged with either natural fat injection /grafting/ transfer or with Buttock Implants. The combined technique of fat transfer and body contouring through liposculpture is otherwise known as the "Brazilian Butt Lift".
Brazilian Butt Lift or Buttock Augmentation with fat grafting or injection involves harvesting your own body fat from other areas of excess and transferring it into the buttock tissue. For example, excess fat in the flanks, hips, lower back, thighs, or abdomen is liposuctioned, processed and then injected into the muscle and soft tissue of your buttocks. During this fat grafting process, the buttocks can be contoured to the desired shape and size. The fullness and projection of the buttocks can be greatly increased by laying many fine layers of micro-fat grafts throughout the thickness of the Gluteal muscle and the subcutaneous tissue. Because some of this fat does reabsorb, fat injection might need to be repeated.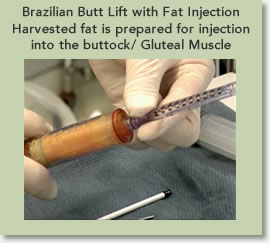 This procedure is performed under general anesthesia, on an outpatient basis. First liposuction is performed to shape the buttocks. If there is excess fat in the thighs, flanks, hips, or the abdomen, they are liposuctioned. The suctioned fat is then processed and injected in very thin layers in the buttock muscle and the subcutaneous tissue. Fat grafting has to be performed very meticulously to increase the chance of survival of the grafted fat cells. The injected fat has to be carefully added in order to achieve the desired contour and profile. Because approximately 30% of the injected fat dissolves, grafting is usually exaggerated and at times repeated several months later. Compression garments are worn for several weeks after surgery in order to help form the buttocks as well as to reduce swelling.
Buttock Implants
The volume and projection of the buttocks can be augmented with either natural fat injection /grafting or with Buttock Implants.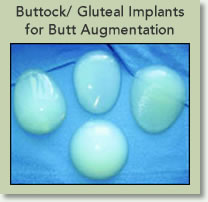 Buttock Augmentation with an implant can give a very satisfactory result. The implants come in different sizes and shapes and they can even be custom made. They are made of solid silicone, which has the same consistency, and feel as that of a buttock. Unlike silicone breast implants, buttock implants don't leak, because they are solid. These implants do not need not be replaced over time.
Although buttock implants can provide significant prominence to the buttocks, they general have a much higher rate of complications compared to fat grafting/ injection which is also marketed as the "Brazilian Butt Lift". Therefore, like many other plastic surgeons that perform buttock augmentation, I favor using fat injection/ grafting with a combination of liposculpture and body contouring, instead of implants in majority of cases.
Buttock augmentation with fat grafting or injection, involves harvesting your own body fat from other areas of excess and injecting it into the buttock tissue. For example excess fat in the flanks, lower back, thighs, or abdomen is liposuctioned, processed and then injected into the muscle and soft tissue of your buttocks. During this fat grafting process the buttocks can be contoured to the desired profile. Unlike buttock implants, there is some loss of volume after fat grafting due to resorption of the injected fat. Therefore, the injection might need to be repeated.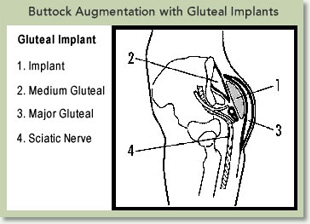 This procedure is performed under general anesthesia, on an outpatient basis.
With this technique a 4 inch incision is placed in the middle of the buttock crease between the buttock cheeks to insert the implant. The buttock muscles are exposed and the implants are usually place between the two layers of the buttock muscles. This keeps the implant from sagging, gives it a more natural shape, and reduces the chance of having complications.
It is also possible to place the implants through the fold under the buttocks. This scar tends to be more noticeable and the implants often end up being placed too low. After placement of the implants the wounds are closed. Some plastic surgeons use temporary drains to remove excess fluid buildup.
Pre-Operative Checklist
The surgeon will provide very specific instructions prior to surgery so you will have an optimal and safe experience. These includes what medications to avoid to prevent excessive bleeding and bruising, required medical exams, what to eat and drink prior to surgery, and the prescription of an anti-nausea pill to take on the morning of the surgery. In all cases, you will be asked to have a reliable friend or family member take you home after the surgery, as you will not be allowed to drive.
Also, take care of all your chores and to do things before your surgery so you don't have to worry about taking care of things early during your recuperation. This means if you usually clean the house do it in advance of our surgery. Also have your hair cut and colored, wax your legs, pay your bills, and take your dog to the vet ahead of your surgery.
If you are going to have buttock implant you are not allowed to sit on your buttocks for more than a few minutes at a time during, the first two weeks. This means no driving during this period. From the third to six weeks after surgery, you can only sit on soft pillows and cushions. Make sure that you have enough pillows and cushions to help you during this period.
Because the incision is located in the buttock crease, it needs to be meticulously cleaned in the shower at least once daily and every time after bowel movement, during the first two weeks. Therefore, make preparations for this.
If you are older than 45 years, or have heart disease, we require a pre-operative EKG, which would either be done by your internist, cardiologist, or at our facility. Heart disease and all other medical illnesses need to be monitored first by an internist or specialist.
If you are anemic, or have a low blood count, please notify our office well in advance of surgery so that we can start you on Iron supplement. You cannot have surgery if you are anemic.
Pre-operative laboratory blood and urine tests are done usually within 10 days of your surgery date. If you do have health insurance this might be covered, otherwise, the laboratory will charge you.
If you have specific medical illnesses, allergies, or physical handicaps, please notify our staff during your pre-operative visit.
Please refrain from taking any Aspirin, Aleve, Advil, Motrin or other NSAID for ten days before your surgery. These drugs can increase the incidence of bleeding and bruising.
Do not drink or eat after midnight, the night before your surgery. This means no coffee or breakfast in the morning of your surgery. You should take all your medications with a little water.
Please remove and leave behind all jewelry, watches, and body rings before you come in for your surgery. Please do not wear any makeup or perfume.
Before leaving home for your surgery, take one "nausea pill"- COMPAZINE – with a little water.
Please wear comfortable and loose clothing the day of surgery. It would be helpful if you wear front open tops and loose sweatpants.
We ask you to check the fit of your compression garment in advance and to bring it with you to surgery.
You should make arrangements for a responsible adult friend or family member to take you home after surgery. You are not allowed to drive yourself home or take a taxi. After surgery, this caregiver is required to stay with you and to monitor and assist you for at least the first 24 hours after surgery. If you don't have such a person please let us know in advance so that we can help you make arrangements for a stay at an after-care facility or hospital.
Having a support system of family, friends or a professional caregiver in the days following surgery is of the utmost importance, as the patient will need assistance with everyday tasks, such as going to the bathroom.
Buttock Lift Recovery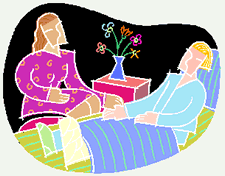 When patients leave the surgery facility to go home, they are usually groggy for about 12 hours or overnight. That is why it is very important to have someone who can assist you with getting around and taking your medications for at least the first 24 hours.
Make sure that you have all your medications, cold drinks, and towels at your bedside. Most people are nauseated during the first 24-48 hours. To reduce this, we suggest that you take your nausea pill one hour before taking your pain pills or antibiotics. While it is good to drink plenty of liquids, please refrain from drinking plain water or acidic fruit juices because they will make you more nauseated.
Do not be alarmed when blood-tinged tumescent fluid oozes from the sites of fat harvest or liposuction. This is a normal result of liposuction and usually stops within half a day. The surgeon leaves these tiny incisions exposed so that the liquid spills out, thereby minimizing bruising. You should cover your bed to avoid staining from this fluid. On the other hand there should not be any drainage from the incision where the implant has been placed. If this happens, please inform your doctor.
There will be some swelling and some minimal bruising which dissipates five to eight weeks following surgery. Despite this swelling, you will be smaller than your original size. However, you should wait to buy new clothing until your size has stabilized.
Following liposuction, fat injection, or implant placement, you are placed in a support garment. Do not remove this until your doctor instructs you to do so. We usually have the patient remove their garment and to take a shower after 2 days. The first time that you remove your garment you will feel faint, which is normal. Have someone with you at that time. After your first shower you need to apply Vaseline or heavy lotion all over liposuctioned areas and the buttock skin to alleviate the itchiness that is caused by the skin-drying effects of liposuction. This is a good time for you to start massaging the fat injection areas. You should massage these areas softly about three times a days for about six weeks. Sometimes, patients whose skin was not firm and elastic will experience dimpling of the skin. These can be eliminated or minimized by massaging and early exercise. If you have implants don't get the incision wet until instructed by your surgeon.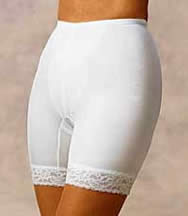 For the first two weeks you should sleep on your stomach and not on your back. During this time you should avoid putting direct pressure on your buttock for few minutes at a time. If you have to sit, use a very soft cushion. From week three until six you should also sit on cushions when sitting for prolonged periods.
All surgical areas stay numb for four to eight weeks. Massage will help to desensitize your skin in order to avoid hypersensitivity or skin irritation.
The most important way that a person can contribute to having a great result is by being meticulous about conducting massage.
You need to meticulously clean your buttock implant incision in the shower and then after with alcohol after each bowl movement, or at least once daily for the first two weeks after surgery.
Patients will also feel a bruise-like or muscle cramp-like pain, particularly in the areas where fat was removed, and which will be addressed through a prescription from your surgeon.
Antibiotics are prescribed to reduce the risk of infection.
It is good to ambulate after surgery in order to prevent stagnation of blood in your legs and to reduce the chance of developing blood clots.
Support garments should be worn 24 hours a day for three weeks, and then during the daytime for the next three weeks. This will help to reduce swelling, and to help shrink the skin, and to form the buttock area.
Resuming Work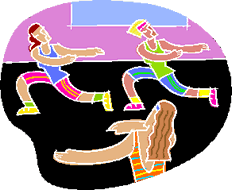 Most patients can resume normal activities within two weeks after buttock implant placement, or within one week after fat grafting. After this time you can start gentle waking but must refrain from jogging or doing heavy physical activity or exercising until six weeks after surgery. You can do upper body exercising after two weeks. Most patients return to work within a week after fat grafting and after two weeks from buttock implant placement.
Pain
Usually, fat injection is much less painful that buttock augmentation with implants. Fat injection feels mostly like a bad bruise while implant placement feels like a bad muscle cramp. These pains are manageable with the prescribed medications.
Sexual Relations
Fat Injection does not hinder your ability to have sexual relations. However, you should resume sexual activity only as you feel comfortable in doing so. The desire to resume having sex varies from patient to patient. On the other hand, with buttock implant placement you should avoid having any strenuous sex for about six weeks after surgery.
Risks And Complications
Major Concerns
Like any non-cosmetic major surgery, buttock augmentation has potential risks and complications. Therefore, you should consider it as seriously as you would any major surgery. Also note that augmentation with implants carries a much higher rate of complications as compared to fat injection.
Minor Concerns
Changes in Skin Sensation: This is a normal consequence that occurs in everyone to a different extent. You may experience "paresthesia," which is an altered sensation at the site of the liposuction. This may either be in the form of an increased sensitivity (pain) in the area, or the loss of any feeling (numbness) in the area. This sensation is very rare. However, in almost all patients it goes away within the first two to four months after surgery. Massaging the area of liposuction helps increase circulation, and facilitates return of normal skin sensation.
Swelling: This is also a normal occurrence that occurs in every patient. Compression garments and post-operative massage help to minimize this, as well as reducing its duration to less than two months.
Bruising: There will be bruising in many areas that are liposuctioned or grafted, as well as in adjacent or dependent areas. For example, you will also note bruising and swelling in the back of your thighs and your genitalia. This is not because these areas are actually liposuctioned. However, bruises usually move downward due to gravity, and can thus temporarily accumulate in the genitalia. Some bruising can last a long time or even lead to skin pigmentation. Sun tanning immediately after surgery can cause these bruises to become skin stains.
Skin Irregularities or Dimples: The areas of injected with fat can develop contour irregularities, including bumps and dimples depending on your skin elasticity and the extent of fat injection. Usually, post-operative massage helps to smooth these areas.
Asymmetry: No two halves of the body are identical. Therefore, following buttock augmentation, there may appear to be very slight differences between the contour and size of the two sides. Scoliosis or other spine derangements can magnify body asymmetry.
Muscle Spasm: It is very common to get temporary muscle spasm or cramps in the buttock muscles. This usually resolves quickly by itself or can be helped by gentle heat and massage.
Pain and Discomfort: You should expect to have pain or discomfort similar to a feeling of having worked out too hard. Some of this may feel like a stabbing pain in the augmented areas, and in adjacent areas. This can usually be managed by pain medications, and it generally lasts for a few weeks. Rarely, and in people with Fibromyalgia, or other forms of chronic pain syndrome, there can be a worsening of the patient's baseline pain.
Depression, emotional, or sexual changes: There have been reported incidents of post-liposculpture depression similar to postpartum depression. While this is usually temporary, patients need to address it with their physician.
Seroma or fluid collection: After fat injection or implant placement, there may be a pooling of serum, the straw colored liquid from your blood, in the buttock areas. Your surgeon can alleviate these by draining them with a small needle in an office procedure.
Fat Absorption and Sclerosis: Approximately 30% of the injected fat does not survive and gets absorbed. If this happens unevenly, there could be areas were you feel or see dimples or dents due to excessive resorption or fat. Also, in the areas of fat absorption scarring can occur which makes the tissue feel hard. Gentle massage over the buttock area helps even out and smoothen these areas during the recovery phase.
Rare Complications
Infection: Infection may happen after any surgery and may rarely occur after liposculpture. The rate of infection increases with in increase with the amounts of injected fat, as the risk of Seroma formation increases; but the overall rate still remains very low due to routine use of peri-operative antibiotics. On the other hand, there has been reported a significantly increased risk of infection with the use of buttock implants, which can be as high as 25-30%. This is most likely due to the vicinity of the incision to the rectum. Because of this, I usually discourage patients to have an implant unless they are fully aware of this serious risk and are very meticulous with their post operative care. If a mild infection develops it might be treated with antibiotics. Otherwise, the implant has to be removed, and the wound has to be left open for it to close gradually, which can take several weeks. Extremely rarely, infections may be serious or life threatening such as in cases of necrotizing fasciitis (bacteria that eat away at the tissue) or with toxic shock syndrome, a serious, sometimes fatal infection caused by a bacteria, that is associated with surgery (such as is sometime caused by the use of tampons).
Embolism: This is also extremely rare and is lessened by early postoperative mobility so that blood does not have time to become stagnant in calf muscles. Fat embolism may occur when fat is loosened and enters the blood through blood vessels ruptured (broken) during liposuction. Pieces of fat get trapped in the blood vessels, gather in the lungs, or travel to the brain. The signs of pulmonary emboli (fat clots in the lungs) may be shortness of breath or difficulty breathing. If you have the signs or symptoms of fat emboli after liposuction, it is important for you to seek emergency medical care at once. Fat emboli may cause disability or, in some cases, be fatal.
Visceral Perforations (puncture wounds in the organs): During liposuction, fat injection the physician is unable to see where the cannula, or probe, is. It is possible to puncture or damage internal organs during this procedure. When organs are damaged, surgery may be required to repair them. Visceral perforations may also be fatal.
Skin Necrosis (skin death): The skin above the fat grafted area or at the site of stab wound incisions may become necrotic or "die." When this happens, skin may change color and be sloughed (fall) off. Large areas of skin necrosis may become infected with bacteria or microorganisms.
Implant Protrusion: It is possible for the buttock implants to migrate and gradually extrude through the incision or other areas of the buttock skin. The incidence of this increase if there is Seroma, Hematoma, or Infection. Also, excessive pressure over the implants during the early period of healing can increases the risk of implant protrusion.
Nerve Injury: Buttock implants can either press upon or migrate onto the sciatic nerve which travels in the buttock region. This can potentially cause impingement or injury to the nerve. Treatment may include removal of the implants.
Fluid Imbalance: Fat tissue, which contains a lot of liquid, is removed during liposuction. Also, physicians may inject large amounts of fluids during liposuction. This may result in a fluid imbalance. While you are in the physician's office, surgical center or hospital, the staff will be monitoring you for signs of fluid imbalance. However, this may happen after you go home and can result in serious conditions such as heart problems, excess fluid collecting in the lungs, or kidney problems as your kidneys try to maintain fluid balance.
Toxicity from Anesthesia: Lidocaine, a drug that numbs the skin, is frequently used as a local anesthetic during liposuction. You may have had a similar drug, Novocaine, to numb your mouth at the dentist. Large volumes of liquid with lidocaine may be injected during liposuction. This may result in very high doses of lidocaine. We try to minimize the potential for Lidocaine toxicity by greatly limiting the extent of Lidocaine used during general anesthesia. The symptoms of this toxicity are lightheadedness, restlessness, drowsiness, tinnitus (a ringing in the ears), slurred speech, metallic taste in the mouth, numbness of the lips and tongue, shivering, muscle twitching and convulsions. Lidocaine toxicity may cause the heart to stop, resulting in death. In general, any type of anesthesia may cause complications and is always considered a risk during any surgery.
Fatalities Related to Liposuction: There are numerous reports of deaths related to the liposuction procedure. Studies conducted to date have not been definitive, so it is difficult to be sure how often death from liposuction occurs.
Some studies indicate that the risk of death due to liposuction is as low as three deaths for every 100,000 liposuction operations. However, other studies indicate that the risk of death is between 20 and 100 deaths per 100,000 liposuction procedures. One study suggests that the death rate is higher in liposuction surgeries in which other surgical procedures are performed simultaneously. In order to understand the extent of the risk, one study compares the deaths from liposuction to that for deaths from car accidents (16 per 100,000). It is important to remember that liposuction is a surgical procedure and that there may be serious complications, including death.