Body Lift
Consultations offered at our three convenient locations in Encino, Glendale and Bakersfield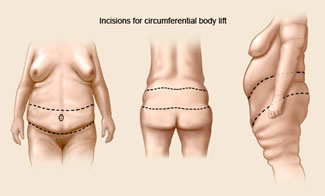 Although many people in Los Angeles know what a tummy tuck is, most people don't know what a body lift is or the benefits that it provides. A body lift is a relatively new plastic surgery procedure in Beverly Hills which is used for body contouring of people who have lost massive weight after Bariatric Surgery, Gastric Bypass, or Lap Band.
A body lift also removes excess, hanging skin from either the upper or lower regions of the body and helps to lift the remaining skin for a more youthful aesthetic. To learn more about this comprehensive cosmetic procedure, please contact the office of Dr. Sean Younai and schedule a consultation today.
What is a Body Lift?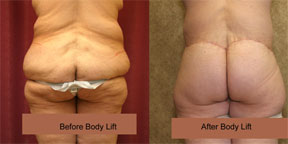 A body lift is a new, modern surgical procedure that removes excess skin from the upper or lower region of the body that has been left as a result of massive weight loss. This procedure can provide individualized body contouring results that personally lift and shape each patient's figure.
This complicated procedure is best performed by a board-certified plastic surgeon who specializes in body contouring after massive weight loss. Recovery after a body lift takes at least three weeks, and during at least the first ten days the patient will need assistance with daily activities.
Before and After Photos
Reasons for Seeking a Body Lift
After experiencing massive weight loss, many patients find that they have an abundance of excess skin, and in some cases, fat, in multiple areas of the body. In many cases, these patients seek a tummy tuck to remove the excess tissue from the abdominal region. However, some patients may require a more extensive procedure, such as an upper or lower body lift.
Body Lift Treatment Areas
Lower Body Lift
Abdomen
Flanks
Buttocks
Thighs
Upper Body Lift
When massive weight loss occurs, the remaining skin can be left stretched out. The lack of elasticity in the skin causes it to sag and can result in dimpling or wrinkling throughout the affected areas. A body lift corrects these issues by removing the excess tissue and strengthening the tissue that supports it. This procedure helps to smooth and lift the skin to restore a more youthful overall aesthetic.
Good Candidates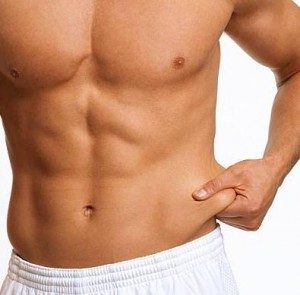 Good candidates for a body lift are men and women who have large amounts of lax skin on their upper or lower portion of their body. This excess skin is most commonly a result of massive weight loss such as those who have lost about 100lbs. These patients should be in overall good health and are at or near their goal weight, as losing more weight after the procedure can negatively impact the results. Through diet and exercise, patients can get to their ideal weight, but it cannot provide tightening of the skin after the tissue has been overly stretched. This is when a body lift procedure would be a sufficient treatment.
The men and women who undergo this procedure should have realistic expectations for the procedure and understand that a body lift is not an alternative to weight loss. In certain cases, liposuction can be combined with the body lift to remove stubborn pockets of fat that have been unaffected by diet and exercise.
This procedure can be customized to fit the patient's exact needs and goals, which is just another reason why Dr. Younai has such high patient satisfaction rates.
Consultation
During the initial consultation, Dr. Younai will discuss with the patient their goals and expectations for the procedure. He will also ask what their particular concerns are to gather further information. He will next assess your case by looking at:
Medical history
Routine medications
Current conditions if any
He will then physically examine the body to identify the areas of concern and build a treatment plan. Patients will be given the option to schedule their surgery at this time; however, there is no need to do so if they are not ready to make a decision. We want to make sure that our patients are well-informed and confident before deciding to undergo a body lift procedure.
Preparation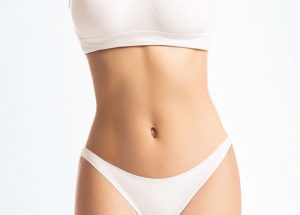 In preparation, it is asked for the patient to maintain a healthy diet and exercise both before and after their body lift procedure. This is because weight fluctuations post-surgery can negatively impact the patient's results. Proper maintenance is key to manage and maintain the procedure's beneficial outcomes. Patients will also be asked to refrain from taking any anti-inflammatory medications for at least two weeks before surgery. Those who smoke will be asked to quit at least three weeks prior to the body lift procedure, as it can hinder the body's ability to heal effectively.
Body Lift Techniques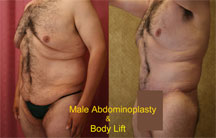 Body lifts are usually performed using general anesthesia on an outpatient basis. This means that the patient will be able to return home the same day as surgery. It is a highly complex and individualized procedure that is used to shape and contour the majority of either the upper or lower body, depending on the patient's needs.
Lower Body Lift
Dr. Younai may perform liposuction throughout the treatment area to remove any stubborn pockets of fat that have been unaffected by diet and exercise. Once the fat has been removed, the doctor will make an incision an incision just above the pubic line, spanning from hip to hip. He will first tighten the abdominal muscles and underlying tissues to contour and tone the midsection. He will then remove the excess skin from the abdomen, as well as any lax skin that covers the love handles and lower back.
For the next step of the procedure, Dr. Younai will make incisions on either the inner or outer thighs to remove excess skin and provide the added lift that the body needs. By doing so, the doctor can then pull the remaining skin taut and close the incisions.
In some cases, drains will be placed prior to closing the incisions to help collect any surgical fluid that can build up in the treatment areas. Once the doctor has achieved the desired aesthetic, he will place compression garments around the abdomen, thighs, and buttocks.
Upper Body Lift
Dr. Younai will begin the upper body lift by performing liposuction throughout the treatment areas if necessary.
Stubborn pockets of fat, such as in the upper back or arms, can be difficult to remove through diet and exercise alone. Once the fat has been extracted, the doctor will make an incision on the inner part of the arm to remove excess skin. The most common incision used in this region spans from armpit to elbow. Removing this lax skin will reduce the circumference of the upper arm to provide a more toned contour.
Dr. Younai will then address excess back skin that remains on the upper back, also known as "bra rolls." The remaining skin will be tightened and sutured. Lastly, the doctor may perform a breast lift to help restore a more youthful, perky bust. The breast lift technique used will be determined during the consultation. The technique will vary from patient to patient depending on the extent of treatment that is required.
Once the doctor has attained the desired results, compression garments will be wrapped around the treated areas, and drains may be placed in the incisions to collect any excess surgical fluid.
Recovery
Following your body lift, we ask that patients continuously wear the compression garments to help reduce swelling and also to help the skin to form appropriately to the new body contour. Surgical drains will be removed during the first post-op appointment. It is recommended that patients walk briefly the evening of their surgery to help improve circulation and reduce the risk of blood clots from forming. Because of the invasive nature of this procedure, normal activity will likely be restricted for about four to six weeks after surgery. More strenuous activities should be avoided for eight to ten weeks unless otherwise directed by Dr. Younai. As with any surgical procedure, following the doctor's instructions is crucial to ensuring optimal success. Because every patient is unique, Dr. Younai will advise them on specific recovery instructions that pertain to their individual case. If patients have any questions during this time, our helpful staff is always here to help.
Cost
The cost of the body lift procedure will depend on the particular technique used and if additional treatments are required, such as liposuction, to provide patients with their desired aesthetic.
During the initial consultation, patients will work with Dr. Younai to construct a treatment plan based on their exact needs and will be provided a personalized body lift quote. To obtain a quote, please contact our office or click here to schedule a consultation today.
Why Choose Dr. Younai?
A body lift is a serious procedure that should be performed by a surgeon with the utmost skill and experience.
Dr. Younai is one of the premier plastic surgeons in the Los Angeles, receiving patients from all over Northern and Southern California. He has trained extensively in General Surgery and Plastic Surgery and is certified by the American Board of Plastic Surgeons. He gives each patient the highest quality of attention and care. He can help you get the best results possible from your body lift procedure.
"I am very pleased with the results of the body lift I received from Dr. Younai. After having children, I felt like I was losing control over my body. Each pregnancy took a heavy toll on my appearance, especially from the waist down. I was happy to hear that there was a procedure to help rejuvenate my entire lower body. Thanks to Dr. Younai, I was able to achieve a total transformation in one surgery. Now I don't just look like a mom. In fact, I look almost the same as I did before I ever had kids. Dr. Younai gave me that."
– Anna Y., Los Angeles / Body Lift