Body Lift
Consultations offered at our four convenient locations in Los Angeles, Beverly Hills, Glendale and Bakersfield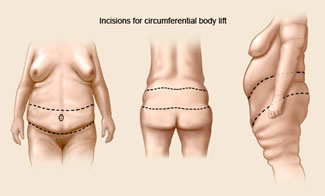 Although many people in Los Angeles know what a tummy tuck is, most people don't know what a Body Lift is. Body Lift is a relatively new plastic surgery procedure in Beverly Hills which is used for body contouring of people who have lost massive weight after Bariatric Surgery- Gastric Bypass or Lap Band.
Body Lift or Belt Lipectomy is similar to an abdominoplasty in that it also removes excess hanging skin folds of the abdomen. In addition, a Body Lift also removes excess hanging skin of the lower back and helps to lift the sagging buttocks. Beverly Hills Body Lift uses a circumferential torso incision to remove the hanging skin of the mid torso, including that of the abdomen, flanks, and the lower back, and thus lift up the lower body.
About Body Lift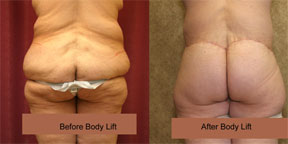 Body Lift is a complicated procedure that is best performed by a Board Certified Plastic Surgeons who specialize in body contouring after massive weight loss. This Body Contouring procedure needs to be performed in a Surgical Facility which is equipped for the intra-operative and post-operative necessities of a major abdominal surgery.
Recovery after a Body Lift takes at least 3 weeks, and during at least the first ten days the patient would need much help. Most patient can return to their routine activities after the third week and start exercising in 4-6 weeks.
Before & After Photos
Reasons for Seeking a Body Lift
After experiencing massive weight loss, many patients find that they have an abundance of excess skin and fat in multiple areas of the body. In many cases, these patients seek a tummy tuck to remove the excess tissue from the abdominal region. However, some cases require a more extensive procedure.
Body Lift Surgery Areas
Lower Back
Thighs
Buttocks
Groin
When massive weight loss occurs, the remaining skin can be left stretched out. The lack of elasticity in the skin causes it to sag and can result in dimpling or cellulite in all of the affected areas. A body lift corrects these issues by removing the excess tissue and strengthening the tissue that supports it.
The Body Lift Procedure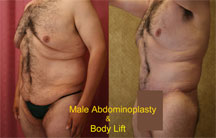 Body lifts are usually performed using general anesthesia. It is a highly complex and individualized procedure that is used to shape and contour the majority of the lower body. Dr. Younai begins the procedure by making an incision. When treating the entire lower body – waist, hips, thighs, etc. – the incision begins at the lower back and passes around the hips to the front of the thighs. This allows the doctor to access the tissues underneath. Excess skin and fatty tissue is removed from below the incision, leaving the skin above the incision for shaping and smoothing the lower body. Sutures are utilized deep within the underlying tissue to strengthen and contour it. Layered sutures are then carefully placed in order to maintain the skin's new shape.
Why Patients Choose Dr. Younai for Their Body Lift
A body lift is a serious procedure that should be performed by a surgeon with the utmost skill and experience.
Dr. Younai is one of the premier plastic surgeons in the Los Angeles, receiving patients from all over Northern and Southern California. He has trained extensively in General Surgery and Plastic Surgery and is certified by the American Board of Plastic Surgeons. He gives each patient the highest quality of attention and care. He can help you get the best results possible from your body lift procedure.
"I am very pleased with the results of the body lift I received from Dr. Younai. After having children, I felt like I was losing control over my body. Each pregnancy took a heavy toll on my appearance, especially from the waist down. I was happy to hear that there was a procedure to help rejuvenate my entire lower body. Thanks to Dr. Younai, I was able to achieve a total transformation in one surgery. Now I don't just look like a mom. In fact, I look almost the same as I did before I ever had kids. Dr. Younai gave me that."
– Anna Y., Los Angeles / Body Lift
Body Lift Recovery
Following your body lift, compression garments may be used to reduce swelling around the affected area. Surgical drains are typically placed to remove fluid from the area. You will likely be encouraged to walk around the day after surgery to increase circulation. If your sutures are non-bioabsorbable, they will need to be removed. This is generally performed as an outpatient procedure about two weeks after surgery. Because of the invasive nature of this procedure, normal activity will likely be restricted until four to six weeks after surgery. As with any surgical procedure, following your doctor's instructions is crucial to ensuring optimal success. Since every patient is unique, Dr. Younai will advise you on the specifics of your recovery.