Breast Augmentation
Consultations offered at our three convenient locations in Encino, Glendale and Bakersfield
The Procedure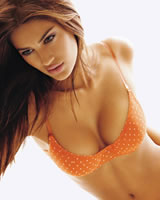 Breast augmentation is consistently at the top of the list plastic surgeons perform every year. Women generally seek this procedure to enhance the size or shape of their breasts. Following pregnancy, breast augmentation can also restore any volume that has been lost. It is a well-established procedure that delivers consistent results, with many options to help you achieve the look you want.
Visit any gym in Los Angeles these days, and you'll see so many women with beautifully proportioned bodies! Having a lovely body and full breasts is no longer a luxury that is limited to celebrities. Thanks to cosmetic surgery, and advances in Breast Augmentation and Enhancement, all women can now enjoy fuller and sexier breasts.
Women no longer need to stuff their bras with Kleenex before social occasions, wear oversize padded bras, or go to so many lengths to achieve a figure that they can feel better about. They can now attain fuller, sexier, and more attractive breasts that boost their self esteem. This is achieved very safely through Breast Augmentation.
Breast Augmentation, or Augmentation Mammoplasty, is the enlargement of a woman's breasts through the placement of implants. According to the American Society of Plastic Surgeons, nearly 255,000 women in the United States underwent Breast Augmentation in 2003, nearly twice the number of procedures done in 1998.
Women undergo Breast Augmentation for a number of reasons including Small Breasts measuring an "A" cup or less; shrinking, loss of volume and sagging from Pregnancy and Breast Feeding; Asymmetrical or "uneven" breasts; Tubular or "Snoopy" breasts; loss of breast volume due to Weight Loss; loss of breast tissue due to Aging; Ptosis or sagging of the breasts (which is often treated with a combination of Breast Lift and augmentation with an implant to compensate for loss in volume caused by the lift); and Empty Sac Syndrome where there is a loss of breast volume while the breast "envelope" remains intact.
The Saline Breast Implant, which has an exterior sac made of solid silicone and which is filled with a sterile saline solution, is the most commonly used implant. Advantages of this implant include its safety because the saline just gets absorbed by the body if the implant leaks, and a very low infection rate. Another advantage is that it is filled with fluid after being inserted into the breast, and therefore the plastic surgeon only needs to make a very small incision to insert it.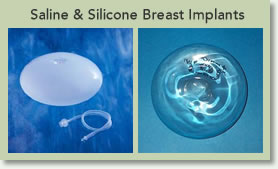 Silicone Breast Implants are filled with a silicone gel. More than 1.5 million American women currently have Silicone Breast Implants. While some people feel that these implants feel more like a "natural" breast, their safety came into question about 15 years ago, due to claims that they caused autoimmune diseases and hardening of the breasts. Today, only women who are enrolled in long-term clinical studies are permitted to use these implants, which are also reputed to have less easily detected ruptures than do Saline Breast Implants.
Implants have various shapes, including Round, Teardrop or "Anatomic." Round Implants are wider, provide greater cleavage and fill in the upper portion of the breast. Many plastic surgeons suggest Teardrop or Anatomic implants for women who are seeking fullness mostly in the lower breast.
Before and After Photos
Implant Options
There have been varying viewpoints throughout the years about the best kind of implant to use for Breast Augmentation, and health controversies about one kind of implant that dominated news reports in the 1990's. Many women who were interested in having fuller breasts were fearful to do so because of these reports. The following describes the different kinds of implants that are available, and addresses some of the concerns regarding differences between breast implant fill material, shape, surface texture, size, manufacture, and use of implants.
Fill Material
The Saline Breast Implant, which has an exterior sac made of solid silicone and which is filled with a sterile saline solution, is the most commonly used implant. Advantages of this implant include its safety because the saline just gets absorbed by the body if the implant leaks, and a very low infection rate. Another advantage is that it is filled with fluid after being inserted into the breast, and therefore the plastic surgeon only needs to make a very small incision to insert it.
Silicone Breast Implants are filled with a silicone gel. More than 1.5 million American women currently have Silicone Breast Implants. While some people feel that these implants feel more like a "natural" breast, their safety came into question about 15 years ago, due to claims that they caused autoimmune diseases and hardening of the breasts. Today, only women who are enrolled in long-term clinical studies are permitted to use these implants, which are also reputed to have less easily detected ruptures than do Saline Breast Implants.
Although all breast implants do have a solid silicone shell (bag), they are filled with different substances such as:
Saline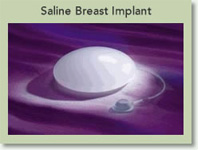 While there are a number of implants available for Breast Augmentation, currently the most commonly used is the saline breast implant.
The saline implant has an exterior sack made of solid silicone, which is filled with a sterile saline solution — like the salt-water solution that is administered for intravenous fluids. One of the advantages of this solution is its safety. Should the implant for some reason leak, the saline just gets absorbed by your body, as would the intravenous fluids used during, and after surgery. Yet another advantage of the saline implants is a very low infection rate, which is usually less than one to two percent.
Another advantage of the saline implant is that it is filled with fluid after being inserted in the breast, therefore requiring only a small incision. This is in contrast to silicone implants which are pre-filled. Also, because saline implants are filled after insertion, their final volume can be adjusted making it easier to correct for existing breast asymmetry.
Unlike other types of implants such as silicone implants, there are not restrictions on the use of saline breast implants; and women do not need to enter any specific national breast study to be eligible for their implantation, as they do for the implantation of Silicone Implants.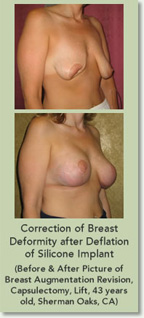 Widespread media reports that saline-filled implants can contract fungal contamination were discredited when it was learned that the Canadian laboratory that released this finding relied heavily on implants that had been mailed. As such, there was no guarantee of sterility in the transport of these implants.
There are two main disadvantages of saline breast implants, when compared to those filled with silicone. Because of the liquid nature of saline, saline filled implants tend to have a higher incidence of rippling, or the ability to be felt. Although rippling occurs in all saline implants, filling them according to the manufacturer's recommendations, submuscular placement of implants, and the existence of thicker breast skin and tissue minimizes a person's ability to see or feel rippling of saline implants. Because silicone gel has a thicker consistency, it tends to ripple much less, but sometimes happens nonetheless.
The second potential disadvantage of saline implants compared to silicone breast implants is the difference in how they feel to the touch. Outside of the body, silicone implants have a more natural consistency. In reality, this difference becomes less noticeable when implants are felt underneath the breast and muscle tissue.
Silicone
These are implants that are filled with a silicone gel. More than 1.5 million American women currently have silicone breast implants. Some people feel that the silicone implant results in a more natural appearing breast. However, about 15 years ago, the safety of these implants was questioned in numerous media reports, and through the filing of numerous lawsuits again the implant manufacturers. Numerous afflictions, including autoimmune diseases and hardening of the breasts, were attributed to the leakage of silicone into the bodies of women who had these implants.
The facts of the matter about silicone breast implants have been published by the Food and Drug Administration FDA:

"In January 1992, the FDA called for a voluntary moratorium—a delay on the use of these implants—until new safety information could be thoroughly reviewed. The moratorium was not intended to "ban" the implants, but instead to allow time to review the new safety information. In April 1992, the agency decided that no PMA yet submitted contained sufficient safety and effectiveness data to support approval. However, access to these silicone gel-filled breast implants would continue for women enrolled in certain clinical studies. In the years that followed that decision, thousands of women filed lawsuits against the manufacturers of silicone gel-filled implants, claiming the devices had caused serious ailments, such as connective tissue diseases, neurological diseases, and cancer. Consumer groups repeatedly filed petitions urging more studies on the implants. But many women said they were pleased with their implants, including cancer patients who had pleaded for the opportunity to choose silicone gel-filled implants for reconstruction. In January 2004—contrary to the recommendation of the agency's advisory panel—the FDA determined that the new silicone gel-filled breast implant PMA was "not approvable" at that time. This meant that the implants were not approved for marketing pending additional information, but that women would continue to have limited access to them by enrolling in clinical studies."
Therefore, at this point only women who are enrolled in long-term clinical studies are allowed to have silicone breast implants. To be considered for these studies, a woman must need implants for breast reconstruction, for repair of breast asymmetry or ptosis, or to have been among those that have developed severe rippling with saline implants. Those who have Lupus, Scleroderma, autoimmune diseases, or diseases that hinder wound healing are excluded from the study.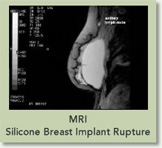 The main disadvantage of silicone breast implants is that their rupture is less easily detected than with the rupture of saline implants. When a saline implant ruptures, the saline gets absorbed by the body, making the breast go flat, which can be easily recognized by a woman. On the other hand, because silicone gel mostly stays within the breast tissue and does not get absorbed, there is usually no noted reduction in breast size after rupture of silicone implants. Tools to detect rupture of silicone implants include Mammograms and Magnetic Resonance Imaging (MRI). Also, the cleanup and complete removal of the leaked silicone gel is difficult. Finally, although there are several studies that attest to the safety of silicone, the controversy about the safety of silicone implants remains.
Cohesive Gel
Cohesive gel implants are silicone implants that are filled with a thicker silicone gel that holds its shape and form like a "gummy bear." If you cut into a standard gel implant, the liquid silicone gel escapes from the implant shell. In contrast, when you cut into a cohesive gel implant, the implant itself maintains its shape and integrity. These shaped implants are designed with a focus upon a natural look, rather than for enlargement. Furthermore, gummy bear implants maintain their shape in an upright position that decreases the incidence of folding of the implant shell or rippling. If a cohesive gel implant ruptures, it maintains both its shape and integrity.
One disadvantage of cohesive gel implants is that they require a slightly larger incision for insertion. Because of this, insertion is usually performed through an incision in the fold under the breast, or occasionally through an incision around the areola. Cohesive gel implants are very difficult to insert through an incision in the armpit. Finally, gummy bear implants were approved in late 2006 by the FDA for use in the United States, but their use is limited to certain age, and patient require strict follow-up with MRI to look for silent rupture.
PIP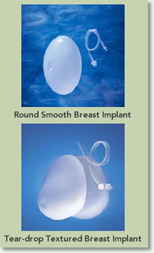 PIP implants are breast implants manufactured in France by Poly Implant Prostheses, and, until recently, imported by PIP/USA. PIP implants are saline but, unlike other saline implants, they are pre-filled. They are not currently approved by the FDA for use in the United States.
Soybean oil-filled Implants
Soy oil-filled implants provide a material less dense than silicone gel, or saline solution, to allow for better visualization of mammograms in the presence of implants. The goal was also to achieve a material of similar safety to saline to allow clearing once the implants eventually fail and leak. These implants are not approved by the FDA for use in the United States.
Expandable
The Spectrum implants introduced by Mentor Corporation are expandable and can be filled anywhere from 25cc to 140cc depending on the initial size of the implant itself. They come with a small remote port that is placed over the outer chest rib cage. They can be filled over weeks to months to let the patient decide exactly on the size. The advantages are the flexibility and range of fill size and the ability to change it after surgery. The disadvantages are that it requires a second surgery to remove the port from the chest wall. There is also a higher infection rate with a remote port and that these implants are costlier than standard implants.
Shapes
You should thoroughly explore implant size with your plastic surgeon, who should give you as much time as you need to "try on" different sizes of implants. You should not only consider breast size, but also what size is proportional with your frame and your height. Breast Augmentation Beverly Hills is major surgery, so you should be highly selective to choose a plastic surgeon who is certified by the American Board of Plastic Surgery (ABPS) and who has performed this procedure many times.
Implants have various shapes, including Round, Teardrop or "Anatomic." Round Implants are wider, provide greater cleavage and fill in the upper portion of the breast. Many plastic surgeons suggest Teardrop or Anatomic implants for women who are seeking fullness mostly in the lower breast. The plastic surgeon should show you "Before and After" examples of his or her work, and have an artistic sense that is in sync with the results that you are seeking.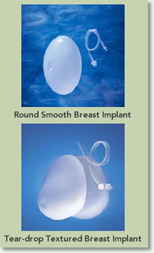 Yes. There are various shapes to implants – including Round, Teardrop — or "Anatomic" as well as a variety of Implant Profiles.
As a general rule, Round implants are wider, provide greater cleavage, and fill in the upper portion of the breast. However, the Teardrop or "Anatomic" implants might be best for women who are seeking fullness mostly in the lower breast. Although Teardrop, or Anatomical implants, were previously more popular, several studies have demonstrated that when a woman is standing, a Round implant takes on a Teardrop shape. The main disadvantage of Teardrop implants is that they do not emphasize the cleavage; and because they have a long shape, if they rotate and tilt onto their side, they can appear odd, or unattractive.
Recently, several manufacturers have introduced a variety of implant profiles from low to high profile. While round profile implants are usually wider and flatter, high profile implants are narrower and taller, resulting in a more pronounced looking breast.
Sizes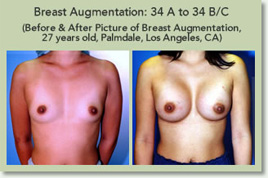 Many women don't have a clear idea of how different cup sizes actually look. They often say that they "don't want to become too big and only want to be about a size C," At the same time, they will show their cosmetic surgeon their "ideal" photo of a woman with a Size D cup.
To make the right choice for you, you should not only consider breast size. The most important factor is how does that breast size appears on a particular frame and a particular height. Proportionality is the final arbiter of the overall appearance of the breasts.
Women are also confused and mislead by the bra manufacturers. While they might fit a C bra from one manufacturer, another one might label the same bra as a D cup. Also, there is a misunderstanding as to why bras are labeled as they are.
For example, a 36 C means that the circumference of the chest wall is 36 inches, and the size of the breasts is a C cup. This means that going larger will only change the cup size and not the strap size.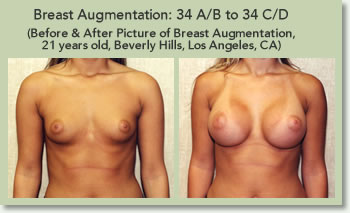 Another point of confusion is the belief that larger size breast implants protrude more. To the contrary, an implant's width increases more than its projection. Therefore, going bigger doesn't necessarily mean that your breasts are going to protrude more. It means that you will get more fullness on the sides and a stronger cleavage. This is a more important consideration for the attractiveness of your final result.
This being said, first consider the factors that should not be a part of your decision. These include basing your decision on the proportions of models and celebrities who have body proportions very different from your own. Do not do so by comparing yourself to your friends. And don't leave it all up to your cosmetic surgeon. This is a joint decision that you will make with his or her expert input about your particular physique.
Some surgeons or web sites suggest that you fill your bra with different size bags of sand, grain, or water in order to find the right size. It is actually more effective to have patients try on actual implants in a special bra during their consultation. This gives them a more realistic estimate of the final result, while also giving the cosmetic surgeon a clearer understanding of their goals.
Your cosmetic surgeon should give you as much time as you need in the office to "try on" different sizes of implants. You will practice inserting them into various bras – perhaps some that you will bring with you to the office. While you should not base your decision on the desire to look exactly like someone else, you can bring photographs to demonstrate to your surgeon the looks that you prefer. Factors that will influence the final choice include what kind of implant placement the surgeon will use, and through which kind of incision it will be placed. Also, ask to see "Before and After" photos of your cosmetic surgeon's work. It is important that you have a good feeling about his or her aesthetic sense, and skill as a surgeon.
How Large
The decision to choose the "right implant size" is not just about how BIG you should go. More importantly, you should think about how a particular size implant is going to LOOK on you, considering your current breast size, body frame, height, weight, body type, and form.
The largest implant size that is manufactured in the United States is 850cc with a final fill volume of approximately 920 ccs or approximately one liter, which is two and a half pounds per breast. Disproportionately large breast implant size carries certain drawbacks and risks. Besides causing excessive strain on your neck and upper back, excessively-sized breast implants which exceed the normal dimensions of the breast could produce irreversible tissue thinning, implant drop out or bottoming out, sagging, visible and palpable rippling and even Symmastia, a condition where both breasts join each other in a single pocket due to the loss of the cleavage fold. An attempt to treat these requires further surgery and additional expenses.
Surface Consistencies
Yes. A woman can choose between Textured implants, or Smooth implants. Textured implants have a rougher surface. The textured implant's primary advantage is that it has a much lower incidence of Capsular Contracture or hardening of the breast capsule. When implants are placed over the muscle, the incidence of Capsular Contracture with smooth implants is approximately thirty percent compared to seven percent for textured. The incidence of Capsular Contracture becomes the same (seven percent) when either implant is placed under the muscle. Some surgeons feel that textured implants are more palpable and do ripple more, but the differences are not documented in large clinical studies. Considering this information, Smooth Implants are preferable, unless the patient has had Capsular Contracture in the past.
Manufacturers & Warranties
There are only two FDA-approved implant manufacturers in the United States:
Inamed Corporation, which is now a subsidiary of the Allergan Corporation, offers a lifetime warranty replacement of all implants for up to 10 years.
Mentor Corporation offers the same implant replacement policy and 5 years warranty for replacement cost. Mentor does offer an extended ten-year warranty for an additional fee.
Although the implants that we have discussed are usually for cosmetic Breast Augmentation, they are also used for breast reconstruction after the post-mastectomy chest wall skin has been stretched out to several sizes larger that the intended breast sizes, with a breast implant tissue expander.
Fat Transfer Augmentation
The most popular breast enlargement technique in Beverly Hills is now called the "Natural Breast Augmentation"! This means getting larger breasts without using breast implants or anything foreign in your body. Now, more than ever women are afraid or just uncomfortable with putting something synthetic or foreign in their body. Others are concerned about what would be the long term effects of silicone leakage to their body. Wouldn't that be great to be able to do something to your breasts to enlarge them naturally? I am not talking about getting pregnant! Instead, how about using your own fat to fill and shape your breasts. It sounds great, but does it really work?
Los Angeles Breast Augmentation specialist, Dr. Sean Younai, has modified the fat grafting technique that he has successfully used for buttock augmentation to inject a women's own excess fat cells into her breasts, in order to enlarge, lift, and form them.
Dr. Younai not only injects fat cells into the breast, but more importantly harvests and concentrates the fat stem cells which when injected into the breast endure. These fat and stem cells become part of the women's breast tissue.
Advantages
While some women can feel or even see their implants, those with fat injected breast don't feel anything other than their natural breasts. Saline or silicone breast implants are usually round and don't fill the entire breast. Fat cells can be injected into different areas of the chest in order to create the desired breast shape. Breast implants do wear out and rupture with time. To the contrary, the grafted stem cells are alive and become part of the breast tissue.
Limitations / Disadvantages
The size of breast augmentation with fat grafting is limited. Which means that most women can only increase their breast size by about 1-2 cup sizes. Women who want extremely large breasts are not a good candidate for fat injection. Also, fat grafting tends to be more invasive than implants because breast augmentation has to be combined with liposuction harvest of fat and if you don't have enough excess fat then you will not be a candidate for the natural breast augmentation.
Controversies
Previously, physicians were concerned that injected fat cells might create scar tissue that might mimic breast cancer on mammogram. Extensive scientific research has proven that this is not the case, and an expert radiologist can make the distinction. As any other type of grafting, a portion of the injected fat cells might not survive, therefore women might need touch up fat grafting later on. Unlike natural breasts that get small with weight loss, fat transferred breasts don't change much with weight fluctuations.
Incision Options
This is a decision that you should make after a thorough discussion with your cosmetic surgeon about your particular concerns. For example, advantages of the Peri-Areolar incision include greater control over implant placement, resulting in better symmetry, stronger cleavage, and less noticeable scars. Furthermore, a concomitant Breast Lift can be performed through this incision. However, for women with smaller areolar diameter, there is a greater risk of losing sensation in the nipple.

The Trans-Axillary incision is the method least favored by those who do not want to have a scar in the vicinity of their breast. Although this scar is not less noticeable than infra-mammary and peri-areolar incision. One of its disadvantages is that it does not achieve the most symmetrical result or result in the strongest cleavage. Finally, a Breast Lift or Capsulectomy cannot be performed through this incision.
Many surgeons favor the Inframammary Fold because they feel that it gives them the greatest control over placement of the implant and has less risk of affecting nipple sensation as that of the peri-areolar incision. The scar is usually very thin, and hidden under the breast fold, but can be more noticeable when a person is laying on their back.
The Trans-umbilical incision is controversial among plastic surgeons. Those that are apt at performing it brag about its "scar-less" incision, while others feel that it carries an unacceptable potential risk of injuring vital organs during the insertion of the metal rod from the umbilicus towards the breasts. Finally, its use is only limited to the simplest form of Breast Augmentation, not allowing surgeons to manipulate the implant, or to perform a Breast Lift or Capsulectomy.
Every woman has different needs, and wishes concerning scarring, recovery time and the amount of pain that she feels she can tolerate. Therefore, thoroughly discuss your options with your cosmetic surgeon, and be certain that he or she is highly experienced in the methods that you choose.
Around the Areola / Nipple
This incision, also known as Peri-Areolar, is one made by your cosmetic surgeon like a half-circle at the outer edge of the areola, the colored area around the nipple. The scar is extremely favorable and blends well with the areola. It grants the surgeon with the best access for precise placement of the implant, resulting in a strong cleavage and better symmetry. There is also better control of any bleeding during surgery, which ultimately affects the chance of scar formation or capsular contraction. Finally, this incision can be combined with a peri-areolar breast lift surgery when indicated.
Although some surgeons believe that the peri-areolar incision carries a higher incidence of loss of nipple sensation, in my experience, if this procedure is performed well there is no increased loss of nipple sensation or inability to breast-feed.
In the Arm Pit
An incision placed in the arm pit is also known as a Trans-Axillary incision. Despite the myth that this scar is usually unnoticeable, it can be more prominent than other scars, especially when a woman is wearing sleeveless cloths. This access point is very far from the central location of the implant making it very difficult to precisely position the implants, thus causing the implants to sit away from each other, creating a wide cleavage. It is associated with a higher risk of bleeding and less control, often forcing the surgeons to use drains which can increase the risk of infection.
In the Inframammary Fold
This is a one to two incision made by your cosmetic surgeon near the under-breast fold. Like the peri-areolar incision, this approach affords the surgeon the greatest control over the position of the implant, giving the patient more attractive cleavage. The final scar is very favorable.
Trans-Umbilical Incision
TUBA, or Trans-Umbilical Breast Augmentation, involves making an incision one to two inches in length at the edge of the "belly button". A long metallic tube is then inserted and moved forcibly towards the breasts. The breast implant is then folded and pushed through this tube to its final position under the breasts. Complications have been reported with the insertion of this tube, when the tube accidentally speared the liver or lung. A competent surgeon fully trained in this technique can avoid this when done properly.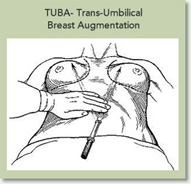 This approach has specific disadvantages as compared to the peri-areolar approach. First, because the implants cannot be placed precisely, there is a higher chance of breast asymmetry and of overly-wide cleavage. Second, if a patient also needs a Breast Lift, another incision has to be made around the areola.
This procedure is often marketed as a "Scar-less Breast Augmentation," but, to the contrary, the scar around the umbilicus could be very noticeable, and at times unsightly, especially if a woman is wearing a shirt that exposes the midriff.
Because this approach can be challenging, and due to its potential complication rate, it should be performed only by a board certified plastic surgeon who has extensive experience with it.
Placement Options
The plastic surgeon has four ways to enter the breast for implant placement. The Peri-Areolar Incision is made like a half-circle at the outer edge of the areola, the colored area around the nipple. This method grants the plastic surgeon the greatest access for precise placement of the implant, and provides better control of bleeding during surgery – thereby reducing the risk of scarring and Capsular Contracture — the hardening of breast tissue. The Trans-Axillary Incision, an incision placed in the armpit, is less desirable because it is far from the central location of the implant, and makes it difficult for the plastic surgeon to position them. The Inframammary Fold Incision is made near the under-breast fold, and like the Peri-Areolar Incision, gives the plastic surgeon good control in positioning the implant. The Trans-Umbilical Incision (TUBA) is a one-to-two inch incision at the edge of the "belly button" through which a long metal tube containing the implant is pushed towards the breasts to place it, also makes precise placement more difficult. Each method has other advantages and disadvantages, and you should thoroughly discuss the best technique for your needs with your plastic surgeon.
You should also discuss the method of implant placement — Subpectoral or Subglandular — with your plastic surgeon. During subpectoral placement, the implant is positioned under the Pectoralis Major muscle and directly over the rib cage, so that the lower part of the implant is not covered by any muscle, creating a more tear drop breast shape. During subglandular placement, the implant is placed above the chest muscle, but below the mammary gland, which gives the implant less protection and a higher risk of Capsular Contracture.
Placement of breast implants, either under or over the Pectoralis Major or chest muscle has important consequences.
Subpectoral: "Under the Muscle"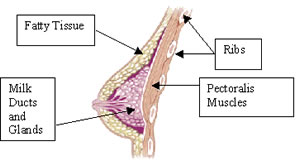 In Subpectoral placement, the breast implant is positioned under the Pectoralis Major muscle and directly over the rib cage. In this circumstance, the lower part of the implant is not covered by any muscle. This is preferred by many surgeons because it creates a more tear drop breast shape. On the other hand, some surgeons prefer submuscular implant placement, where the implant is entirely covered by the chest muscles. Another disadvantage of submuscular placement is that flexing of chest muscles during exercise can contract the implants or push them in and out of place. Furthermore, the breasts will have a flatter shape, and at times will show a double-bubble deformity, where the periphery of the implant appears separate from the breast.
Subglandular: "Over the Muscle"
Through this method, the implant is placed above the chest muscle, but below the mammary gland. This is a less complex surgery, with less pain and a somewhat shorter recovery. Some surgeons prefer this method because of its ease and speed of implant placement as well as a shorter period of time that it takes for the implants to settle.
Subpectoral vs. Subglandular
The main advantages of submuscular or Subpectoral implant placement as compared to subglandular placement are:
Lower Risk of Capsular Contracture: (3% vs. 30%) The body builds a scar capsule around any foreign material including a breast implant. This capsule is usually very thin and soft in the submuscular/subpectoral pocket. On the other hand this capsule can become very hard and thick in the subglandular pocket causing the implants to become very hard and spherical. In severe cases, this can cause much pain and deformity, requiring removal of the implant from the subglandular pocket and placing them in the subpectoral/submuscular pocket.
Less Sagging of Breasts: The Pectoralis Muscle tends to hold the breast implants up and prevents them from sagging.
Less Visible or Palpable Rippling: Although all saline implants do ripple, their placement under the muscle will better camouflage them.
Better protection of the Implants: In case of the need to perform breast biopsy or surgery on the breasts.
More Natural Shape: Pectoralis Muscle pads the upper pole of the implants, therefore, making the upper breast slope appear more smooth and gradual.
Less Obstruction of the Breast Tissue with Mammogram. Placement of the implants away from the breast tissue and under the muscle interferes less with mammography and breast examination.
In contrast, the main disadvantages are:
Implants take longer to drop or settle after surgery.
Possible creation of a Double-Bubble deformity in sagging or ptotic breasts. Because implants are held up by the muscles, the sagging breast tissue can hang over the implant as a separate entity. This can give the appearance of a double-bubble. This can be avoided by lifting the sagging breast tissue and centering it on the breast implant.
More post-operative pain. As a rule, the difference in the degree of pain is insignificant.
Candidates
Women who seek breast augmentation do so for a variety of reasons. Some wish to increase the size of their breasts to create a more proportional or flattering profile. Others wish to achieve better symmetry when one breast is larger than the other. And for someone women, breast augmentation is the best way to recover volume lost after pregnancy.
Reasons for Breast Augmentation:
Small Breasts
Imagine reaching puberty, yet remaining flat-chested, or developing only very small breasts – perhaps barely an "A" cup. In a culture such as ours where breast development is a sign of becoming a woman, many women who develop only very small breasts may feel inadequate or unwomanly. This can adversely affect her relationships – romantic, in the workplace, and even with her friends.
"After I breast fed my four children, my breasts never looked the same. They shrank and they drooped. I just wanted my body back so I could feel attractive again."

Patricia, age 45
Pregnancy and Breast Feeding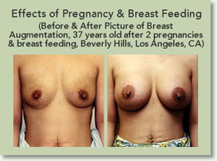 For most women, having children is the most joyous and fulfilling experience of their lives. Yet, pregnancy and breast feeding take an inevitable toll on a woman's body, causing breasts to shrink, lose volume, and sag. This leaves many women longing for more youthful and full breasts. This becomes more frustrating when women realize that exercise and firming creams don't work.
"Ever since I went through puberty, I was so embarrassed that my breasts were so noticeably different in size. One was a "D" cup, and another only an "A" cup. All of my life, I dreaded being seen without clothing. I refused to participate in gym class, and was never with my boyfriends with the lights on. I was afraid of being laughed at, or thought of as a freak. For years, I considered having surgery to remedy the problem, and I've never regretted finally having the problem corrected by having an implant in the smaller breast. For the first time since before puberty, my breasts look normal and I'm not constantly self-conscious."

Lucy, age 38
Weight Loss
In an attempt to gain a beautiful figure by shedding their excess weight, many women find instead that they lose breast volume and size. This becomes a dilemma. In fact, it is very unusual to find a thin and petite woman who is blessed with large breasts. Except in those who have had breast implants!
Uneven Breasts-Asymmetry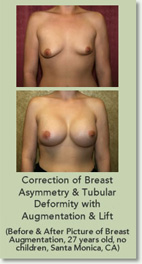 Having uneven breasts, or breast asymmetry, is very common. It is a myth that favoring one breast while breast-feeding can lead to breast asymmetry. Rather, this is something that most women are born with, although changes through pregnancy can magnify the difference between the breasts. This makes sizing bras as well as being able to wear braless clothes a challenge. In extreme cases, it causes much grief and stress for a young woman who just wants to look normal!
Despite the fact that breast asymmetry is a normal phenomenon, there are rare congenital causes of extreme breast asymmetry or lack of breast development such as "Poland's Syndrome." Poland's Syndrome occurs in one out of 20,000 children, and in fact is twice as common in boys as in girls. It is associated with the lack of breast and/or chest muscle development on one side.
Whatever the cause of breast asymmetry, breast implants can help bring about a more symmetrical breast size and possibly shape.
Tubular or Tuberous Breast Malformation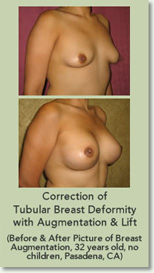 Tubular, or "Snoopy" breasts, tend to have abnormally narrow breast tissue base, abnormally broad areola (the colored area around the nipple), central protrusion or herniation of the breast tissue through the areola, with a tendency of the nipples to be very plump. This is associated with significant breast asymmetry, sagging, and shape distortion. Furthermore, the position of the breast and its fold is abnormal. Although Breast Augmentation can help improve symmetry by increasing the size of the smaller breast, there are many other steps that are crucial in correcting this deformity, such as lifting the breast, reducing the size of the areola and widening and stretching the base of the tubular breast. In spite of this, the correction of tubular breast malformation may require several procedures, performed in stages, with some difficulty in achieving perfectly normal looking breasts.
"Don't let anyone tell you that it's too late to have a fuller and prettier breast. I had my implants when I was 47, and I'm so much happier with the way I look now."

Marta, age 50
Aging Breasts
There is an inevitable loss of breast tissue that takes place as we age, and that can be corrected through Breast Augmentation. Women of all ages can undergo this procedure, as long as any existing medical conditions have been optimized. This has become a bigger issue as women now live longer, healthier, and more active lives. Therefore, Breast Augmentation gives women the choice of preserving their breast fullness as they age.
Ptosis-Sagging of Breasts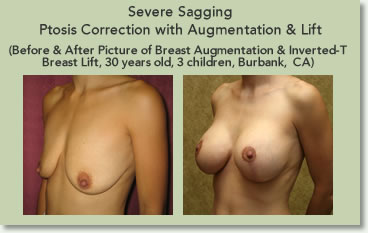 Breast Ptosis is what's commonly known as "sagging breasts." Unfortunately, many women don't know that the process of Breast Lift or "Mastopexy" does reduce the size of the breasts, often by at least one cup size. In order to preserve the original breast size, and or, to go "just a little bit bigger," many women opt to have breast implants at the same time- a procedure that is called "Augmentopexy."
Empty Sac Syndrome
This is a loss of volume of the breast, while the breast "envelope" remains the same size. Because the breast appears empty, this condition is often confused with ptosis. However, it is different from breast sagging because technically the nipple-areolar complex and the Inframammary Fold have not sagged. The procedure to correct Empty Sac Syndrome is the placement of an implant.
Pseudoptosis – "False Ptosis"
This occurs when a large part of the breast's volume is at, or below, the level of the nipple-areolar complex, causing the breast's upper portion to appear hollow. It is called pseudo or false ptosis because although the breast tissue has sagged, the nipple is still in its normal position. In this case also, a breast implant (rather than a Breast Lift) is the solution for replenishing the lost breast volume.
Breast Reconstruction After Mastectomy / Lumpectomy
One out of every nine women gets breast cancer. Treatment of breast cancer includes either removing part of the breast tissue (Lumpectomy), or the entire breast (Mastectomy). In order to restore body form, womanhood, and self-confidence, some women opt to have breast reconstruction with breast implants. In this circumstance, first a breast expander, which is like a breast implant, is placed in the breast pocket, and is then gradually inflated to several times the size of the original breast with saline over a period of several weeks. Once the chest wall skin has stretched or "expanded," the breast expander is removed and a permanent breast implant (saline or silicone) is placed in its place. At that time, or later, the nipple/ areolar complex is created.
Replace Existing Breast Implants
Those who have already had breast implants in the past might need to have them replaced. The reasons are as follows:
Rupture and leakage of silicone or saline implant.
Hardening of the implant capsule or "capsular contracture."
Change from silicone to saline implants or the reverse.
Desire to change the size of implants.
Who is Not Eligible
Women with existing malignant or pre-malignant cancer of the breast without adequate treatment
Women with an active infection anywhere in their bodies
Women who are currently pregnant or nursing
Preparating For Surgery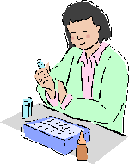 The surgeon will provide very specific instructions prior to surgery so you will have an optimal and safe experience. These include what medications to avoid to prevent excessive bleeding and bruising, required medical exams, what to eat and drink prior to surgery, and the prescription of an anti-nausea pill to take on the morning of the surgery.
In all cases, you will be asked to have a reliable friend or family member take you home after the surgery, as you will not be allowed to drive.
Tend to all of your chores and to do things before your surgery so you don't have to worry about taking care of things early during your recuperation. You are not allowed to engage in heavy lifting for several weeks after surgery. This means if you usually clean the house, you should do so in advance of your surgery.
Have your hair cut and colored, wax your legs, pay your bills, and take your dog to the vet before your planned day of surgery!
If you an avid tanner, don't tan your breasts for one week before, and six weeks after, your surgery. Any sun or tan burn of your breast skin can potentially increase the risk of infection of skin damage with breast augmentation.
If you have nipple rings you must replace them with a plastic ring at least one week before surgery and wait for your surgeon to tell you when you can have them replaced.
Rent your favorite movies, and leave easily prepared foods and snacks in areas where you will not have to lift or reach.
Place all of the medications, tissues, reading materials, water bottles on one table, within easy reach.
Have ready ice cold cola drinks, ginger ale, or sport drinks close to your bed. Avoid drinking too much plain water after surgery, because it makes you more nauseated.
After surgery take your nausea pill about one hour before your other medications to lessen nausea. Also, have some over-the-counter anti-acids available at your bedside.
Some surgeons recommend putting cold packs on you breasts afterwards. In my opinion, even though cold might lessen the inflammation, it can also cause frost bites or skin damage while your breasts are numb after surgery.
Pre-Operative Checklist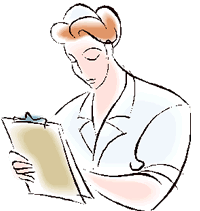 If you are older than 45 years, or have heart disease, we require a pre-operative EKG, which would either be done by your internist, cardiologist, or at our facility. Heart disease and all other medical illnesses need to be optimized by, and you be cleared by an internist or specialist prior to surgery.
Pre-operative laboratory blood and urine tests are done usually within 10 days of your surgery date. If you do have health insurance this might be covered, otherwise, the laboratory will charge you.
If you have specific medical illnesses, allergies, or physical handicaps, please notify our staff during your pre-operative visit.
Please refrain from taking any Aspirin, Aleve, Advil, Motrin or other NSAID for ten days prior to your surgery. These drugs can increase the incidence of bleeding and bruising.
Do not drink or eat after midnight on the night before your surgery. This means no coffee or breakfast in the morning of your surgery. You should take all of your medications with a little water.
Please remove and leave behind all jewelry, watches, and body rings before you come in for your surgery. Please do not wear any makeup, body lotion, or perfume.
Before leaving home for your surgery, take one "nausea pill" — COMPAZINE — with a little water.
Please wear comfortable and loose clothing the day of surgery. It would be helpful if you wear front open tops and loose sweat pants.
If you have long hair wear a non-metallic cloth ponytail.
Do not wear very dark nail polish.
You should make arrangements for a friend or family member to take you home after surgery. You are not allowed to drive yourself home or take a taxi
Pre-Operative Questions
The following list of questions may remind you of topics to discuss with your surgeon. You may have additional questions as well.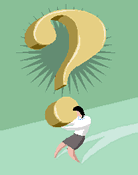 What are the risks and complications associated with having breast implants?
How many additional operations on my implanted breast(s) can I expect over my lifetime?
How will my breasts look if I decide to have the implants removed without replacement?
What shape, size, surface texturing, incision site, and placement site is recommended for me?
How will my ability to breast feed be affected?
How can I expect my implanted breasts to look over time?
How can I expect my implanted breasts to look after pregnancy? After breast feeding?
What are my options if I am dissatisfied with the cosmetic outcome of my implanted breasts?
What alternate procedures or products are available if I choose not to have breast implants?
Do you have before and after photos I can look at for each procedure and what results are reasonable for me?
What type of experience has he/she had with performing breast augmentation on women with similar breasts to mine?
Recovery
Breast Augmentation generally takes between one and two hours, as an outpatient surgery. Afterwards, you will spend some time in the Recovery Room of the surgical facility. When you wake up, you will have gauze dressing over your breasts, and a support bra.
Your cosmetic surgeon will provide you with specific instructions for your recovery, including what medications to take and how to limit your activities.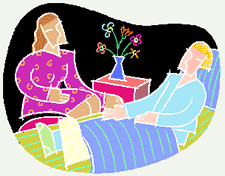 After surgery the best comfortable position for the first 2-3 days is to be lying semi-reclined. Elevation of the upper body and chest reduces the swelling and aching of the breasts.
After one week you can sleep on your sides, and after two weeks, on your abdomen.
I encourage you to be mobile and not to be sedentary in order to reduce the chance of forming blood clots in your legs.
Some women develop back pain or muscle spasm as a result of sleeping propped up. If you experience this put a heating pack on your back and have your family member massage your back.
Take your nausea medications about one hour before taking your antibiotics and pain medication in order to lessen the extent of nausea.
It is good to stay well hydrated, but avoid drinking too much plain water because it can make you more nauseated.
Avoid eating greasy or spicy foods for the first three days, and have anti-acids available if you get an upset stomach.
Your gauze dressings will be removed in two days and afterwards you will be able to take a shower and get your breasts wet. After showering, you should blow dry the steristrip paper tapes that cover your incisions so that they don't come loose. You will be keeping them on for about three weeks.
Apply heavy lotion to your breast and abdominal skin away from your wounds to lessen the skin dryness that follows surgery.
Recovery varies for each patient, as will the timing for resuming exercise and normal physical activities. Although you will probably be able to return to work within a week, your cosmetic surgeon will instruct you to avoid heavy physical exertion, including heavy lifting, frequent bending, reaching high over shoulder, and jogging for the first two weeks.
Do not wear underwire bras or sport bras for the first several weeks because they tend to push your implants high, and prevent them from settling into place. Your surgeon will tell you when you can get these bras. The best type of bra to wear during this period is a "sleep-in" bra. If you can't find them, just get soft bras, and remove the under-wire.
Be aware that your menstrual cycle may be altered for a month or two, but should return to normal.
You cannot get nipple or breast piercing, tattoos, or tan for at least six weeks after your surgery.
You can have sex after one week, as long as you don't overly exert yourself, and keep your incision clean and dry for up to 3-4 weeks.
Be aware of doors when opening them. Often times, I hear women complain that after surgery they accidentally hit their breasts against them because they were not aware of the change in their body shape.
You cannot use a public pool, Jacuzzi, or go into the ocean for at least 4 weeks after sur
Post-operative Instructions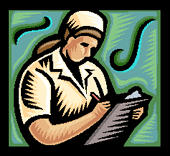 For the first one to two days, sleep with your head elevated.
Do not sleep on your stomach or sides until cleared by your physician.
Do not remove your bandages until instructed to do so by your physician.
Do not drink alcohol, take aspirin, or diet pills until your physician gives you approval to do so.
Refrain from smoking for at least two weeks.
Wear soft bras or maternity bras with NO under wire for at least six months after your surgery.
You may walk, but you cannot participate in sports or strenuous physical activities until cleared by your physician.
Do not raise your arms above your head for two weeks. This can potentially cause a displacement of your implants.
Areas of your breasts or nipples will be numb for several weeks after surgery. This is normal and expected.
The day of your surgery, wear loose, comfortable clothing that opens in the front, such as a jogging suit. Wear shirts that button down the front, and don't need to be put over your head.
If you have any important or urgent questions within the first week after surgery, you are welcome to call your doctor's office at any time.
Tips for Your Significant Others
The support of your family and loved ones can be as important to your healing as following your physician's medical directives. Their understanding of the pain, discomfort, and at times, the roller coaster of emotions, that you might experience can make all the difference in having an optimal outcome.
Here are some tips for your significant others that will be helpful to them in helping you: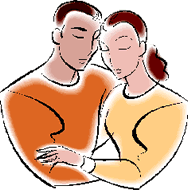 You should be available as a full time caregiver for at least 48 hours to help the patients with the tasks that are normally taken for granted, like being able to walk to the bathroom.
You, or someone, should care for the patient's children for a minimum of two days, and be sure that she has assistance in lifting young children for several days after your surgery.
Help with pet care. Someone should walk them, feed them and clean up after them for at least several days.
Prepare to help the patient address the swelling that she will experience, according to her physician's instructions. This may include ice packs or gel pack specifically designed for breast surgery patients.
Know that she may experience mood swings, and feel like crying off and on – especially in the first couple of weeks. This is a normal aftermath of major surgery.
Encourage her to drink lots of water – to address bloating and to keep her hydrated.
Remind her to not fight the pain – she should go with the flow, and take her medications as directed. It is not good to try and be a hero!
Have her use a U-shaped pillow for sleeping and resting.
Give her lots of compliments. She may be fearful because it will take some time before her new breasts appear as they should. She has a lot of healing to do!
Prepare simple and easily digestible foods, such as scrambled eggs or Jello.
Remind her to sleep on her back!
Have two sleep-in bras at the ready – one tight and one loose to alternate as needed.
Be there when she goes to have her bandages removed, to support her through any discomfort she may be feeling.
As far as sex is concerned, let her initiate things and play it by ear.
Some women feel scared that they might harm their implants if they are touched or manipulated after surgery. Have them ask their doctor about this and get some reassurance.
Some women feel depressed or regretful about having undergone breast surgery. Sometimes they don't know how to handle the attention or questions that breast augmentation will bring about. At the same time, significant others can develop uneasy feeling about the fact that you underwent such surgery. It is good to talk about your feelings and to even seek outside help if you can't resolve some ambiguities.
Implant Removal
Why Remove Breast Implants
After having had breast augmentation there are many reasons why a woman might decide to have her breast implants removed in Beverly Hills. These include: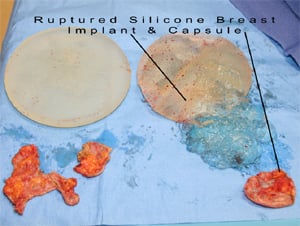 Wanting to go natural and not to worry about having to monitor their breast implants with mammogram.
Not to constantly worry about if their silicone breast implants have ruptured, but they don't know about it. Removal of silicone breast implants eliminates the need to have yearly silicone breast implant surveillance with MRI scans.
Woman with very glandular or lumpy breasts often have a hard time with breast cancer self examination. Having breasts implants might make it more difficult for these women to examine their breasts for breast lumps or possible breast cancer.
Women who have had old silicone implants are at a much higher risk for silicone breast implant rupture. Therefore, they might elect to have their old silicone breast implants removed.
Women with very thin breast skin can often feel their implants, or even see breast implant ripples. This bothers some women who then decide to have their breast implants removed or replaced.
Breasts often enlarge with weight gain. Women who have experienced significant breast enlargement with weight gain decide to have their breast implants removed in order to make the size of their breasts more manageable.
Replacement of breast implants with a bigger or smaller size as well as different profiles and material is the most common reason why women decide to have their original breast implant removed.
Breast implant hardening (capsular contraction) can be very painful. Capsulectomy or removal of hardened breast capsule along with replacement of breast implants is the treatment of choice. Unfortunately, there are women who develop recurrent breast implant hardening and finally decide just to have their breast implants removed.
Removal Techniques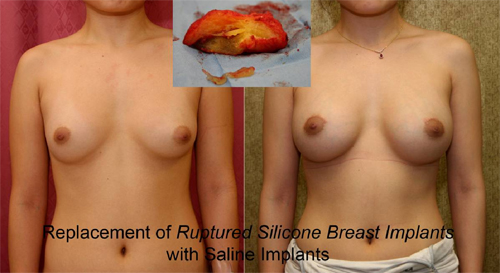 Removal of breast implants that have not ruptured or have not formed hardened capsules is rather simple. Under sedation or general anesthesia the old incision scar is removed, breast implants localized, and then removed. After washing the breast implant pocket some plastic surgeons induce internal scarring in order to collapse the capsule, and then close the surgical incision. Recovery after breast implant removal can be as short as one day and as long as one week if it is combined with capsulectomy or breast reconstruction. Capsulectomy process can very difficult and challenging, when the plastic surgeon meticulously removes most or parts of the hardened breast capsule and reconstructs the remaining pocket.
Why Not Remove
Once a breast implant has been in place for more than one to two months the breast skin has stretched significantly and the body has formed a capsule around the implants. Removal of breast implants, especially large ones, can lead to breast sagging and possibly deformity. In these circumstances it is often necessary to also perform a breast lift surgery and place additional scars on the breast!
The decision to undergo breast implant removal, exchange, or revision in Beverly Hills is a very complex one. There are many important factors to be considered depending on your breast size, shape, and your overall figure.
Implant Replacement
Revision Surgery
Over time, your appearance changes, including that of your breasts. Heredity, hormonal fluctuations, weight gain or loss, and aging can result in changes to the size, shape and overall look of your breasts. Changes in breast appearance are common in breasts that have never been surgically enhanced. Changes are also possible if you have previously had breast implants placed to enhance breast size or to reconstruct a breast lost to a mastectomy.
In some instances, the results of your breast augmentation may be unsatisfactory. Less skilled plastic surgeons can often place the breast implants too high in the breasts. This is known as a high riding implant. They usually cause a poor pocket to develop and inadequate muscle release. Fortunately, a revision augmentation procedure can easily correct this condition.
Dr. Younai performs this procedure in a way similar to other breast augmentation procedures. Through one of four types of incisions, he can release the muscles, increase the size of the pockets holding the breast implants, and place the implants correctly. If your implants have ruptured, he can replace them with new breast implants.
Some women seek revision augmentation to adjust the size of their breast implants. Dr. Younai can replace your existing implants using a similar procedure to the one described above. Breast implants are not lifetime medical devices and do need to be replaced eventually.
Breast implants are not considered devices that last a lifetime, although many women have enjoyed implants that function well and continue to provide a natural-looking appearance.
There may be specific reasons why you may wish to or need to have your implants replaced. Understanding the options available to you in replacing your implants requires as much consideration as your original decision to get breast implants.
Why Replace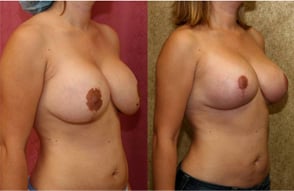 You may want to replace your breast implants in Beverly Hills to improve breast size, shape or feel and to improve your breasts' proportions to the body as a whole. The current position of your existing implant, your desired breast size, shape and projection, along with your natural breast tissue, body size and frame are all evaluated to determine the implant that can best improve your body image.
A breast that has been enhanced with an implant can sag due to changes in breast tissue. When natural breast tissue loses firmness or thins with age, an implant positioned between the breast tissue and chest muscle (submammary or subglandular) may droop. Revising implant size and shape alone may provide some improvement. The addition of breast lift techniques may be recommended to reshape sagging breast tissue. Revising the position of an implant beneath the chest muscle (submuscular) may also be recommended.
Sagging breast tissue and an implant originally placed beneath the chest muscle may result in a "double bubble" effect- the breast implant stays in position, but the breast tissue and skin sag beneath the implant. Placing a new implant that differs in size or shape from the original may provide some improvement. However, in most cases, breast lift techniques are recommended to reshape the breast tissue in addition to implant replacement.
Recommended Implant Replacement
It is advised that you regularly visit your plastic surgeon in Los Angeles to assess the condition of your breast implants.
Your surgeon may advise you to replace any implant that has deflated, is leaking or whose shell shows signs of fracture or other weakness. It may be appropriate to replace only the implant that is not functioning properly. However, you may take the opportunity or be advised to consider a change in breast size or shape to maintain balanced proportions between the breast and body.
Implant replacement may also be recommended in some cases of capsular contracture, a condition in which excessive scar tissue develops around the implant, causing an unnaturally firm feeling or squeezed appearance of the breast. Implant replacement alone may improve limited instances of capsular contracture. However, in many cases, the capsule, or scar tissue, may need to be surgically released or removed to improve the feel and appearance of your breasts.
Reconstructed Breasts
A breast reconstructed with an implant will change to a lesser degree than a natural breast will change in size and shape during your lifetime. As a result, asymmetry (differences in size, shape, position and feel) can develop between a natural breast and one that has been reconstructed. Recommendations may include revision of one or both breasts to improve their symmetry. The reconstructed breast may be revised with implant replacement or breast reconstruction techniques using your own muscle, fat and skin relocated from your back, abdomen, buttocks or thighs. A natural breast may be revised by implant placement, breast lift or breast reduction. While these and other procedures can bring both breasts closer to each other in size, shape and feel, nothing can create perfect symmetry between a reconstructed and natural breast.
Who Has Replacement Surgery
A woman with previously enhanced breasts or a reconstructed breast may choose or may be advised to replace her current breast implants or to revise breast appearance.
What Makes A Good Candidate
You can clearly define the improvement you seek from breast surgery and you don't expect perfection.
You understand the outcomes that breast surgery can and cannot achieve for your appearance.
You accept your responsibilities as a patient and the potential risks of breast surgery.
You are in good health, emotionally secure and your life is stable.
You accept that healthy lifestyle choices will help you maintain the improvement achieved by breast surgery.
Making The Choice
The first step in any form of breast surgery, including implant replacement or revision of prior breast surgery, is a consultation with a plastic surgeon certified by The American Board of Plastic surgery. During your consultation you will discuss your goals to improve the appearance of your breasts. You will be examined, a health history will be taken and you may be photographed. The procedure or procedures recommended for you will be explained. You will be informed about your obligations as a patient, the treatment process, surgical facilities, anesthesia, the recovery process, potential complications and results, and any alternative options that may achieve your goals. Ask questions and make certain you understand everything that has been explained to you.
All forms of necessary or cosmetic medical treatment carry the potential for complications.
The potential complications and unexpected results of breast surgery will be illustrated prior to your treatment. If you make the choice to undergo treatment, you will be asked to sign informed consent documents. These documents outline the information discussed during your consultation and record your choice for breast surgery. In addition, if your choice is a silicone breast implant, you will be asked to participate in a national breast implant registry.
Risks And Complications
Breast Augmentation generally takes between one and two hours, as an outpatient surgery. Afterwards, you will spend some time in the Recovery Room of the surgical facility. When you wake up, you will have gauze dressing over your breasts, and a support bra. Dr. Younai will provide you with specific instructions for your breast augmentation recovery, including what medications to take and how to limit your activities.
Although breast augmentation is considered to be a relatively safe procedure, there are rare complications that can occur which you should be aware of. Potential complications include bleeding, infection, seroma (pooling of fluid), pain, scarring, and swelling. By following instructions during pre-operative and post-operative periods, you can minimize potential risks and recovery time.
Bleeding
While this is unusual, it is possible to experience a bleeding episode following surgery. If this occurs, emergency treatment to drain accumulated blood, or a blood transfusion, may be required. You can reduce this risk by not taking any aspirin or anti-inflammatory medications for ten days before or after surgery. Non-prescription "herbs" and dietary supplements can also increase the risk of bleeding. The risk of major bleeding, or blood collection, is only about three percent. Most women lose about two test tubes of blood during surgery. Any blood clots that form must be removed in a later surgical procedure.
Infection
The risk of wound infection is less than two percent. Most patients receive intravenous antibiotics during surgery and antibiotic medication after surgery, which minimizes this risk. If infections do not respond to antibiotics, the implant may have to be removed, and another one inserted after the infection has healed. After the infection is treated, a new breast implant can usually be reinserted. It is extremely rare that an infection would occur around an implant from a bacterial infection elsewhere in the body, However, prophylactic antibiotics may be considered for subsequent dental or other surgical procedures. In extremely rare instances, life-threatening infections, including toxic shock syndrome have been noted after breast implant surgery. Individuals with an active infection in their body or weakened immune system should not undergo breast augmentation.
Seroma
Sometimes blood in the depth of the breast tissue can accumulate and form a blood collection, called a Hematoma. Seroma is a fluid that arises from the breakdown of accumulated blood or Hematoma. Seroma and Hematoma can accumulate in the breasts, especially following trauma or vigorous exercise. Additional treatment may be necessary to drain the accumulation of fluid around the breast implants.
Pain
All implant patients will experience a degree of pain, as is true of any major surgery. The pain is slightly more pronounced when implants are placed under the muscle. Also, women who have not yet experienced childbirth will probably have a higher degree of pain. Most women report that the pain is greatest in the first 48 hours within surgery. Your cosmetic surgeon will prepare you to address the pain, with a prescription for it prior to your surgery. Prolonged or chronic pain could occur as a result of capsular contraction, nerve entrapment or injury, or even without any specific reason. Removal of implants may not alleviate chronic pain.
Scarring
The location of a scar depends upon which incision technique is used by your cosmetic surgeon. Patients experience scarring differently – some are more delicate than others, and certain ethnic groups are more prone to scarring. Scars will fade with time, but will always be visible to a degree. Most women accept this as the trade-off for having a fuller and prettier breast.
Skin Discoloration/ Swelling
Some bruising and swelling normally occurs after Breast Augmentation. The skin in or near the surgical site can appear either lighter or darker than surrounding skin. Although uncommon, swelling and skin discoloration may persist for long periods of time and, in rare situations, may be permanent.
Sutures
Most surgical techniques use deep sutures. You may notice these sutures after your surgery. Sutures may spontaneously poke through the skin, become visible or produce irritation that requires suture removal.
Delayed Healing
Wound disruption or delayed wound healing is possible. Some areas of the breast skin or nipple region may not heal normally and may take a long time to heal. Areas of skin or nipple tissue may die. This may require frequent dressing changes or further surgery to remove the non-healed tissue. Individuals who have decreased blood supply to breast tissue from past surgery or radiation therapy may be at increased risk for wound healing and poor surgical outcome.
Smokers have a greater risk of skin loss and wound healing complications.
Skin Wrinkling and Rippling
All saline-filled breast implants ripple. Your ability to palpate or even see these skin wrinkles or ripples increased with having very thin skin, very little breast tissue, and when implants are placed over the muscle or in the subglandular pocket. Ripples may be more pronounced in patients who have saline-filled implants with textured surfaces and those who choose extremely large implants. It may be possible to feel the implant fill valve. Some patients may find palpable valve and wrinkles cosmetically undesirable. Palpable valve, wrinkling and/or folds may be confused with palpable tumors and questionable cases must be investigated. The most common treatment of this is to change from saline to silicone implant which ripples much less.
Alteration in Nipple Sensation
After surgery women can experience reduction in nipple or breast sensation as a result of temporary swelling. After swelling subsides there can be an increase or decrease in nipple sensation. FDA studies of 2000 showed loss of nipple sensation in 8-10% of women at three years and 10% at five years. Hypersensitivity of nipple sensation was reported in 5 to 9% of women at three years and 10% at five years.
In my own practice, approximately five percent of patients lose all feelings in one nipple, 10% lose some feeling, and 85% lose no feelings in their nipples. This has been true however the implants have been inserted.
Implant Displacement and Tissue Stretching
Displacement, rotation, or migration of a breast implant may occur from its initial placement and can be accompanied by discomfort and/or distortion in breast shape (visible rippling of the skin). Unusual techniques of implant placement may increase the risk of displacement or migration. Additional surgery may be necessary to attempt to correct this problem. It may not be possible to resolve this problem once it has occurred.
Asymmetry
As is true in nature, no two breasts are identical, even after Breast Augmentation. Some women may require a corrective second surgery if the difference is significant; however it is usually not any more noticeable than when breasts are a somewhat different size in their natural state.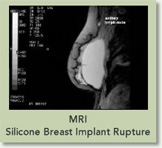 Symmastia
Symmastia is when both breasts join each other in a single pocket due to the loss of the cleavage fold. This can happen when the diameter of the two implants is greater than that of the chest, or by excessive thinning out of the skin, or by technical errors during surgery. Fortunately, Symmastia occurs very rarely. Unfortunately, its repair is difficult, requiring exchange of implants for smaller ones, and recreation of the cleavage fold with the aid of internal sutures.
Bottoming Out
Bottoming Out is when the majority of the breast tissue slides below the level of the nipple, making it appear that the nipple is sitting too high on the breast. This can occur in two ways. One cause is due to extreme laxity of the breast tissue when the breast substance itself slides down over the implant and sags below the nipple position. The other circumstance is when the implant migrates inferiorly below the level of the nipple, and even at times below the level of the under-breast fold. This occurs as a result of inadequate support of the implant, either by having it placed over the muscle or by having very loss and inelastic breast tissue. To correct this requires a breast lift procedure and the re-establishment of the under-breast fold.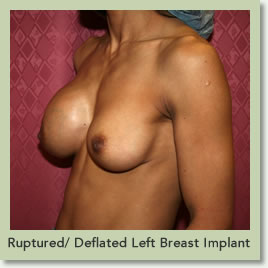 Implant Rupture
It is a myth that manipulation of breasts, trauma to the chest, falling off a horse, and having sex cause implants to rupture or deflate. This is rather caused by micro-fractures in the implant wall at areas where is a fold in the implant wall. To reduce this chance, we routinely fill the implants as per manufactures recommendations. Another reason for implant leakage is a faulty valve. Prospective studies of saline-filled breast implants approved by FDA in May 2000 showed rupture/deflation rates of 3-5% at 3 years and 7-10% at 5 years for augmentation patients. The same studies showed rupture/deflation rates of 6-9% at 3 years and 8-18% at 5 years for reconstruction patients. The newer implants have a less chance of rupture which is about 5-10% at 10 years. As discussed in the earlier section the implants that we use have manufactures warranty against implant rupture.
According to the FDA, placement of the implant through the belly button (TUBA) and closed Capsulotomy damages the implant and increases their rate of rupture.
Several tests are used to evaluate a patient for the rupture of their implant, including Magnetic Resonance Imaging (MRI), mammogram, and ultrasound.
Capsular Contracture
Sometimes, the degree of scarring around the implant is such that the breast begins to feel hard and in extreme cases painful. It may occur in one side, both sides, or not at all. There are four grades of capsular contracture – Baker grades I through IV.
The Baker grading is as follows:
| | |
| --- | --- |
| Grade I | the breast is normally soft and looks natural. |
| Grade II | the breast is a little firm but looks normal. |
| Grade III | the breast is firm and looks abnormal. |
| Grade IV | the breast is hard, painful, and looks abnormal. |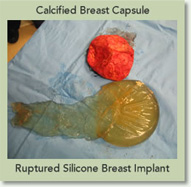 Capsular Contracture may be more common following infection, hematoma, and seroma. However, it is not known for sure why Capsular Contracture happens. The literature also discusses other factors, such as a textured implant surface and submuscular placement of the implant, which may decrease the capsular contracture rate.
Another surgery may be needed to correct Capsular Contracture, usually for grade III or IV. The surgical procedures range from removal of the implant capsule tissue with or without replacement of the implant itself. Capsular contracture may happen again, even after further surgery.
Prospective studies of saline-filled breast implants approved by FDA in May 2000 showed rates of grade III or IV Capsular Contracture of 9% at 3 years and 10-11% at 5 years for augmentation patients. The same studies showed rates of grade III or IV capsular contracture of 25-30% at 3 years and 29-36% at 5 years for reconstruction patients.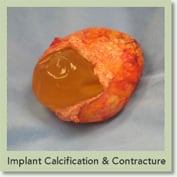 Calcifications
Calcium deposits can form in the scar tissue surrounding the implant and may cause pain, firmness, and be visible on mammography. These deposits must be identified as different from calcium deposits that are a sign of breast cancer. Should this occur, additional surgery may be necessary to remove and examine calcifications.
Silicone Gel Bleed
Small amounts of silicone gel material seep out through the silicone filled implant shell, and coat the outside of the implant. This material can be felt and seen when a silicone implant is being removed by a surgeon. Scientific studies have shown that this silicone does get into the surrounding lymph nodes and blood stream, but no harm has ever been documented experimentally or clinically.
Implant Extrusion/ Tissue Necrosis
Lack of adequate tissue coverage or infection may result in exposure and extrusion of the implant through the skin. Tissue breakdown (necrosis) has been reported with the use of steroid drugs, after chemotherapy/radiation to breast tissue, due to smoking, microwave diathermy, and excessive heat or cold therapy. In some cases, incision sites fail to heal normally. An implant may become visible at the surface of the breast as a result of the device pushing through layers of skin. If tissue breakdown occurs and the implant becomes exposed, implant removal may be necessary. Permanent scar deformity may occur.
Anesthesia
Whether local or general, all anesthesia involves a risk of complications and injury, including death. This is why choosing a cosmetic surgeon who works with a skilled physician trained in anesthesiology, rather than a nurse anesthetist, is your best choice.
Damage to Deeper Structures
There is the potential for injury to deeper structures including nerves, blood vessels and muscles and lungs (pneumothorax) during this surgical procedure. The potential for this to occur varies according to the type of procedure being performed. Injury to deeper structures may be temporary or permanent.
Cardiac and Pulmonary Complications
Pulmonary complications may occur secondarily to both blood clots (pulmonary emboli), fat deposits (fat emboli) or partial collapse of the lungs after general anesthesia. Pulmonary emboli can be life-threatening or fatal in some circumstances. Inactivity and other conditions may increase the incidence of blood clots traveling to the lungs causing a major blood clot that may result in death. It is important to discuss with your physician any past history of swelling in your legs or blood clots that may contribute to this condition. Cardiac complications are a risk with any surgery and anesthesia, even in patients without symptoms. Should any of these complications occur, you may require hospitalization and additional treatment. If you experience shortness of breath, chest pain, or unusual heart beats, you should have this evaluated immediately.
Breast Disease
Current medical information does not demonstrate an increased risk of breast cancer in women who have breast implant surgery for either cosmetic or reconstructive purposes. Individuals with a personal history or family history of breast cancer may be at a higher risk of developing breast cancer than a woman with no family history of this disease. It is recommended that all women perform periodic self-examination of their breasts, have mammography according to American Cancer Society guidelines, and to seek professional care should a breast lump be detected. Care must be exercised during breast biopsy procedures to avoid damaging the breast implant.
Mammography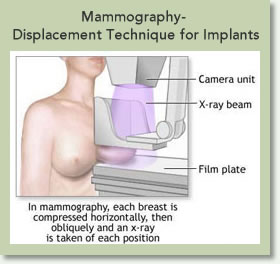 Breast implants may make mammography more difficult and may obscure the detection of breast cancer. Any breast implant can impair the detection of breast cancer, regardless of the type of implant or where it is placed in relation to the breast. Implant rupture can occur from breast compression during mammography. Inform your mammography technologist of the presence of breast implants so that appropriate mammogram studies may be obtained. Patients with Capsular Contracture may find mammogram techniques painful and the difficulty of breast imaging will increase with the extent of contracture. Ultrasound, specialized mammography and MRI studies may be of benefit to evaluate breast lumps and the condition of the implant(s). Because more x-ray views are necessary with specialized mammography techniques, women with breast implants will receive more radiation than women without implants who receive a normal exam. However, the benefit of the mammogram in finding cancer outweighs the risk of additional x-rays. Patients may wish to undergo a preoperative mammogram and another one after implantation to establish a baseline view of their breast tissue. You may be advised to undergo a MRI study in the future to verify the condition of your breast implants inside your body.
Breast Feeding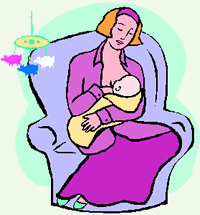 Breast milk is the best food for babies. Many women with breast implants have successfully breast fed their babies. It is not known if there are increased risks in nursing for a woman with breast implants. A study measuring elemental silicon (a component of silicone) in human breast milk did not indicate higher levels from women with silicone-filled gel implants when compared to women without implants. Cow's milk contains higher levels of elemental silicon as compared to human milk. Implant placement techniques that involve incisions through the nipple and areola locations may reduce the ability to successfully breast feed. If a woman has undergone a mastectomy, it is unlikely that she would be able to breast feed a baby on the side where the breast was removed.
Mondor's Bands (Cords)
This condition, named after French surgeon Henri Mondor, occurs when the vein appearing to be a tender cord that runs vertically below the inframammary fold becomes inflamed. This usually corrects itself after a few weeks, and following treatment with warm, moist compresses.
Immune System Diseases
A small number of women with breast implants have reported symptoms similar to those of known diseases of the immune system, such as systemic lupus erythematosus, rheumatoid arthritis, scleroderma, and other arthritis-like conditions. To date, after several large epidemiological studies of women with and without implants, there is no scientific evidence that women with either saline-filled or silicone gel-filled breast implants have an increased risk of these diseases. These diseases appear no more common in women with implants than those women without implants. The effect of breast implants in individuals with pre-existing immune system and connective-tissue disorders is unknown. There is the possibility of unknown risks associated with silicone breast implants and tissue expanders.
Summary of Saline Breast Augmentation Complication Rate:
(Source: 2004/ A95 Inamed Study, n=901 Patients)
| | | |
| --- | --- | --- |
| Complications | 3-Year** Complication Rate | 5-Year Complication Rate |
| Additional Operation (Re-operation) | 21% | 26% |
| Breast Pain* | 16% | 17% |
| Wrinkling* | 11% | 14% |
| Asymmetry* | 10% | 12% |
| Implant Palpability/Visibility* | 9% | 12% |
| Implant Replacement/Removal for Any Reason | 8% | 12% |
| Capsular Contracture | 9% | 11% |
| Intense Nipple Sensation* | 9% | 11% |
| Loss of Nipple Sensation* | 8% | 10% |
| Implant Malposition* | 8% | 9% |
| Intense Skin Sensation* | 7% | 8% |
| Scarring Complications | 6% | 7% |
| Leakage/Deflation | 5% | 7% |
| Irritation/Inflammation* | 3% | 3% |
| Seroma | 3% | 3% |
| Hematoma | 2% | 2% |
| Skin Rash | 2% | 2% |
| Capsule Calcification* | 1% | 2% |
| Delayed Wound Healing* | 1% | 1% |
| Infection | <1% | 1% |
Note: *These complications were assessed with severity ratings. Only the rates for moderate, severe, or very severe (excludes mild and very mild ratings) are shown in this table.
** As reported in original PMA submission.
Results
98% percent of women undergoing breast augmentation surgery say the results met or exceeded their expectations, according to a prospective outcome study published in the May issue of Plastic and Reconstructive Surgery®, the official medical journal of the American Society of Plastic Surgeons (ASPS). Women also report improvements in self-esteem and quality of life after breast augmentation.
One of the most common reasons for dissatisfaction after breast augmentation occurs with women who feel that once they get breast implants they should instantaneously be ready to boast their perfect new breasts in their bikini. We understand the excitement that comes with achieving the body you have dreamed about, but it is important to understand that it takes weeks to months for implants to settle, swelling to subside, and breast tissue to accommodate the new implant. Therefore, we advise our patients to be patient, and before you know it, you will be the talk of the town with your fabulous new body.
Common Reasons For Dissatisfaction?
The number one complaint after surgery is that patients regret that they didn't have larger implants. This arises from the fact that when trying on implants before surgery, women are either shy or have not gotten used to having larger breasts. To avoid this, I recommend that you choose the largest implant size that you can feel comfortable with.
The second most common reason for dissatisfaction is that women feel that once they get breast implants they should instantaneously be ready for the swim suit, with the "Perfect New Breasts"! Obviously, it takes weeks to months for implants to settle, swelling to subside, and breast tissue to accommodate the new implant. Therefore, be patient.
A third very common reason for dissatisfaction is having unreasonable expectations. Most women quickly forget the shape of the breasts that they had before their augmentation, just several weeks ago. The esthetic outcome of Breast Augmentation greatly depends on what your breasts looked like before surgery. For example, if you had significant breast asymmetry, tubular breasts, or extensive sagging beforehand, surgery would not be able to give you "perfect breasts", but only breasts that are better looking than where you started.
Seven Steps to Great Results
Do your research.
Ask questions.
Check your doctor and surgery facility credentials.
Know your goal. What is it that you really want to achieve?
Have realistic expectations. No human can attain perfection!
Follow your doctor's instructions thoroughly.
Be patient with getting there. You just had real surgery; and you didn't buy breasts off the rack!
Having said all this, thousands of women undergo breast enhancement surgery every year and are very happy with their decision. Please remember to take your plastic surgery endeavor seriously. After all, it is no different than any other surgery that you might undergo.
With best wishes,
S. Sean Younai, MD, FACS
Board Certified Plastic & Reconstructive Surgeon
FAQ
Will Breast Implants Affect My Ability to Have Mammograms, Detect Breast Cancer, or Have Breast Biopsy?
Women with breast implants can have mammograms. You should notify the Mammography technician that you have implants so that a special technique, the "Eklund's Displacement Technique", could be used for your mammogram. However, Breast implants can obscure approximately a 10% area of the outer breast in those who have very small breasts and have their implants in the sub-glandular pocket.

Breast implants do not hinder a woman's ability to perform breast self examination, nor does it impede palpation and detection of breast masses through breast examination. If you are going to have a breast biopsy, the placement of an implant under the muscle (sub-muscular placement) reduces the chance of potentially damaging your implant.
Do Breast Implants Interfere with Sentinel Lymph Node Mapping Procedures?
Breast augmentation procedures (peri-areolar or Trans-mammary) that involve cutting through breast tissue, similar to a breast biopsy in order to place breast implants, can potentially interfere with diagnostic procedures to determine lymph node drainage of breast tissue to stage breast cancer. This procedure is only performed on those who have a biopsy-proven breast cancer and need to have further determination of their cancer progress. If this is a concern, individuals considering Breast Augmentation by these approaches may elect to consider another surgical approach such as the Inframammary approach.
Should I Avoid Implants if I'm an Avid Bodybuilder or Exercise Heavily?
One of the inevitable side effects of working out and body building is the replacement over time of breast tissue with more lean body mass. While this is great for your overall fitness, you may not like the impact on the size of your breasts. If this is the case, Breast Augmentation could help you to regain your curves. If the patient is very lean, however, the surgeon will probably want to place the implant under the chest muscle. For resuming your exercise routine, it's good to know that implants are designed to withstand a lot of impact. Kick boxers, police officers, and wrestlers enjoy implants without any deflation or other bad side effects.

Another consideration for fitness enthusiasts is that an armpit incision may leave a more visible scar for those who like to wear sleeveless clothing.

As far as resuming your exercise routine, most women can do light cardio within a week. However protect the outcome of your Breast Augmentation by avoiding strenuous lifting and workout for several weeks. It will be worth the wait.
Can You Breast-Feed After Having Had Breast Implants?
Many women who have had breast implants have successfully breast fed their babies. Some surgeons believe that peri-areolar approach can increase the chance of injury to milk ducts. In my personal experience, I have found peri-areolar approach not to be any different than other approaches with regards to the patient's ability to breast feed.

Breast milk does not contain silicone in women who have silicone implants.
Should I Delay Breast Augmentation Until I Have Had All of My Children?
Not necessarily! Breast implants neither hinder your ability to have children, nor affect breast feeding. Furthermore, breast implants which are placed under the muscle (submuscular) do not increase the chance of breast sagging with pregnancy. If a woman develops sagging as a result of pregnancy, a Breast Lift procedure, called Mastopexy, can be performed.

Therefore, there is no reason for a woman to put off enjoying the benefits of a Breast Augmentation until after having her children. In fact, according to the American Society of Plastic Surgeons 2005 Statistics (www.plasticsurgery.org) 49% of women who get breast implants are 19-34 years old, and 42% are 42-50 years old.

Of course, if a woman is actively attempting to get pregnant, and it is a priority, it would make sense to wait until after the baby is born and she has stopped nursing.
Will I get Stretch Marks When I Have my Breast Augmentation? Can I Prevent Them?
It is literally impossible to determine whether you will get stretch marks after your Breast Augmentation.

Many doctors believe that your skin elasticity is a large factor. However, you can always take preventative measures. Many women have moisturized heavily prior to their surgery by using Palmer's Cocoa Butter, Shea's Butter Lotion, and Vitamin E. It certainly will not hurt to try it.

If you have pre-existing stretch marks due to pregnancy, breast-feeding, etc., the implants will most likely help to "fill them out", thus making them less noticeable. If this is not the case for you, or, you get stretch-marks after your surgery, you can try using Mederma. It has helped diminish the appearance of stretch marks in many women, while others have noticed little to no difference at all. Results vary.

Laser treatments have not been scientifically proven to remove or diminish stretch marks. However, it is rare to get stretch marks from breast implants, unless they are extremely large.
Do Breast Implants Last a Lifetime?
Anything is possible, but in general, the answer to this question is no. In fact, breast implant manufacturers, such as Mentor and Inamed (Allegan) state that implants are not considered lifetime devices. There is a reasonable chance of having at least one more breast surgery in your lifetime. However, there are women who have had implants for 20 or more years, and have never had a problem. According to the Institute of Medicine, the average life expectancy of a breast implant is 16 years.
What Do Implants Feel Like Once They're Inside the Body?
Many women equate the feel of their breasts implants to that of a teenage girl with young, healthy, firm breasts. Saline breast implants feel a bit firmer (both inside and outside the body), while silicone gel breast implants have a softer, and more natural feel. On the other hand, silicone implants are heavier.
Do Breast Implants Expire, or Have an Expiration Date?
No, implants do not have an expiration date.
Do Implants Make Noises Like Sloshing, Squeaking, etc.?
These noises are common during the first few days after surgery. Air in the pocket causes these types of noises, but they will dissipate anywhere from a few days to a few weeks post-op. Sloshing may also be the result of an under-filled implant. For example, if you have a Mentor 300cc implant, Mentor recommends that the implant be filled to at least 300cc, and no more than 325cc. If the implant is filled to, say, 275cc, you may get a sloshing effect. Thankfully, the vast majority of doctors fill the implant to the minimum manufacturer recommendation, at the very least. Overfilling the implant seems more common than is under-filling them.
Why is One of My Implants Rock Hard?
You have developed Capsular Contracture. Scar tissue, which forms internally around the breast implant, can tighten and make the breast round, firm, and possibly painful. Excessive firmness of the breasts can occur soon after surgery or years later. The occurrence of symptomatic Capsular Contracture is not predictable. The incidence of symptomatic capsular contracture can be expected to increase over time. Capsular Contracture may occur on one side, both sides or not at all. There are four grades of capsular contracture – Baker grades I through IV. The Baker grading is as follows:

• Grade I – The breast is normally soft and looks natural.
• Grade II – The breast is a little firm but looks normal.
• Grade III – The breast is firm and looks abnormal.
• Grade IV – The breast is hard, painful, and looks abnormal.

Capsular Contracture may be more common following infection, hematoma, and seroma. However, it is not known for sure why Capsular Contracture happens. The literature also discusses other factors, such as a textured implant surface and submuscular placement of the implant, which may decrease the Capsular Contracture rate. In severe or symptomatic cases, such as grade III or IV, there are different treatment options ranging from cutting or removing the implant capsule tissue (Capsulotomy vs. Capsulectomy) with or without replacement of the implant itself. Capsular Contracture may happen again after this additional procedure.
What is Capsulectomy, Closed and Open Capsulotomy?
When a woman develops painful and deforming Capsular Contracture (grade III & IV), there are several treatment options available to them. Previously, surgeons manually squeezed the contracted breast in order to break the implant shell. This technique is called Closed Capsulotomy. Besides being very painful, this maneuver could also damage or even rupture of the implant itself. Because of this, closed Capsulotomy is no longer recommended by implant manufacturers or the medical experts.

Today, the technique of Capsulectomy or Open Capsulotomy, is performed. This is a surgical procedure where several incisions are made in the capsule in order to release the contracture-Open Capsulotomy; or the entire capsule is removed-Capsulectomy. At this time, if the implant is smooth, it is changed with a textured implant which carries a lower incidence of Capsular Contracture.
Will Capsular Contracture Cause The Implant's Shell to Weaken, or Rupture?
There seem to be varying opinions on this. Some say no, because there are equal amounts of force being exerted on the implant. However, according to Mentor and Inamed (Allergan), it is possible for very severe cases of Capsular Contracture to rupture the implant. Thankfully, this does not seem to be a common problem.
What Are the Symptoms of a Ruptured Silicone Implant?
Some women may notice a decreased size and/or shape in their breast, pain and/or tenderness in the breast, numbness, tingling, burning, swelling, or hard knots (also known as nodules). Sometimes, silicone implants can silently rupture, meaning that the patient has no idea that she has experienced a rupture. An MRI (Magnetic Resonance Imaging) with equipment specifically designed for imaging the breast may be utilized for evaluating patients who have a "suspected" rupture or leakage of a silicone gel breast implant.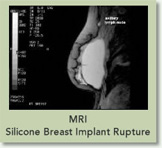 Can I Have My Nipples Pierced After Breast Augmentation?
Women with breast implants seeking to undergo body piercing procedures to the breast region must consider the possibility that an infection could develop anytime following this procedure. Should an infection occur, it is possible that it could spread to the breast implant space. Treatment including antibiotics, possible removal of the implant, or additional surgery may be necessary. Infections with the presence of a breast implant are harder to treat than infections in normal body tissues. If an infection does not respond to antibiotics, the breast implant may have to be removed. Individuals who currently wear body-piercing jewelry in the breast region are advised that a breast infection could also develop.
What Happens to Your Breasts if you Decide to Have Your Implants Removed at a Later Time?
Breast implants permanently change the shape and form of your breasts. Therefore, before having your implants removed you must consider how to deal with these permanent changes. For example breast implants do stretch and thin out the breast tissue and the chest muscles. Once implants are removed, you will have excess, loose breast skin which will require a Breast Lift. You must also be mentally prepared to deal with a dramatic reduction in your breast volume which can affect the proportions of your figure and how you fit in your clothes.
Expert Suggestions to Achieve Desired Breast Size?
I'm hoping to have BA, the PS I've seen has given me a ball park of sizes. Just looking for a second opinion to make a comparison to his expertise. I would like a look similar to the photographs shown below. Given my starting point in the first picture, what would be some recommendations on CCs and Profile to achieve a similar end result to the pictures? Would my slight asymmetry call for 2 different size implants? 5'3 115lbs bwd 14 rib cage 29 Thank you for your response 🙂

 How to choose the best breast implant size in Los Angeles
The most important decision in breast augmentation is choosing the right size breast implants. Most women tend to underestimate the breast implant size. The pictures that they bring in are often of larger breast implants that what they say that they want. Therefore, I have patients try on different size breast implants in my office to see which size looks the best on them.
I Have a Protein S Deficiency and Would Like Breast Augmentation. Can I Still Have the Procedure?
 Blood Clotting disorder and plastic surgery
Protein S Deficiency usually increases the risk for bleeding, but it is not an absolute contraindication for plastic surgery or breast augmentation. Ultimately, the most important test is a bleeding time test which not only checks your coagulation cascade but your overall ability to form clots and stop bleeding. A hematologist can perform a bleeding test as well as to check the severity of your protein s deficiency. If you do not bruise easily, don't have heavy periods, and don't easily bleed from your gums when you brush your teeth, most likely your overall bleeding risk is very low.

Finally, a hematologist can recommend medications to take at the time of your surgery to prevent bleeding.
Is There a Limit to the Volume if Doing a Lift and Augmentation?
I am 5'6, 170lbs and 35yo. I'm about to have a lift and augmentation done and was told 300cc's was the largest I could go, is this accurate or was the surgeon I chose not giving me an option? I am normally a DD and through childbirth and gravity have fallen to a small C. I would like my DD's back, is 300 cc large enough to give me what I want?

Breast implant size for breast lift surgery in Los Angeles
It seems that a 300 cc implant might be a bit small for you if you want to get closure to DD bra size. I have to also advise you that the larger the implant, and the heavier the implant, there is higher chance of early breast sagging after breast lift surgery. therefore, your plastic surgeon might have a good point. I suggest that you first try on different size breast implants in a bra in order to see if a 400 cc implant might look good on you.
Am I Prone to Capsular Contracture if I Scar Easily?
I had a needle biopsy for a lump in my right breast 3 weeks ago which luckily was benign. A week after the procedure the incision area was hard from scarring. It also creates a dimple in my breast when I raise my arm. Because I scarred to easily, should I be worried about being prone to CC? I am scheduled to have BA in one week. Should I ask my PS to prescribe me Accolate or Singulair for prevention? Thank you for your responses.

Causes of Hardening of Breast Implants- Capsular Contracture
There are several known causes of capsular contracture or hardening of the breast implants. Many surgeons feel that excess blood in the breast pocket can lead to increased scarring and thus capsular contracture. Usually, formation of skin scars or even keloids is not associated with formation of capsular contracture. Meticulous surgical technique is the best prevention for developing capsular contracture.
How Do I Get Boobs like Holly Madison?
Hello! I am 20 years old 5'5″ and weigh 110 pounds.. Currently I am a 32/34 A and I really love Holly Madison's boobs(picture posted) Do you have any idea based on the picture as to what CC I would need to get according to my current size?

In the photo, Holly Madison seems to have a 36D breast size and based on her look, it seems that she has 420 cc breast implants. I advise you to try on different size breast implants when visiting a board certified plastic surgeon
Opinion on Sizing For Asymmetry?
I am currently a 36B -34C and I have one breast slightly bigger than the other…I am going under the muscle and wanted to know if 500 to 550 cc is too much for my body…. I only want to be a small to medium size D. Should I go 450cc and 500cc?

Breast Implant size for breast augmentation in Los Angeles
looking at your pictures it seems that a 500-550 cc implant would make you look bigger than a small D. A 425-240 cc implant would probably be closure to what you want. You need to first try on different size breast implant in a bra in order to see how that would look on you.
Should I Worry About Natrelle Implant Being Overfilled by 30cc's?
Hi I'm getting 320 Natrelle HP implants being overfilled by 30cc's. I was wondering is this too much or less overfilling? I have a decent amount of B cup tissue. 5'4 105. I'm going for the natural look. suggestions or advices? Thank you!

Adjusting Saline Breast Implant size during surgery

All saline breast implants that are used for breast augmentation are supposed to be over-filled by about 10-15 % of their volume in order to lessen the chance of rippling. Most breast implants manufacturers in the USA indicate the range that their implants can be safely be filled.

Therefore, during breast augmentation surgery in Los Angeles, most plastic surgeon would adjust the amount of saline implant filling in order to correct breast size asymmetry.
Best Procedure to Fix Ptosis and Tubular Breasts?
My breasts were always very tubular and oddly shaped. I dealt with weight gain and loss throughout high school(Bs to DDs). I want pre-consultation insight from a few doctors or patients that are familiar with the different types of surgeries available, mainly the ones best suited.

How hard is it to fix my ptosis, skin sagging, over large nipples and tubular breasts? $ is not an option when it comes to my body. What ways can I combat scarring being that I'm bi-racial? I am 5'10 145 lbs 20y/o

Correction of Breast Sagging or Ptosis, and Tubular Deformity
To correct a combination of breast sagging or ptosis along with tubular breast deformity requires a peri-areolar breast lift or mastopexy. Tubular breast deformity is not uncommon and is associated with an narrow breast width and wide areola. This breast deformity can be fixed with a mastopexy. You need to also know that there is a higher rate of recurrent breast sagging with tubular breast deformity.
Full Tummy Tuck w/ Lipo and Breast Augmentation – Is This Safe?
I'm 30 yrs old, 5'3″ 130 lbs, athletic, and good health. I'm scheduled for May 11, 2011. My surgery consists of a full tummy tuck, liposuction of back, flanks, inner knees, and slightly around the inner thighs. Also I'm getting a breast augmentation under the muscle. Is that too much??? My PS seems very optimistic about it and has been practicing for over 30 yrs. He's also one of the top plastic surgeons in Houston, Tx but I'm still a little nervous about it. Is this common?

 Combining Multiple Plastic Surgery Procedures- Is it safe?
More people are now choosing to have multiple plastic surgery procedures at one time because of constraints in taking time off from work. The safety of combining multiple plastic surgery procedures depends on your health, extent and length of the procedures, and the support that the surgery facility is going to offer you. Most plastic surgeons agree that a healthy patient can easily handle about 6-8 hours of surgery as long as the surgery is not risky or involve significant blood loss.

Many women are now combining breast augmentation with tummy tuck and liposuction of their flanks and parts of their legs into a combined procedure called "Mommy Make Over".
Is Exercising Changing my Implants?
I received my BA 12/16/10. Under the muscle Silicone Gel Med Profile 400cc thru areola. I was a 34A cup pre-op, nursed 2 babies so I had 0 breast tissue basically. I am very happy with my results however I am heavily into fitness & was 177lbs/5'6 one yr ago! Pre-op @ 131lbs. I got the OK from my DR to workout again and recently incorporated some strength training with weights and started push ups. I noticed some rippling starting to occur. Should I back off on the strength training b/c of this?

Rippling of breast implants are caused by thin skin
What causes rippling of breast implants? Basically, all implants, including silicone implants, ripple. What makes the rippling not to show is thickness of the overlying skin. The thicker the skin and the more fat padding over the implant the less you can see the ripples. So in your circumstance weight loss caused a reduction in your subcutaneous fat, which made your implants show more.
Breast Augmentation Recovery?
Considering enhancing my breasts through surgery.  My biggest worries are about breast augmentation recovery.  What can I expect?  How much time off work does breast implant recovery require? Will I be able to take care of my 2 children afterwards?  When do scars really begin to fade?  The more you can tell me the better!

Breast augmentation recovery in Los Angeles
Most of my patients who have breast augmentation in Los Angeles usually take 4-5 days off work after breast augmentation. Obviously, it also depends on the type of work you do. I allow my patients to start light exercising in about 10 days.