Tummy Tuck Candidates Los Angeles
Men and women who have
loose, hanging skin
and
weak abdominal muscles
with a
protruding belly
are candidates for a
full Tummy Tuck
. On the other hand those who have a firm abdomen, but who have redundant lower abdominal skin folds are better served with a
Mini-Tummy Tuck
, also known as a
Mini-Abdominoplasty
.
There are several life changes that cause your abdominal wall to lose its strength and tightness, and to develop excessive, loose skin. Examples of these are pregnancy and massive weight loss — such as the large weight losses from Gastric Bypass or "Bariatric" surgery.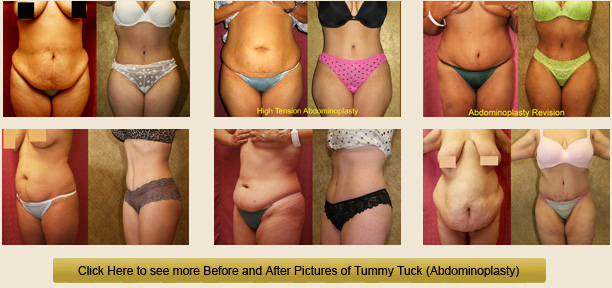 Pregnancy
Almost all women develop stretch marks and loose lower abdominal skin as a result of pregnancy. They often complain of a lower abdominal pouch that protrudes and is unsightly when wearing tight clothes or low-cut shirts.
Especially during the last months of pregnancy, the rapid growth of the uterus stresses the lower abdominal wall and skin. Rapid stretching causes the deeper layer of skin to break, thereby forming stretch marks centered mostly in the lower abdomen, and covering the flanks and hips. The rapid stretching also causes the separation and stretching of the abdominal muscles that give the belly its core strength. The resulting weakness causes a pouch to develop in center of the abdomen. Because there is no longer adequate muscle support, exercise and dieting are ineffective in tightening the abdomen.
Massive Weight Loss
Men and women who have lost large amounts of weight by any means, including those who have dieted or have lost it through "Gastric Bypass" — also known as "Stomach Stapling" or "Bariatric Surgery" — are often left with folds of skin that hang like an apron. This is not only demoralizing for those who have gone to the effort of achieving a significant weight loss, but it also makes personal hygiene, exercising and wearing normal clothes difficult.
| | |
| --- | --- |
| | Questions & Answers: Tummy Tuck |
"After I had my children, I was never with my husband when the lights were on because I was embarrassed by the loose skin on my belly. He thought I was imagining my need for this surgery, but finally I showed him what I was talking about, and his eyes got wide as saucers. Even though he didn't care if I had this surgery, he has been supportive of my need to do it."
–Laura, age 30
During your consultation Dr. Younai reviews your treatment options for body contouring and tummy tuck, including pros and cons, potential risks and complications, recovery course, pre and post operative instructions, and esthetic outcomes. There are also many before-and-after pictures, high resolution images of abdominoplasty available in our photo gallery.
If you are considering a tummy tuck in Beverly Hills or Los Angeles contact us today. Dr. Younai is a board certified plastic surgeon who receives patients at the California Center for Plastic Surgery from the Northern as well as the Southern California region. Some of these cities are Beverly Hills, Los Angeles, Santa Monica, Hollywood, Burbank, Sherman Oaks, Encino, Calabasas, Woodland Hills, Thousand Oaks, Westlake Village, Pasadena, Glendale, Valencia, Palmdale, Fresno, and Oxnard.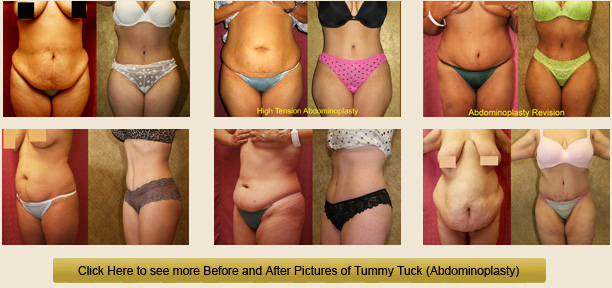 ---