Tummy Tuck Cost & Prices
Consultations offered at our three convenient locations in Encino, Glendale and Bakersfield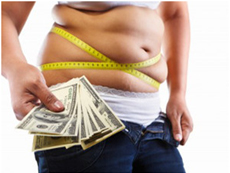 Tummy tuck cost in California varies mostly depending on if you are in Northern or Southern California. For example, cost of tummy tuck in Los Angeles and Beverly Hills could be lower than tummy tuck prices in San Francisco.
Tummy tuck prices in Los Angeles also depend on the type of abdominoplasty procedure. For instance, Mini tummy tuck cost is usually less than full tummy tuck and male tummy tuck prices. On the other hand, Mommy makeover cost is definitely higher than a regular tummy tuck price because it combines an abdominoplasty with a breast augmentation/lift.
Tummy tuck financing has made tummy tuck affordable for many men and women in Los Angeles. Plastic Surgery financing companies such as CareCredit offer online payment calculators and financing application processing.
According to RealSelf.com the average tummy tuck cost is between $9,000 and $13,000. The American Society of Plastic Surgeons which represents Board Certified Plastic Surgeons notes the national average for plastic surgeon's fee for a tummy tuck to be $5,130, with probably additional $4,500 for the cost of anesthesiologist and surgery center. When necessary, there are additional fees for aftercare facilities in Beverly Hills.
The price of tummy tuck with liposuction can depend on the number of areas that are liposuctioned. The cost of abdominoplasty procedures that are more complicated such as a body lift, belt lipectomy or extended tummy tuck intended for patients after massive weight loss is more than a full tummy tuck price. In general, a body lift costs about $16,000 but can be much higher when combined with liposuction, thigh lift, brachioplasty, or breast lift surgery.
When searching tummy tuck reviews, photos, and prices you might realize that the cheapest tummy tuck is not necessarily the least expensive tummy tuck that you can find in Los Angeles. You get what you pay for!
First, consult with the best tummy tuck specialist in Los Angeles.
Second, compare before and after tummy tuck pictures of tummy tuck experts.
Third, see how comfortable you feel with each of the Board Certified Plastic Surgeons who you consult with in Los Angeles or Beverly Hills.
Fourth, ask each plastic surgeon about their tummy tuck complications and scars, knowing that every good plastic surgeon has had few bad tummy tuck results.
Fifth, ask your plastic surgeon how they fixed tummy tuck complications and bad scars.
Sixth, find out if your plastic surgeon is going to use a Board Certified Anesthesiologist, and if the surgery center is certified.
Seventh, investigate tummy tuck financing options since it can make your tummy tuck affordable.