Breast Augmentation after Weight Loss
Consultations offered at our three convenient locations in Encino, Glendale and Bakersfield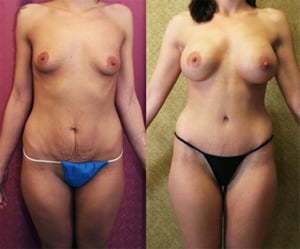 Women with weight loss choose breast augmentation with implants in order to fix their empty and sagging breasts. Women who have lost weight not only need breast implants to enlarge their breasts but also need breast lift surgery or mastopexy to raise dropping breasts. Breast augmentation after weight loss photos shown here demonstrate the scars of breast lift and enlargement surgery and compare them to before pictures of women who had lost major weight. Notice that many of these women have also had a tummy tuck after weight loss in order to remove hanging skin folds and stretch marks. In Los Angeles, many cosmetic surgeons who specialize in plastic surgery after weight loss offer a combination of tummy tuck and breast augmentation for women who have lost major weight. These combine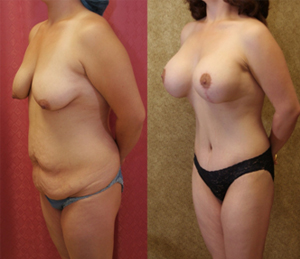 Breast augmentation After Weight Loss procedures reduce the overall recovery time after breast lift and tummy tuck surgery by overlapping their recuperation time. Therefore, women do not have to take time off work twice!
This is different than standard breast augmentation surgeries because it has to take into account that weight loss results in the loss of breast skin elasticity. Consequently, different breast lift techniques such as internal bra, capsulorrhaphy, "laser bra", inverted-T mastopexy, or peri-areolar augmentopexy are utilized to tighten up the breast tissue and to lift the entire breast.
Who can benefit from breast augmentation after weight loss?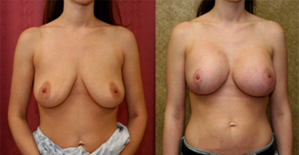 Women who have had gastric bypass surgery often lose about 100 lbs. This amount of massive weight loss results in emptying of the breasts, as well as their sagging. One of the most common procedures performed after weight loose surgery is breast enlargement and breast lift surgery. In this circumstance, a saline or silicone implant is placed in the sub-muscular pocket and the breast tissue is rearranged around the breast implant in order to tighten and raise the breast.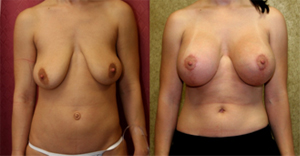 Women after pregnancy often choose breast augmentation and lift in order to regain their youthful and perky breasts.
Women who lose significant weight from dieting often find themselves needing breast augmentation and lift in order to make their breasts look proportionate with the rest of their body.
Recovery after breast augmentation for weight loss patients: Breast augmentation recovery for weight loss patients could be longer and more difficult because of the general health of the patient. In addition, breast lift surgery and tummy tuck when performed at the same time can add to the recovery time.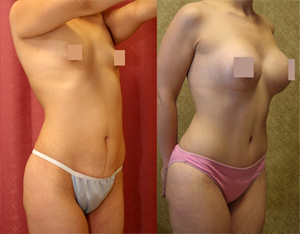 Cost of breast augmentation after weight loss: Breast augmentation cost after weight loss also includes the additional fees for breast lift surgery. The cost of silicone breast implants varies.