Breast Augmenation Recovery Tips
Consultations offered at our three convenient locations in Encino, Glendale and Bakersfield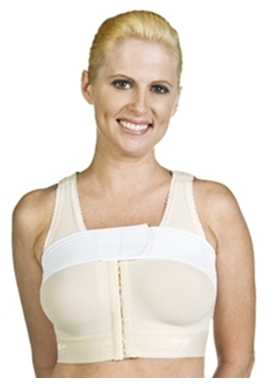 Following breast augmentation post-op care instructions helps women recover faster and with less pain and discomfort after breast surgery. Please carefully read and follow the Breast Augmentation Recovery Tips for breast augmentation and other types of breast surgery, including breast lift and reduction. Also, review this postoperative information with the person that is going to care for you, prior to your surgery.
Day 1 & 2 after Breast Augmentation, Lift, or Reduction surgery
Medication:

Take plenty of pain medications at regular intervals to avoid sudden pain surge.
Take a nausea pill (Compazine, Zofra, etc.) 30 minutes prior to taking pain medication.
Take Arnica Montana Tablets to reduce bruising and swelling.
Do not take your antibiotics or other medications at the same time as your pain medication.

DO NOT

Do not smoke or drink alcohol.
Do not take anti-inflammatory medications such as Aspirin, Advil, Aleve, Motrin, or Naprosyn.
Do not apply ice or cold compress to your breasts, because it reduces circulation.
Do not drink fruit juices because it can give you heartburn.

Diet

Drink plenty of liquids such as Gatorade, soda, and tea, but not much plain water.
Only eat a little, and mostly bread, crackers and easily digested snacks.

Activities

Rest with your back propped up with pillows to reduce breast swelling and pain.
Get up and walk around the room once, five times a day to promote circulation.
Do not remove your bra or bandages.
If you have drains, have someone empty and care for them.
Day 3 & 4 after Breast Augmentation, Lift, or Reduction surgery
Shower

Only if instructed by your doctor, remove bra, bandages, and take a full shower on a daily basis.
Do not take a bath, sauna, or Jacuzzi.
After shower, dry the special tape over your incisions with a blow dryer.
Do not apply body lotion.
Wear surgical bra with no underwire and no tight bands, and loose cloths.
If you have ace bandages as part of your dressing, replace them after wearing your bra.

Diet

Advance your diet as tolerated.

Activities

Touch your nipple and breasts in order to reduce hypersensitivity.
Do not do heavy lifting or activities that might strain your chest muscles.
Only drive if you are not taking narcotics and if you have good control of your arms and feel safe.
Do not exercise.
You can travel longer distances.
Day 5 & 6 after Breast augmentation, Lift, or Reduction surgery
Activities

You may return to easy work and activities.
You may start very light exercising and return to full exercise in 3 weeks.
You can sleep on your chest.

Medications

Do not take anti-inflammatory medications until 2 weeks after surgery.
If you have drains, they are usually removed by the end of first week.