Eyelid Surgery (Blepharoplasty) Los Angeles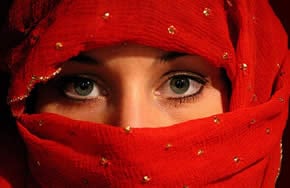 Blepharoplasty Beverly Hills
, also known as Eyelid Lift Beverly Hills or
Cosmetic Eye Surgery
, refers to the procedures that tighten drooping skin of the upper eyelids, and remove the "puffiness" or "
bags
" beneath the eyes. This surgery is a boon for those who wish to "freshen" up a fatigued looking face, without undergoing a full
Face Lift
. Many men who would not otherwise undergo
cosmetic surgery
undergo Blepharoplasty Beverly Hills, one of the top three
plastic surgeries
in the United States. In 2005 alone, more than 231,000 Americans who were "tired of looking tired," or who wished to maintain their competitive edge at work, underwent the procedure.
Like so many of our features, our eyes are subject to our genetic history. This, plus sun damage, smoking, stretching from obesity, blinking, rubbing and simply aging itself lead to excess eyelid skin, lax eyelid muscles and excessively protruding fat pockets.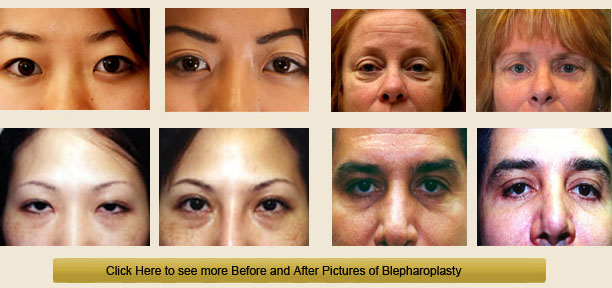 Most Eyelid Surgery Beverly Hills patients are between the ages of 30 and 60, although it can be performed on patients ranging from 18 to the very elderly. Blepharoplasty Beverly Hills can be aesthetic or functional, correcting congenital deformities, as well as vision impairment caused by excess eyelid skin or fat, and damage caused by trauma, infection and inflammation.
Blepharoplasty Beverly Hills corrects deformities of the eyelids that are due to aging, such as the bulges and bags that most people develop in their thirties and forties, when eyelid skin loses its elasticity, and the underlying fat begins to show.Congenital deformities it corrects include Blepharoptosis — the abnormal sagging or drooping of the upper eyelids that cause a sleepy appearance — or Blepharochalasia, the congenital excess bulging of lower eyelid fat that can occur even in young people. It will not, however, rid of persistent dark circles that many people inherit, although it may soften their appearance. It also does not eliminate "crow's feet," the tiny wrinkles around the eyes, or frown lines. These can generally be corrected with BOTOX® injections.
During Upper Eyelid surgery, the cosmetic surgeon marks the excess amount of skin to be removed, while you are in an upright position. The incision lines are usually drawn in the normal eyelid crease, allowing enough skin to remain for adequate eye closure. After you are sedated, a fine incision is made along the previously marked lines in the natural eyelid fold, with a scalpel or a laser. The surgeon then precisely trims the excessively hanging skin and the underlying redundant eyelid muscle, closing the incisions with very fine sutures.
Two kinds of incisions are made during Lower Eyelid surgery. A Transcutaneous Incision is made below your lash lines. The plastic surgeon then removes loose, wrinkled lower eyelid skin, re-draping and tightening it. A Transconjunctival Incision is made on the inside surface of the eyelid. The plastic surgeon then removes or repositions excessively herniated fat, helping to eliminate puffy lower eyelids.
| | |
| --- | --- |
| | Questions & Answers: Blepharoplasty |
There is a great variation in the character of eyelids between people of different ethnicities. For example, about half of all Asian patients have an upper eyelid that lacks a crease. Asian Eyelid Surgery or Double Eyelid Surgery can safely contour the skin above the lashes to create a crease or to change the height of an existing natural crease to create an eyelid that is harmonious with other facial features.
Blepharoplasty Beverly Hills is performed under local anesthesia with sedation, or under general anesthesia, depending upon the nature and the needs of the patient. Because Eyelid Surgery Beverly Hills is very delicate, you should be highly selective in choosing a plastic surgeon. Your plastic surgeon should have superb technical skills, a thorough knowledge of the interaction of facial structures and a honed artistic sense.
In the following sections Dr. Younai reviews your treatment options for Eyelid Rejuvenation Surgery or Blepharoplasty, including pros and cons of each procedure, potential risks and complications, recovery course, pre and post operative instructions, and esthetic outcomes. There are also many before-and-after pictures and high resolution images of Facial Plastic Surgery and Eyelid Surgery available in our photo gallery.
Dr. Younai is a board certified plastic surgeon who receives patients at the California Center for Plastic Surgery from the Northern as well as the Southern California region. Some of these cities include Beverly Hills, Los Angeles, Santa Monica, Hollywood, Burbank, Sherman Oaks, Encino, Calabasas, Woodland Hills, Thousand Oaks, Westlake Village, Pasadena, Glendale, Valencia, Palmdale, Fresno, and Oxnard.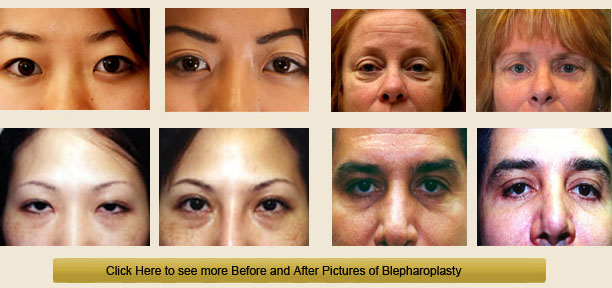 ---