Silicone Breast Implants
Consultations offered at our three convenient locations in Encino, Glendale and Bakersfield
Why Silicone Breast Implants?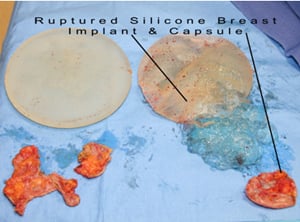 Food and Drug Administration (FDA) permitted Silicone-filled breast implants to be placed back in the market in November 2006. FDA has only approved silicone gel implants to be used for increasing breast size in women age 22 or old. Because silicone breast implants do not last your lifetime, FDA asks you and your doctor to monitor these implants for potential complication for the rest of your life.
Risks of Silicone Breast Implants
According to the FDA the most common complication with Silicone gel-filled breast implants including "Gummy Bear" implants include: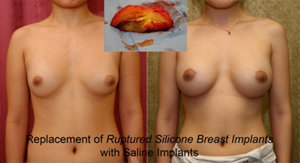 Capsular contraction: Hardening of breasts requiring removal of breast capsule and exchanging the silicone breast implant by Capsulectomy and silicone breast implant exchange.
Silent silicone breast implant rupture: unlike saline breast implants that go fat after rupture, most patients cannot feel or recognize the rupture of their silicone breast implants. This is because the silicone gels from a ruptured silicone breast implants does not dissolve or get removed by the body. In fact, FDA says that "1 in 2 (women) require removal 10 years after implantation Therefore, all silicone breast implant manufacturers such as Allergan, Mentor, and Sienta, mandate that women need clearly understand all adverse effects of silicone implants prior to proceeding with breast augmentation. They also need to enter a surveillance ongoing study to report any adverse effects. Finally, women need to get surveillance MRI tests about every other year in order to catch silent silicone breast implant ruptures.
Wrinkling of silicone breast implants: contrary to the popular belief that on saline implants can show ripples or wrinkles, Silicone breast implants also ripple. Correction of this is complex involving possible fat grafting or use of cadaver derived dermal grafts.
Scarring, asymmetry, and pain: all foreign implants including saline and silicone implants can potentially cause scarring and pain.
Silicone Breast implants are cost more than saline breast implants when comparing breast implant manufacture pricings.
Incision Scars for Silicone Breast Implants
In order to place an implant under the breast tissue and preferably under the chest muscle an incision needs to be made on the body. Saline implants are empty prior to insertion into the body, and then get filled with a connecting tube after insertion. This reduces the size of the incision and the scar that is used for breast augmentation. It also prevents the use of TUBA or trans-umbilical breast augmentation. While silicone gel implants can be forced through a relatively small incision around the areola/nipple, or armpit, or under the breast fold (sub-mammary) Gummy Bear implants need a much larger incision. This is to avoid damage to the "Jello-like" silicone, which can potentially cause deformity and early rupture.
Advantages of Silicone Breast Implants vs. Saline Breast Implants
There is much argument about the pros-and cons of silicone breast implants. There is even more controversy about silicone vs. saline breast implants. As a Board Certified plastic surgeon who is also an active member of the American Society of Plastic Surgeon Dr. S. Sean Younai, MD, FACS practices in Los Angeles and Beverly Hills and specializes in breast augmentation with silicone and/or saline implants. In his professional opinion silicone breast implants are preferred for women who don't have any breast tissue fullness, meaning that they have either had a cancer mastectomy or are just extremely thin and have no upper chest wall fullness. Placement of breast implants under the chest muscle by a sub-pectoral technique provides more padding on to the implant. on the same note the difference between the softness of silicone and breast implants, as well as visible rippling, become more an issue of chest wall soft tissue thickness.