Breast Implant Cost
Consultations offered at our three convenient locations in Encino, Glendale and Bakersfield
Breast augmentation cost varies widely in Los Angeles depending on the plastic surgeon, type of breast implants, and the geographic location of the breast implant specialist. For example, the cost of breast augmentation in Beverly Hills might be more than in other parts of Los Angeles.
How much do saline or silicone breast implants cost in Los Angeles?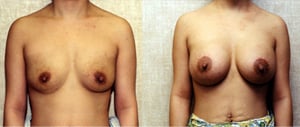 Breast implants vary in size, shape, and material. Breast implant sizes are designated in ccs of volume and not in cup sizes. Breast implant prices don't depend on the size but instead on the style, shape, and the fill material- saline vs. silicone. The cost of "Gummy Bear" silicone implants are also more than of regular silicone implants. Shapes of implants vary based on their projection, such as high vs. low profile breast implants.
Breast implants Brands, Quality, and Prices
Unfortunately, most patients don't ask their plastic surgeon about the brand of breast implants that are going to be placed into their body! In 2012, the French government discontinued a French made brand and ordered all those breast implants removed from the women who had them. This was because they contained industrial and not medical grade silicone! Thousands of women in Europe and the US had to rush to have these implants removed at personal cost. At this time the most prevalent breast implant brands that are FDA approved in the US are Mentor and Allergan. Dr. Younai uses only these two brands of breast implants which carry a ten year warranty.
Cost of breast augmentation in Los Angeles, vs. Beverly Hills, vs. Orange County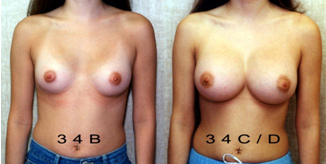 Breast implant surgery cost varies in Southern California. It seems that the further you go away from central Los Angeles the cost of breast augmentation gets higher.  The cost of breast augmentation in Beverly Hills does not depend on the location, but on the experience and notoriety of the breast implant specialist. Be cautious and don't get fooled by very low prices for breast implants in Beverly Hills or elsewhere, especially if it is offered by doctors who are not Board-Certified Plastic Surgeon, or by commercial companies that are not owned and operated by plastic surgeons themselves.
Breast augmentation specials in Southern California
prices vary based on exam and type of procedures.
Some breast augmentation specials do not include the anesthesia fee or warranty on the implants. Others require that you have other procedures such as liposuction done at the same time. The old adage goes that you get what you pay for!
– Dr. Younai is proud to offer a Military discount for Breast Augmentation in Los Angeles! –
What is included in the price of breast augmentation in California?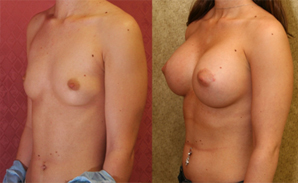 The price of breast augmentation throughout California usually includes the cost of breast implants, plastic surgeon's professional fees, anesthesiologist fees, and the cost of the surgery center and nursing staff. There are additional costs which apply to any surgery such as cost of medications and pre-operative laboratory tests. Some breast implant brands offer extended warranty at additional cost.
It is very important to realize that you might need adjunct procedures such as breast lift at the time of your breast augmentation which will raise your overall breast augmentation price. Likewise, changing your breast implants might also require capsulectomy which will cost more. That is why you cannot just look at advertised breast augmentation prices and you have to wait until after you are examined by a plastic surgeon in order to know what type of breast augmentation you will need and at what price.