Tubular Deformity
Consultations offered at our three convenient locations in Encino, Glendale and Bakersfield
Women who have tubular breast deformity, or tuberous, or constricted breasts are frequently embarrassed about the unusual shape of their breasts. Often times they do not know that their breast deformity can be fixed with breast augmentation surgery. Dr. Sean Younai is a Board-Certified Plastic Surgeon from Los Angles who specializes in all aspects of cosmetic breast surgery including correction of tubular breast deformity, breast asymmetry, and revision of post-breast augmentation deformities. Using special techniques in breast augmentation and lift surgery Dr. Younai is able to give women with breast abnormalities normal looking breasts.
What Causes Tubular Deformity?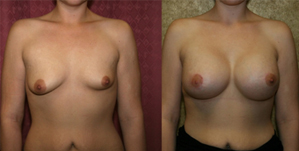 Tuberous breasts are a congenital breast deformity, which result from abnormal breast development during puberty. During rapid breast developmental growth phase, the breast tissue under the nipple/areola can grow more rapidly than the rest of the breast. This can be most dramatic in constricted breast deformity when the base of the breast does not expand and stays narrow, while the areolar part of the breast overgrows like a protruding tube, thus giving the name of tubular breasts to this deformity. Women with tuberous breasts frequently have moderate breast asymmetry and sagging (ptosis).
Surgery Techniques for Correction of Tubular Deformity
First, the bases of the breasts have to be expanded by inserting breast implants in the sub-muscular or sub-mammary pockets. Saline breast implants can be more helpful because their volume can be adjusted during surgery in order to correct breast asymmetry. In instances of sever breast tissue constriction, internal scoring of the breast tissue helps to stretch out the tight and constricted parts of the breast. Second, the size of the areola is reduced to a normal size, utilizing a periareolar or Benelli incision. With the alteration of the areola their location can also be adjusted in order to lift sagging breasts.
Cost of Tubular Deformity Correction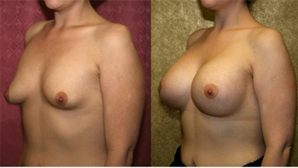 Cost of tubular breast surgery includes the cost of breast augmentation and necessary periareolar breast lift surgery. It also depends on the cost differential between saline and silicone breast implants. Most Los
prices vary based on exam and type of procedures.
Complications of Tubular Deformity Surgery:
In instances of sever tubular breast deformity when the areola size and position has to be greatly manipulated with a Benelli breast lift, the peri-areolar incisions can stretch with time. This is not so much because of the technique of tubular breast repair, but more so because the tubular breast tissue around the areola does not have good elasticity. Therefore, women who undergo surgical repair of tuberous breasts should expect to need a minor revision surgery in the future to revise stretched peri-areolar incisions. Double bubble deformity can arise due to lack of stretching of breast tissue. This will usually correct itself with time, but at times might need revision surgery. There are other potential complications, which are similar to that for breast augmentation.
Recovery from Tubular Deformity Correction: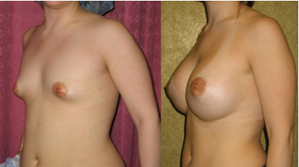 Tubular breast correction surgery has a recovery that is similar to that of breast lift surgery and breast implant placement. Most women after tubular breast surgery return to their normal activities in about a week.