Tired eyes. You've seen them, I've seen them, and if you are among the many tired looking Americans, you see them every morning when you look in the mirror. Even if you get your 8 hours of beauty sleep after lathering on that "magic" eye cream, you might still find that you just can't shake that tired look around your eyes. According to the annual plastic surgery statistics released by the American Society of Plastic Surgeons (ASPS), Blepharoplasty, more commonly known as Eyelid Surgery, was listed as the 3rd most commonly performed cosmetic surgery procedure in the United States with over 204,000 performed in 2012 alone!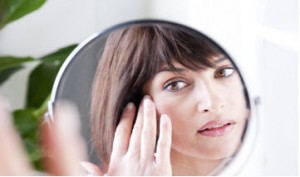 Who Gets Eyelid Surgery in Los Angeles?
Eyelid Surgery procedures were performed at the highest rate ever in 2012. This highlights the trend of men and women eager to refresh and rejuvenate their faces to look less tired and fatigued. Whether it is to gain a competitive advantage in the workplace, like a certain host on "The Talk", or just to look better in your facebook profile pic, Eyelid Surgery in Los Angeles is an excellent option for people of many ages who wish to refresh the appearance of not only their eyes, but their entire outlook. As shown in the graphic below provided by the American Society for Aesthetic Plastic Surgery (ASAPS), men and women aged 35-65 are the most likely to undergo Eyelid Surgery. This comes as no surprise as it is between these ages where signs of aging begin to appear and the benefits of the procedure offer the most to the patient.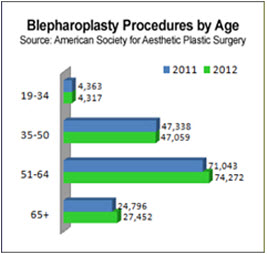 Blepharoplasty – Eyelid Surgery Los Angeles
The simple answer is to refresh and rejuvenate your face. Get rid of the fatigued look that is telling your co-workers, friends, and family that you are tired and uninterested. Eyelid Surgery, medically termed Blepharoplasty, is cosmetic procedure that is done by removing or re-drapping the excess fat as well as extra skin from the upper and lower eyelids. Following the procedure there is a short recovery period, but you will notice your results immediately following surgery. It is an excellent option for men and women who are looking to reduce the signs of fatigue and aging around the eyes by offering immediate results in regards to the baggy skin above or below the eye that cause puffiness and give off a tired look. The procedure will tighten and smooth the eyelid area offering a fresh, rejuvenated appearance. If you are looking for the best Eyelid Surgery Los Angeles has to offer, contact us today to schedule your initial consultation with Dr. Younai, a highly experienced, Board-Certified Plastic Surgeon.
It was once famously said "The eyes are the gateway to the soul," so what do your eyes say about you?