A patient of mine wanted to write a post about how she wanted to look like Kylie Jenner and how she achieved it, here it is: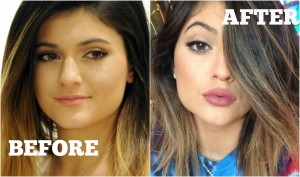 As a 34 year old woman I started to notice that my face has changed. It's the same but different. As I stare at myself in the mirror, I try to figure out what part of my face is causing this different change. Age, of course, but what exactly is the cause? As I poke and prod, stretch and pull my face with my fingers I realize I need to start working on whatever it was that made me feel beautiful seven years ago. First of all, I was younger, that always helps…but I noticed as I compare myself to photos of myself when I was 27, I was thinner, had longer hair, a bright welcoming smile! Wait, my lips were fuller, that's it! So, I decided to make an appointment to have a consultation with Dr. Younai. Although I'm not interested in having surgery or anything invasive, I know these surgeons are very detailed with the symmetry to make sure my face isn't crooked and if you have a good plastic surgeon, they will make it look really natural. I also heard many great things about Dr. Younai.
I greeted the front desk person who was super helpful and finally met with Dr. Younai. He examined my face, asked me what look I wanted to achieve. I told him I wanted Kylie Jenner lips! He told me he could definitely give me a more vibrant, youthful look but assured me that not everyone's lips would fit with every face. He explained to me the different options of filler, either permanent or temporary and so I decided to go the temporary approach and try Juvederm which can last up to a year. It is a hyaluronic acid filler which is basically a natural process in between our cells that causes the skin to be softer because it rehydrates and plumps. I felt comfortable knowing this was already a natural process I just needed a touch up so to speak. He also explained that as we get older, our natural collagen breaks down causing the thinning of the lips and nasal labial folds (smile lines) which does makes us look older. So, we agreed and he sent in his nurse to start the numbing process. I heard about this amazing numbing cream. Ah! The things we do for beauty.
So, there I was in the chair with what appears to be a milk mustache anticipating how beautiful I'm going to look, how beautiful I'm going to feel. The excitement overwhelms me, I've been putting this off for too long. Doctor Younai walks back in maybe 15 minutes after I've been numbing. I was pleased that this was much easier than I anticipated. So, what feels like, the doctor wiping the cream off my lips was actually the procedure! I was amazed how painless this was. He would step back and tilt his head at me helping him to measure and define the shape and fullness. Once he was done, he handed me an icepack to prevent any swelling, then, he handed me a mirror and let me know that he started very subtle, but after a couple days, if I felt I wanted my lips to be fuller, he would touch it up at no cost. He was absolutely wonderful with great bed side manners.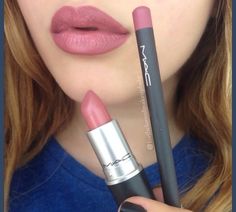 I looked in the mirror and I was thrilled, excited, Beautiful! I left the office with such confidence and excitement to try out the new lipstick I bought at Mac. I found out the recent favorite lip liner she uses is from Mac, it's called Whirl and the lipstick is called Brave. So, I had visited the Mac store and the ladies there are always so helpful finding the best colors that work for me. However, I already knew what I wanted. I also went online and purchased the eyeliner, mascara and brown pencil from Eyeko of London. Not only is it the go-to for Kylie but it's also won an award for top choice of eye make up in British Elle Magazine and other popular magazines like Cosmo. You can actually just get the Eyeko Makeup at Sephora if you don't feel comfortable purchasing it online.
Ok, so I achieved the facial similarities as Kylie with the right make-up colors, the Juvederm and a little Botox. Oh! I forgot to mention the Botox! I slipped in the suggestion at the Doctors office while he was doing the Juvederm. I just wanted the slight eyebrow raise, so he suggested a little Botox and I'm so glad I did it. It brought all of me together to have that chic, natural look of beauty, and I feel beautiful. Kylie's style is all about boho, kind of edgy, you know? Well, one example, if you didn't know would be a pair of skinny jeans with a few tears in the front, a simple wide shoulder tank top with a catchy phrase on it just covering the lower abdomen. It should be matched up with some black, short, lace up style boots with a heel. They are actually pretty comfortable; they are my favorite go to shoes for a last minute hoo-rah. Boots are always a great item to have, they just shout fearless! A woman with boots either thigh high or ankle low always seem in control and I want to have that powerful woman domination feeling.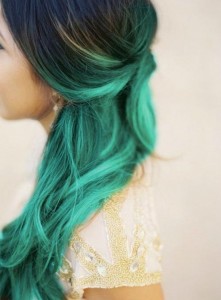 As far as hair, I dyed my hair dark brown because as it looks great on Kylie with her fair skin and full, rosy pout lips. The dark brown helps show the health and shine of the hair, it enhances the beauty of the hair already there. She has her own line of hair extensions for those that are afraid of dyeing their hair called Kylie Hair Kouture by Bellami Hair. They are so easy to put in and take out and it doesn't ruin your own hair like other extensions can do. My hair started out kind of thin and stringy. I felt like I was going bald! But I heard about her collection of extensions, the teal ombre. I had to have it! There's also so many colors, from natural browns and blondes to red and the Teal that I got. All you have to do is sections your hair like your going to do your hair half up and half down but start from the lower base of the head while clipping the rest of the hair up on top of the head and snap in the sections of hair like a regular hair clip would. They secure really easy. Once you complete the 3 or 4 reaching the top of the head, you can gently brush it out and get your curling iron ready and warmed up for your next step of Jenner hair. Starting with the section closes to your face you'll face your curling iron downward and from the base of the iron which is actually where you will start, your going to wrap your h air around while still holding on till it gets to the tip of the iron. Hold it for about 10 seconds, no more, and then gently remove the iron away, trying to keep your hair in the curl for a few seconds to cool down still in the curled position, then release the hair and you will notice the hair maintains its curl for much longer. So, I do this all the way around my head and when I'm finished, I lightly spray with a medium hold hairspray. Herbal Essense has a wonderful smelling spray that will last for long lengths of time until you wash it again. The main goal is to create those long wavy, princess flowing hair. Cool thing about the extensions is if you get tired of having long hair, just take then out and you have a whole new style!
One thing about Kylie, she likes things that stand out, make her roar woman! I was looking up jewelry and many pieces she wears is Cartier's Love Collection which is absolutely to die for! Stunning pieces. Not all of us, including myself can afford Cartier but there are some places I found online that have replicas, and they are just as gorgeous, just don't tell anyone. Shhhhh! What they don't know, won't hurt. A few of my favorite necklaces she wears includes the thick dog like chain, the "evil eye" and the gold plated name is always classic and clean.
Ok, so we all know material things can enhance ourselves or tie us all together but Skin is the what's most important , that's right, I'm saving the best for last! So, Skincare is the most important and we all have different skin types. If you are able to see a dermatologist, that would be best. If you are not able to, at least educate yourself with the basics. Use a gentle facial cleanser daily to remove dirt and make up. I like to use coconut oil to remove eye make-up, use an astringent to clarify the area deep down in the pores and most importantly, moisturize. Everyday I make sure I wear at least a 30 SPF because sun damage is the number one reason for aging skin. I want to look as youthful for as long as I can!
I am so thankful for Dr. Younai. He was so helpful in helping me achieve the look I wanted and helped me through the process giving me courage when I was afraid. I will continue to recommend all my friends and family to him, he's the best!!!